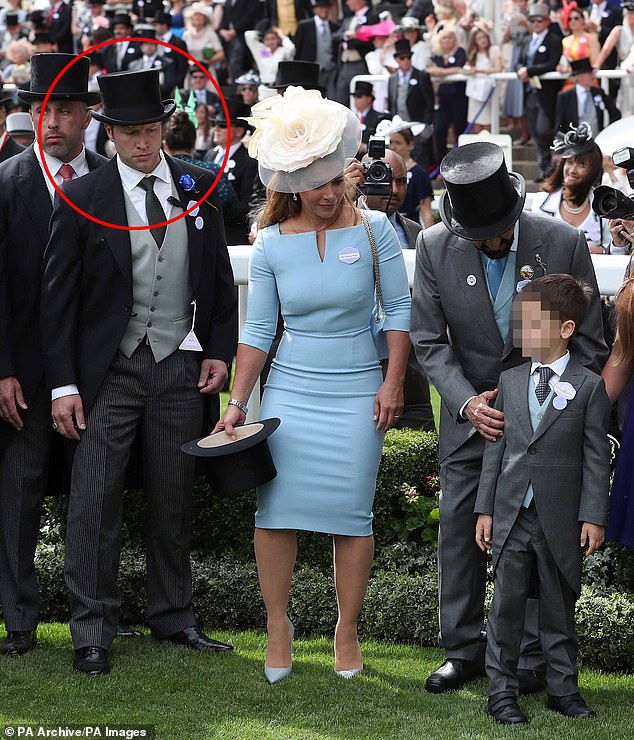 Former infantry soldier Russell Flowers is reported to have had 'inappropriate contact' with Princess Haya Bint Al Hussein, sparking a £4.5bn divorce.
The close protection officer, who separated from his wife last year, today declined to comment on his friendship with the mother-of-two, who is believed to have fled the Arab Kingdom and hiding at the family's £85million mansion near Kensington Palace.
Asked about the rumoured friendship lasting three years and suggestions that he will be named in divorce proceedings, he said over the summer: 'I have got nothing to say on the matter.'
Mr Flowers, 36, is said to have become too close to the royal during his five-year posting as her close protection officer based at the family's Dalham Hall Stud in Newmarket and accompanied her around the world.
The friendship is believed to be the reason the Princess has fled the Arab kingdom and is now in hiding in London and awaiting a divorce hearing.
Last year Flowers, for five years a soldier with Princess of Wales Royal Regiment, was pictured with her during the Dubai royal family's annual visit to Royal Ascot.
The bodyguard has since gone into hiding after the ruler of Dubai, Sheikh Mohammed bin Rashid al-Maktoum, is said to have been troubled by his apparent closeness to his wife.
Senior members of the royal court in Dubai had expressed their concern over the friendship and brought it to the attention of her billionaire racehorse owner husband.
The 70-year-old Sheikh – one of the world's richest men – has made no official comment but published a poem that many believed was directed at his wife and talking about 'treachery and betrayal'.
---
Source: