Each issue our global geopolitical partner, Stratfor, provides an in-depth analysis of global incidents via in-house experts, cutting edge technology, and through a comprehensive globally sourced network. Here is your summary for the last 30 days.

Iraq: Iran-Backed Militia Threatens "Escalation" in Response to Government Crackdown
Jul 9, 2020
A spokesman for Kataib Hezbollah said Iraqi Prime Minister Mustafa al-Kadhimi would trigger an "escalation" if he continued to clamp down on Iranian-backed militias in the country, the Associated Press reported July 9.
Why It Matters:  Al-Kadhimi is facing increased domestic and international pressure to clamp down on militia groups following the assassination of a prominent security analyst in Baghdad, which was widely believed to have been carried out by Kataib Hezbollah or another militia group.

India: BJP Leader Killed by Pakistani Militants in Kashmir
Jul 9, 2020
A former district president for the Prime Minister Narendra Modi's ruling Bharatiya Janata Party (BJP), Wasim Bari, was shot dead along with his father and brother a northwestern town in Kashmir by gunmen police have identified as militants from the Pakistani militant group Lashkar-e-Taiba (LeT), the Hindustan Times reported July 9.
Why It Matters:   This first the first significant attack specifically targeting a member of the BJP in Kashmir, which will almost certainly generate blowback from Modi's Hindu nationalist government.

Ethiopia: Over 200 Die in Protests and Ethnic Violence Over Singer's Death
Jul 8, 2020
Police figures indicate that 239 people died during demonstrations and ethnic violence that broke out in the Ethiopian capital of Addis Ababa and the surrounding Oromia region over the killing of Hachalu Hundessa, a popular singer and activist from the Oromo ethnic group, Al Jazeera reported July 8.
Why It Matters:  The ongoing violence and political unrest triggered by the killing of Hundessa highlight the central government's tense relationship with Ethiopia's ethnic populations.


China, Serbia: Beijing Completes First Sale of Armed Drones in Europe 
Jul 7, 2020
Serbia has acquired nine Chinese-made CH-92A armed reconnaissance drones, along with 18 FT-8C air-to-ground missiles, marking the first export of Chinese "military-use aviation equipment" to Europe, China's Global Times reported July 6.
Why It Matters:  The overseas sale marks an important win for China's arms industry, which has sought to expand beyond Asia, the Middle East and Africa.


Iran: Second Mysterious Explosion at Sensitive Site
Jul 2, 2020
The Atomic Energy Organization of Iran said July 2 that a fire had broken out at the Natanz fuel enrichment facility in an "industrial shed." Satellite imagery and photos released by Iran, however, suggest that an explosion occurred at a building involved in the assembly of centrifuges. BBC Persian reported that a previously unknown group calling itself the "Cheetahs of the Homeland" had sent it a message claiming responsibility. BBC Persian also said that the messages were sent to journalists before the Atomic Energy Organization of Iran announced that an incident had occurred.
Why It Matters:  This is the second mysterious incident in the last week at a critical Iranian facility. Either one could in fact have been the result of a domestic group acting with or without foreign support, or the result of a U.S. or Israeli cyberattack.


Russia: Final Tally on Approved Constitutional Amendments Released
Jul 2, 2020
The official tally of the vote on amendments to the Russian Constitution stands at 77.92 percent of voters in favor with a voter turnout of 67.97 percent, Kommersant reported July 2. A majority of voters rejected the amendments in just one of Russia's federal regions, Nenets Autonomous Okrug. According to members of the Russian opposition, statistical projections suggest that though a high degree of vote fraud occurred, the measures would have passed anyway.
Why It Matters:  The Russian regime pushed through the constitutional amendments to prepare its political system for a future after longtime President Vladimir Putin, who the vote means can now remain in office until 2036.

Poland: Country to Hold Runoff Presidential Election on July 12
Jun 29, 2020
Polish President Andrzej Duda will compete against Warsaw Mayor Rafal Trzaskowski in a runoff contest on July 12 after failing to secure at least 50 percent of the vote in the first round of Poland's presidential election, Reuters reported June 28. Duda won the most votes in the first ballot with 43.6 percent, followed by Trzaskowski from the centrist Civic Platform party with 30.3 percent.
Why It Matters: Duda's re-election would preserve the current policy alignment between the president and Poland's governing nationalist Law and Justice (PiS) party.


Serbia, Kosovo: War Crime Accusations Prompt Kosovo to Pull Out of U.S.-Sponsored Summit
Jun 25, 2020
Kosovo's government announced it would not attend a summit with Serbian leaders in the United States, which was scheduled for June 27, after a special international prosecutor in The Hague accused Kosovo politicians, including President Hashim Thaci, of war crimes during the country's push for independence in the late 1990s, Reuters reported June 25.
Why It Matters:  A pre-trial judge must now decide whether to present formal charges against Thaci, but the special prosecutor's decision will still put the U.S.-sponsored dialogue between Serbia and Kosovo, and potentially EU-sponsored negotiations, on hold.


South Korea, North Korea: Pyongyang Suspends Military Threats Against Seoul

Jun 24, 2020
North Korea has decided to defer "military action plans" against South Korea during a meeting presided by leader Kim Jong Un, The Japan Times reported June 23. North Korea has since removed anti-South Korea propaganda from several of its websites, along with half of the propaganda loudspeakers that its soldiers recently installed in the Demilitarized Zone (DMZ).
Why It Matters:  North Korea is deescalating further from its confrontation with South Korea in recent days. This may have been motivated by backroom discussions with Seoul in terms of concessions on inter-Korean cooperation projects.


Yemen: Southern Separatists Seize Island of Socotra From Saudi-backed Government
Jun 22, 2020
Separatists aligned with the Southern Transitional Council (STC) have claimed full control over the Yemeni island of Socotra, Al Jazeera reported June 22. Socotra's governor and the commander of the local Yemeni air force reportedly fled after being displaced by what Yemen's Saudi-backed government is calling a coup.
Why It Matters:  The seizure of the strategic island is the latest sign of the STC's growing autonomy. Separatist forces have fought alongside the Yemeni government against Houthi rebels and al Qaeda militants in the country for years. But the STC's increasingly bold push for an independent southern Yemen threatens to undermine this security alliance.

---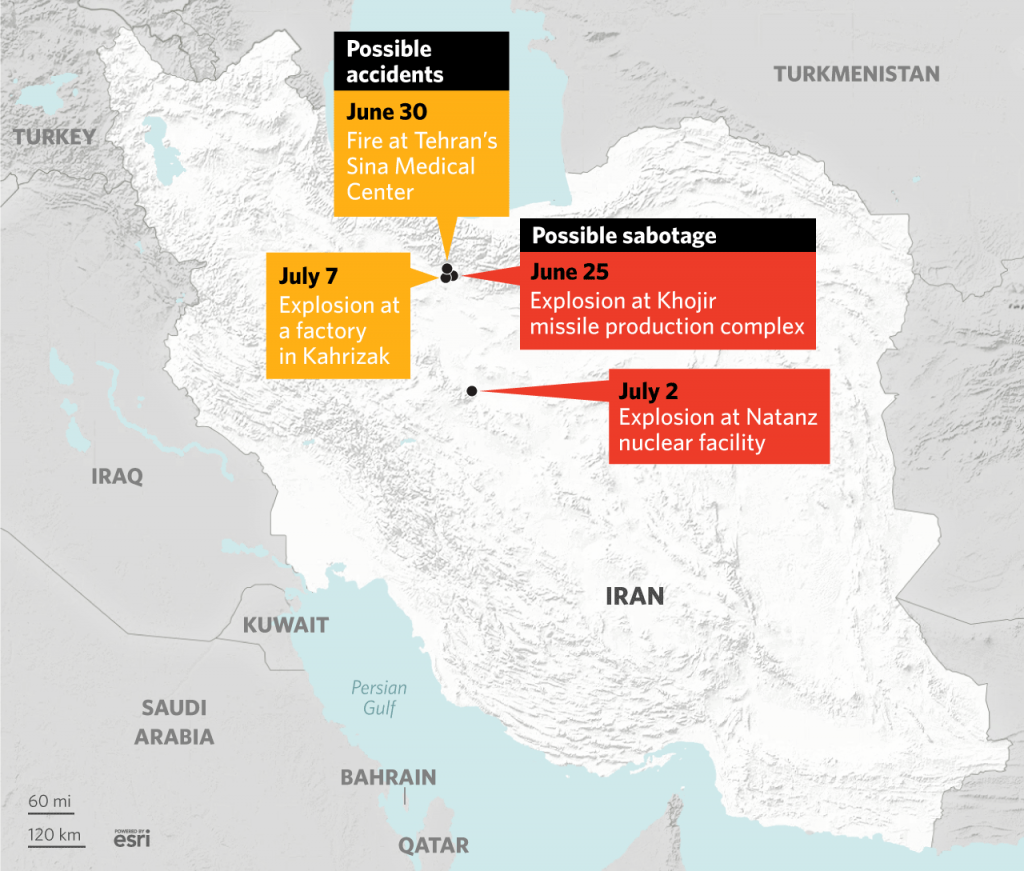 Explosions in Iran Point to a Possible Israeli Sabotage Campaign
Israel was likely behind a July 2 explosion and fire at Iran's Natanz nuclear facility, and potentially some of the other similar incidents that have occurred near Tehran over the past two weeks, including a June 26 explosion at the Khojir missile complex. 
Although Tel Aviv doesn't typically claim its covert actions against Iran, motive and past history make Israel the most likely actor to conduct such sabotage operations against Iranian infrastructure and assets.
On July 5, an unnamed intelligence official told The New York Times that Israel was responsible for placing the "powerful bomb" that was detonated in a new centrifuge assembly facility at Natanz. The Washington Post and other media outlets have also pointed to a plausible Israeli operation behind the July 2 explosion.
When asked about the Natanz incident on July 5, Israeli Defense Minister Benny Gantz said Israel wasn't necessarily behind every attack on Iran, but he also did not explicitly deny the country's involvement.
An uptick in such acts of sabotage would suggest Israel may be reverting to a policy of unilateral action against Iran's nuclear and missile programs. Israel is frustrated by the failure of Western and regional countries to fully rein in Iran's military and nuclear capabilities, which it views as direct threats to its domestic and regional security. With the potential for a less friendly U.S. administration to take office in January, Israel may also be calculating that it has an optimal but limited window to act more aggressively against Iran's nuclear program.
Iran will likely use its favored asymmetric tactics, such as cyber and proxy warfare, in response to either acknowledged or perceived Israeli actions, while continuing to develop its nuclear and missile programs. Incremental development of its nuclear capabilities remains one of Tehran's primary means of retaliating and reacting to increased U.S. sanctions and Israeli attacks, both of which Iran views as unjust attempts at containment.
On July 5, the spokesman for the Atomic Energy Organization of Iran said last week's fire in the Natanz facility caused "significant damage" and "could slow down the development and production of advanced centrifuges in the medium term," but wouldn't keep Tehran from continuing to develop its nuclear program.
In the near term, Iran needs to maintain its trade ties with Europe, Russia and China to help keep its sanctions-burdened economy afloat, while still depicting the United States as the villain that withdrew from the JCPOA. For this reason, Tehran seeks to only carefully violate the deal with actions that only blur the lines of what's allowed without blatantly breaching the accord.
---

Ivory Coast
July 10, 2020
The unexpected death of Ivory Coast's prime minister and the ruling coalition's presidential candidate risks dashing hopes for the country's first democratic transition of power without violence.
United States
July 10, 2020
The U.S. decision to sanction a Chinese Politburo member will provoke a tit-for-tat response from Beijing, adding to the mounting tensions between the two countries.
Libya
July 6, 2020
Potential changes to the way oil revenue and exports are shared and distributed in Libya could have significant ramifications for the country's sovereignty and ongoing civil war by establishing de facto splits in Libya's financial system.
Israel
July 2, 2020
Israel is slowing, but not yet stopping, its annexation plans in the face of a COVID-19 resurgence and possible future changes to its relationship with the United States, forestalling Palestinian unrest and international backlash.
Hong Kong
June 29, 2020
The passing of China's new Hong Kong national security law marks the start of an uncertain and potentially volatile phase in the city's ongoing political crisis, as pro-democracy forces square-off with newly empowered city authorities backed by Beijing.
France
June 29, 2020
The failure of Macron's LREM party to win support at the municipal level will make it even harder for his unpopular government to pass reforms ahead of the 2022 presidential election.
International Monetary Fund
June 25, 2020
With no end in sight to the COVID-19 pandemic, international institutions and private forecasters alike are now projecting huge cumulative losses and a prolonged, uneven economic recovery.
Australia
June 19, 2020
Australia has been targeted by a sustained and wide-ranging cyberattack on government institutions, public services and businesses. Unnamed top officials said the Chinese government is the primary suspect. 
---
Having informed insight in today's increasingly complex international environment is more important than ever. That's why we've partnered with Stratfor, the worlds leading geopolitical intelligence platform, to bring readers regular analysis and accurate forecasting of global trends from someone you can trust.