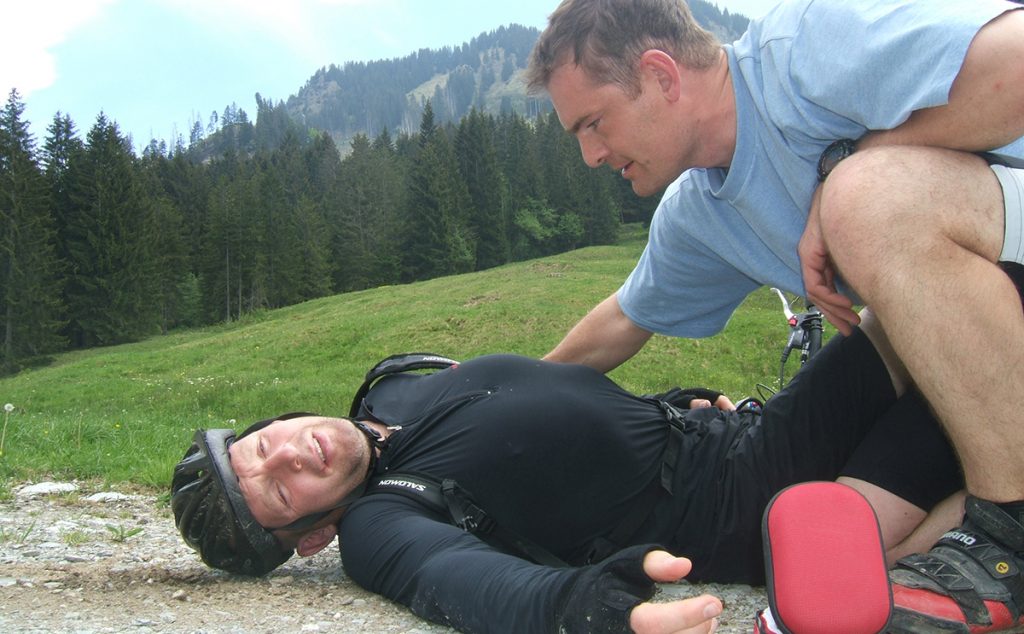 You're out mountain biking with your client and their family when he develops sudden shortness of breath. The temperature is hot and humid and you are approximately 5km from the nearest town. He is unable to talk to you because he is so short of breath'.
There could be many diagnoses, but in this article, we're considering acute respiratory emergencies so, we are going to look at Asthma, Pulmonary Embolism, Chest infection and Spontaneous Pneumothorax.
Asthma
Asthma is a sudden 'reversible' narrowing of the small airways in your chest. It is caused by spasm and inflammation of the muscles within those airways.
These muscles become irritated by the swelling and produce excess mucous, which worsens the symptoms. Often a 'wheeze' can be heard because of this spasm, swelling and mucous production.
Other symptoms of asthmatic patients are shortness of breath, chest tightness, a lightheaded feeling and even reduced conscious level.
Asthma is one of the most common medical emergencies affecting the ability to breathe properly and has varying levels of severity ranging from mild to near fatal. Fast recognition of asthma symptoms may prevent the patient's condition from developing in severity.
Many people will know they have asthma. If you are escorting a client with known asthma to a remote location or where they are going to undertake physical activity, you should ensure you have a good supply of salbutamol (ventolin) inhalers and possibly oxygen. Clients with previous severe asthma may also carry prescription steroid tablets and antibiotics for use during an exacerbation.
Asthma triggers include stress, allergens, pollution, smoke inhalation, and infection.
During an asthma attack, respiratory rate and heart rate will initially rise and then may drop if the patient becomes exhausted or their severity worsens. They may panic because they are so breathless, and a spiral of increase in effort and decrease in the ability to breathe properly.
Treatment
<c>ABCDE
Give high flow Oxygen if you have it available. Call for emergency assistance or get the patient to the hospital as soon as possible.
Most asthmatics have their own medication. These are normally inhalers such as Salbutamol (blue colour) to help relieve symptoms, a steroid inhaler (often brown) to prevent the onset of symptoms and tablets to help with inflammation.
Pulmonary Embolism
A Pulmonary Embolism is when a blood clot, fragments of a blood clot or fat particles from a traumatic injury, becomes lodged within the pulmonary arterial system in the lungs. This prevents blood flow to the lungs causing damage to the lung tissue and a lack of oxygen delivery to the rest of the body.
The pulmonary arteries carry blood from the heart to the lungs to pick up oxygen.
The patient may display signs of sudden, severe shortness of breath. They may develop chest pains in a specific point over their chest. Their heart rate and respiratory rate will rise and their blood pressure and oxygen saturations may drop, in severe cases looking blue (cyanosis) and having a cardiac arrest.
Treatment
<c>ABCDE
Give high flow Oxygen if you have it available Call for emergency assistance or get the patient to the hospital as soon as possible.
Chest infection
A chest infection is infection and inflammation of the small airways in your chest. It is caused either by bacteria or a virus. There is normally a history of a common cold leading up to the symptoms of a chest infection
Common symptoms include a productive cough, breathlessness, often a wheeze, fatigue and fever.
The patient is encouraged to rest, maintain hydration, take oral paracetamol and seek medical attention to obtain antibiotics if symptoms of high fever are present as this is more likely to be a bacterial infection.
They are likely to recover within 7-10 days if the treatment is initiated early. A chest infection can spread into the lung tissue if not treated effectively causing pneumonia. This is a serious condition requiring hospital admission for treatment. They may develop chest pains as well as shivering, sweating, fever, and dark brown sputum, fast resting heart rate and will look 'generally unwell'.
Spontaneous Pneumothorax
Spontaneous pneumothorax is air trapped between the lung tissue and the rib cage within the chest. It can occur for no apparent reason and in most cases can happen suddenly. The majority of patients that suffer from this condition are young, thin, healthy men.
The symptoms are a sharp stabbing pain to one side of the chest that has no apparent reason. Sudden shortness of breath occurs and breathing in will make the pain worse. The respiratory rate and heart rate may increase.
This condition may right itself in around 10 days, but it is advisable to help support the patient into a comfortable position and get them to a hospital as soon as possible, where a chest x-ray can confirm the diagnosis and the lung can be re-inflated if needed. They will appreciate painkillers to help ease the pain they experience with each breath.
Remote Medical Assistance
Some companies have the ability to telephone a 'reach- back' service to talk to a Doctor to gain medical advice over the telephone when they are likely to be supporting clients in remote areas. This service is should be available 24/7 to help with diagnoses and treatment plans.
Conclusion
Your patient may have their own medication. It is advisable to encourage the use of this to help relieve any symptoms, but only if they are sure that their medication is for the problem they are experiencing. If they do not have their medication with them, then now is the time to call for assistance from the emergency services. Within the remote environment this may take some time, so after your <c>ABCDE assessment, if appropriate, sit them up and forward in a sitting position to increase their chest capacity. If unconscious put them in the recovery position and monitor their respiratory heart rate and conscious level whilst getting assistance.
These conditions may not be the only cause of shortness of breath, but these are very common medical emergencies that can happen without warning. All of them present with sudden onset of breathing difficulty. The key is to obtain a full history of the events leading up to the illness and any previous experiences that they may have that were similar in nature. The treatment regime is to follow your <c>ABCDE approach and assist your patient with the equipment and skills that you have. Time is of the essence in patients with breathing difficulties.
---
Acute Respiratory Emergencies
by Kate Owen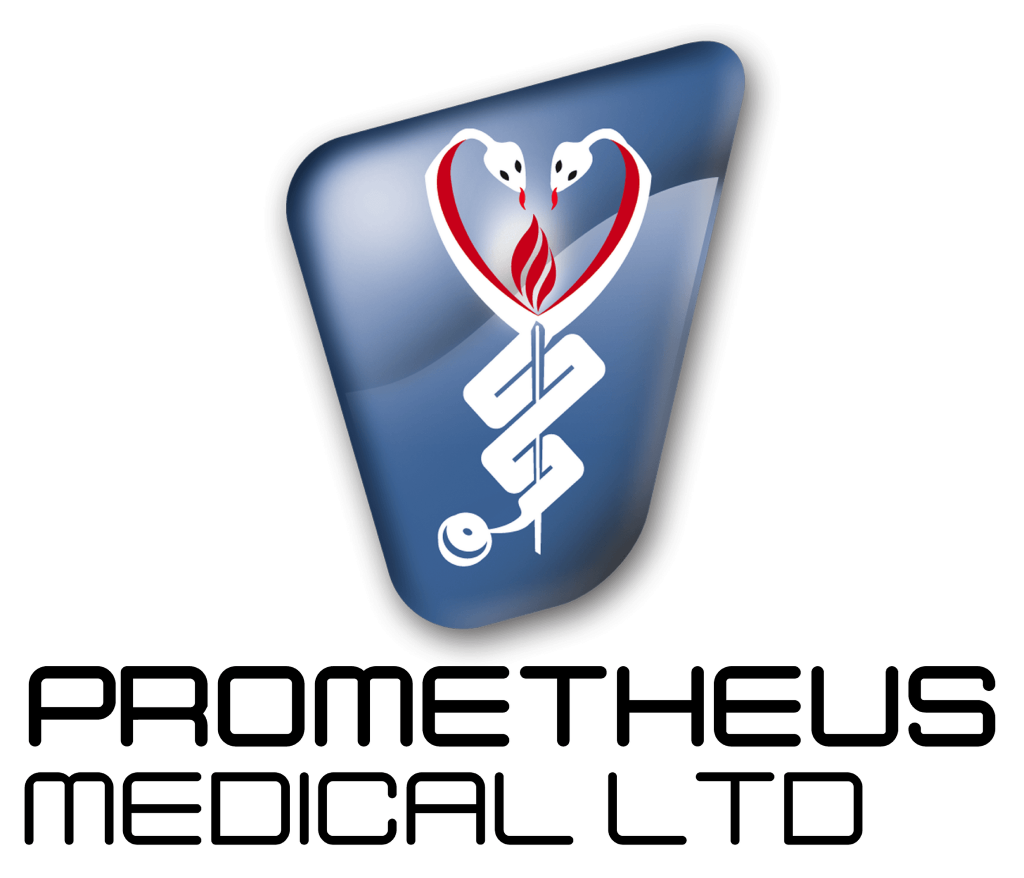 Established in 2005, Prometheus Medical is a specialist medical company delivering unrivaled, emergency medical support in the form of medical training, equipment, strategic advice and deployed clinical care, individually tailored to meet customers' specific needs.  The company has subsidiaries in UK, Ireland, Middle East, South Africa, Norway, and Australia.