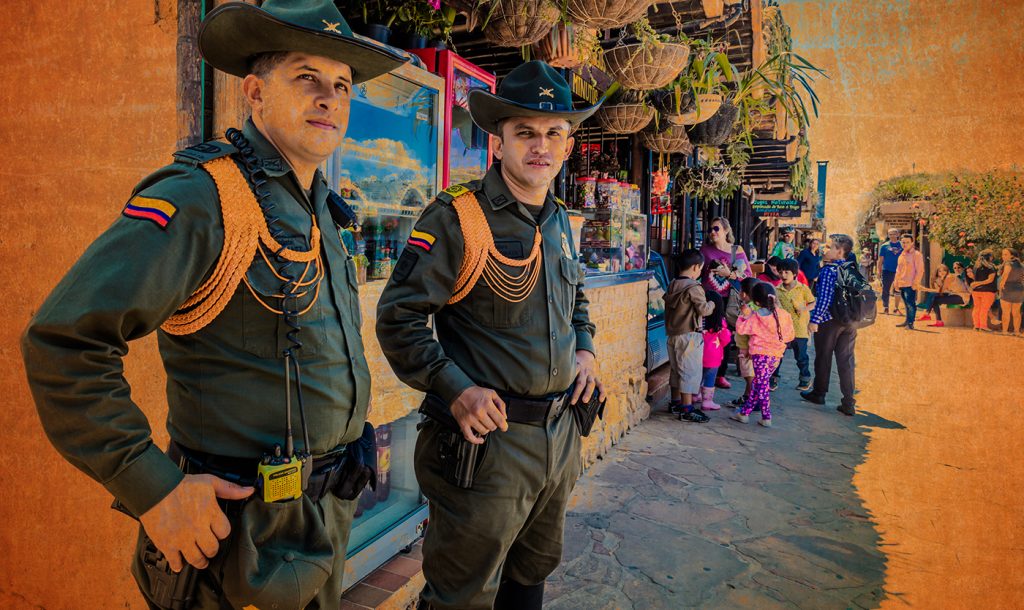 Having just returned from six months security consultancy and executive protection work in some of the darkest corners of Colombia, I thought I'd write something about the experience, specifically the advantages of speaking the local language when operating in a protective capacity.
I was fortunate enough to be offered the opportunity to conduct this assignment on behalf of a firm of international investors. The project briefly comprised investigating business opportunities for investment, auditing those opportunities for security risks, then escorting and protecting my clients during their travel in the region and on their site orientation visits. My work also took me briefly to the US.
I am fortunate to speak and write Spanish fluently, having first learned at school and then made every possible effort to improve and practice in the many years since!
Benefits of Speaking the Local Language
Here are some of the key advantages I experienced, in my role as a security consultant, having Spanish language skills whilst working on an assignment in Colombia.
Blend in with your environment
Above all, the key to mine and my clients' security was not to stand out – to be the 'grey men'. This was important on a general basis but also specifically in places where poverty is rife, tourists are simply viewed as cash-rich targets for muggings, kidnapping, and general attack. I am fortunate in the sense I am dark haired, 5'8″ tall and weigh about 160 lbs, which helps in a continent where really, for the first time in my life, I found myself to be of an average build! Nonetheless, regardless of physical stature, speaking the local language, and speaking it well, draws far less attention – which is always going to be a big positive in that part of the world.
Language Skills to aid planning
When operating mostly alone, the key to the success of the security of the trip was its planning, and the careful planning of each journey made once in country. I was fully aware that regardless of any physical skill, previous training, pre-deployment training or protective equipment I may have carried, if I had allowed my clients to get into a situation of threat or confrontation, the results would likely have been dire, not least due to the remoteness of many of locations that we visited. Using my language skills to plan, both prior to deployment and during the course of the work. This enabled me to:
a.) Liaise closely with local police and security forces to assess issues on a daily, and sometimes even hourly basis and;
b.) Follow open source, local, news to help me do the same
Build trust with language skills
During my dealings with local police and security forces, upon realising that I was making significant effort to speak their language and understand their problems, they were of course much more open, trusting and friendly with the intelligence they were prepared to divulge to me, giving me a much better overall view than most of the 'gringos' they described to me as having dealt with previously.
As a result, I became friends with many of them, a number ultimately offering direct-line personal support if I were ever to run into difficulty. Fortunately, this was never required.
The key to understanding a culture
I was better able to understand the culture of the people there, which again in my view, improved both mine and my clients' security. I would always advocate the importance of body language, but in one, and in fact the only, potentially dangerous situation we faced, an understanding of body language alone – red faces, jittery movements, hands near firearms etc., it was useful, in fact vital, to understand exactly what was being said, rather than simply to guess.
Efficient & effective communication
During the same incident, being able to use crisis communication effectively to our Colombian driver, which was, I am certain, a key factor in our safe evacuation from this particular situation, at an unexpected checkpoint manned by a local gang on the outskirts of Medellin.
Improved execution of fundamental skills
In addition, and perhaps more obviously, understanding the language meant that I was able to conduct surveillance, intelligence and advanced reconnaissance more effectively by
a.) Befriending the locals.
b.) Listening-in on and interpreting nearby conversations that I would not otherwise have been privy to.
All-round, this security consultancy proved a fantastic experience and one I hope to repeat very soon! Please feel free to contact me at ben.hockman@gmail.com for some suggestions on cost-free ways to learn or improve your language skills. It will take time and effort but well worth it in my humble opinion.
---
Breaking the Communication Barrier
By Ben Hockman
Ben Hockman is a licensed close protection operative, experienced in surveillance and security driving. He is also an internationally recognised Krav Maga instructor in the Urban Krav Maga system and is available for specialist seminars and instruction.
Ben speaks Spanish and business level French.