Course Review:
Medipro Training Ltd. PHMT ( Pre-Hospital-Medical-technician )
Having previously completed FPOS (I) MIRA and Remote Team Medic Courses I was looking for a training course which had both industry recognition and would take my knowledge and skills to the next level both academically and practically whilst also fitting into my rotation of 6 weeks on 6 off.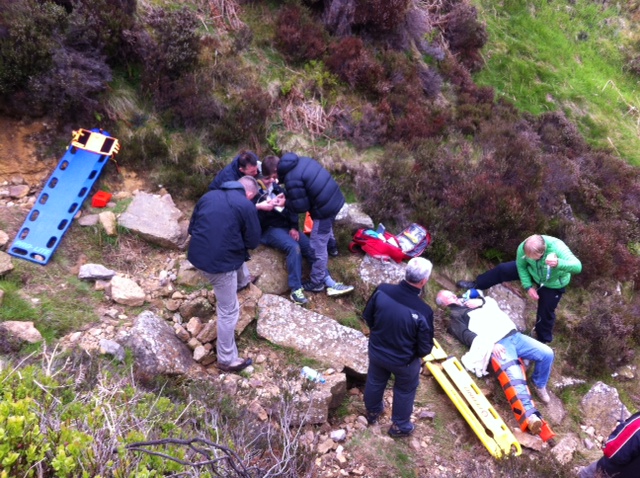 BACKGROUND
After endless hours of research and deliberation i finally decided on the PHMT course run by Medipro training Ltd in North Yorkshire. Apart from being fairly local to my home location the course ticked all the boxes for me with regard to my expectations.
I was looking for a course that didn't just concentrate on trauma but gave me the all-round skills and knowledge to work as a remote medic in hostile and austere environments around the world.
The fact that the course covered A the MIRA syllabus and B elements of the ambulance technician course allowing me to then move into the private ambulance service if I desired gave me the confidence to proceed.
COURSE CONTENT AND EXECUTION
First impressions of the company were pleasing with a large facility comprising 3-4 class rooms, clinical room, confined space area and an outside area for use with RTC and other outdoor scenarios. There is also a computer room for student use plus a wide selection of medical literature available to borrow for research.
Fresh orange juice, fruit, biscuits and a choice for lunch was available daily at no extra cost, plus a coffee machine available in the communal area at the extortionate cost of 20p / coffee !
Equipment is available for every level of training from BLS to suturing , cannulation and several resuscitation dummies connected to live ECG machines making the scenario based training as realistic as possible without actually using 'live patients'. We had no shortage of equipment and spent a few delirious hours suturing, gluing and stapling arms up in the clinical room one afternoon as an interest period.
Course content covered the whole spectrum from the role of the PHMT, clinical directives, airway management with various adjuncts ( OPI, NPA, I-GEL, LMA, ET. ), heart conditions, diabetes, fluid / drug therapy, Cannulation, wound closure, 12 lead ECG recognition, the PHTLS system, plus patient assessment / history taking and hand over techniques.
The emphasis of the course is firmly the patient with the priority being to teach the underpinning knowledge allowing the student to work as a complete competent technician, rather than playing with 'Gucci, shiny' kit that is becoming available but realistically anyone in the CP, Hostile or Remote industry will never have access to. Time was split between learning how to deal with the 'day to day' medical emergencies ( Chest pain, Shortness of breath , Heart problems, Diabetic issues, cuts and bruises, strokes, types of shock etc ) and trauma which most companies seem to place all the emphasis on.
The course is segregated into weekly sections with continuous practical and written assessments giving students the opportunity to raise any concerns with the paramedics before moving on.
Each course has a dedicated paramedic instructor throughout giving continuity and building rapport between student and instructor. All the instructors still work for various ambulance services as either lead Paramedics or Rapid Response Paramedics. My course was headed up by Paul Spraggon with Darren and Mike stepping in to assist with assessments and scenarios. The depth of knowledge from Paul and the guys was unsurpassed and Paul was able to hold the attention of 6 students with very different personalities throughout the course with his continuous stream of interesting and sometimes amusing anecdotes and 'stories', which inevitably led to an impromptu question and answer session.
Paul organized a Private ambulance to work with us giving us an overview of the equipment used on front line ambulances plus the opportunity to practice the skills we had accrued in 'real time' on a moving vehicle. It's an eye opening experience to see how even taking a patient history and trying to fill in a patient report form whilst taking a set of Obs in a moving vehicle becomes ridiculously difficult.
A great learning curve for all involved, mostly me was seeing how complicated life becomes if you wheel a patient onto the ambulance forwards rather than backwards, I learned this from personal experience then struggled for 10 minutes trying to move said patient from the chair to the bed when he was facing the wrong way. ( there is not a lot of room inside the back on an ambulance ).The paramedics left us to figure out the problem ourselves, stating, in between bursts of supressed giggles 'that was a learning experience wasn't it, you won't make that mistake again'. I can agree whole heartedly that was a lesson i will not forget in a hurry.
CONCLUSION
Ultimately for me time and money well spent. The level of knowledge and competency gained is largely left to the individual. You can either put in the minimum effort to gain a 'pass' and receive your qualification, or if you have a thirst for knowledge the instructors will push you to the limit of your capabilities whilst keeping everything relevant to the role of a technician.
Excellent value for money, at less than £2500 bearing in mind you would pay around £700 for the 5 day MIRA course alone !
It would have been nice to have perhaps spent more time on the ambulances but this is dictated more by the ambulance service than Medipro Training themselves. Maybe in conjunction with this Medipro could look into possible clinical placements for the students.
For me a positive outcome and hopefully a stepping stone to making the full time transition into the Pre Hospital world.
In summary I would highly recommend the PHMT course to anyone interested in advancing their clinical knowledge and skills, taking the first step towards a career in the Pre Hospital Environment or simply making themselves more employable for the future.
by: Jon Dennison
ABOUT THE AUTHOR
After 10 years in the hostile 'security' industry I have covered the whole spectrum of assignments from PSD shooter-Project management. A couple of years I made the conscious decision to start making the transition from security/Risk Management into the Remote Medical field. This obviously requires a lot of time, dedication and money as any course with industry recognition tends to have a fairly high price tag.
I did the usual FPOS (I), MIRA, and a Remote Team Medic course then finally the PHMT with Medipro training earlier this year.
Presently I am studying for a Diploma in Anatomy & Physiology with a view to taking my knowledge and skills up a notch next year and completing either the NREMT or AREMT paramedic qualification. For me this will be the consummation of over 2 years dedication and hard work and complete the transition from 'Security consultant' to professional Medic.
Any comments or questions please feel free to email direct on jondennison@hotmail.com