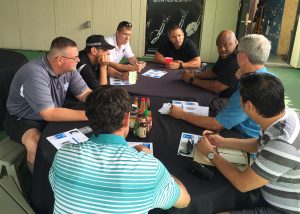 It's the dreaded phrase your boss says to you, usually when you are already extraordinarily busy. It often goes something like this: "I'm sending you on XYZ course. Don't worry, it'll will be good for your professional development".
Translation: "I've been told by the powers that be that all and sundry have to do XYZ course as a tick box exercise and I'm trying very hard to sell it to you. Is it working?!!". Often this will be some sort of first aid or health and safety course. It might repeat what you have already been taught (I've lost count of all the data protection courses I've been made to go on for example). It might be to teach you something that is not in your job spec (this always makes me suspicious especially if it's some random piece of administrative software). It might even be a course to teach you something you already do every day at work and so feels utterly pointless. Whichever it is, all you know is that you don't want to do it. Not only that you'd actually much rather chew off your own arm and eat it than do this course. However, it seems there is no escape. You are on the list. You are doing the course. There is no getting out of it.
What I'm going to try and do in this article is give you some tips for how to survive this course (basically, attend, do any associated coursework, and get your tick in the box without hurling yourself off a cliff). Sounds impossible? Probably, but I'm going to try anyway.
The grieving process
An unwanted course is going to make our lives difficult and take away precious hours we could be doing something else (either useful or fun). We need to reconcile ourselves to this loss. I am, therefore, going to approach dealing with this problem in the first instance by using the five stages of grief. Sounds ridiculous but please do bear with me
1. Denial – Typically, our initial reaction to something we don't like is to deny its existence. In relation to our unwanted course, we will try to convince our boss we don't need to attend, we are too busy to attend etc. We'll also block out all references to the course and systematically ignore all emails that arrive in our inbox about the dreaded event (in the hopes we can legitimately "forget" about it maybe…)
2. Anger – Once we have realised we are going to have to attend anyway we are going to get angry. No, more than that, we might get downright p***ed off (excuse my language). This will probably result in you having a rant at work colleagues, your partner, your Mum, or anyone who will listen. Great, get it off your chest. It won't change anything though.
3. Bargaining – As a last resort, we will try to convince our boss to give us special dispensation not to attend or let us go onto a later intake of the course. We might offer to do other tasks to avoid needing to complete the course. We are trying to regain control of our own destiny but, inevitably, if the course is mandatory, our efforts will fail.
4. Depression – Regardless of our attempts to avoid doing the course we have been categorically told we must attend. This can be depressing. Don't worry, this is normal. You'll need to deal with this in whatever way works for you (crying, eating excessive amounts of chocolate etc.).
5. Acceptance – Ahh, we give in. We might not all reach this phase but it is helpful if we do. Accepting the inevitable will help to actually complete the course. Attending when you are in the angry stage is frustrating, and the depression stage is just demoralising. If we accept our fate, we might just find something useful to learn. It's a tough path but worth it if it means we don't go totally mad whilst doing our course.
Survival skills
We all approach problems in different ways. I will outline some of the tactics that have worked for me (and/or my colleagues). Hopefully, some of these will be helpful.
Attend – the course will be 10 times harder if you don't attend the face-to-face sessions and/or read the online materials. Painful in the short term but engaging in this way makes completing the coursework a lot easier in the long run.
Try to make the most of it – if you are

 

going to have to attend the course, you might as well try to get something useful out of it. For example, could it be a

 

useful networking opportunity? Does it qualify you for a student discount card? Does it get you out of the office one day a week? Can you hand workload over to someone else? Is the venue closer to your house than work? Will you get travel expenses/a free lunch? No matter how small, chances are there is something good that you can get out of the course.
Work out the minimum requirements – okay, this is not what you would expect a teacher to tell you but sometimes knowing what you need to do to pass is enough to make a course tolerable. Work out what needs to be done and get on with it. Procrastinating will only prolong the agony.
Run it off – if in doubt, run it off. This is especially helpful if you are in the angry stage. Running until you are exhausted can, not only be revitalising, but also means you have no energy left to be angry. I personally find this tactic very useful (in theory I should be a lot thinner than I am!)
Conclusion
We are all asked to do things in life which we don't want to at some stage. If this is a course, chances are there is something valuable (even if this is indirectly) you can get out of it. Try to progress to the acceptance phrase of "grief" and throw yourself into the course. Failing that, find a sympathetic ear to complain to and chalk it up to experience.
---
How to survive a course you hate
By: Dr Amy Burrell
Amy holds a BSc in Applied Psychology, an MSc in Forensic Behavioural Science, and a PhD in Psychology. Amy is a Lecturer in Forensic Psychology at Birmingham City University and can be contacted on amy.burrell@bcu.ac.uk. She was previously the Training Manager for Perpetuity Training who specialise in security training (see www.perpetuitytraining.com) and is also involved in the Crime Linkage International NetworK (C-LINK) (see www.crimelinkage.org)