"They say God made man,
but Sam Colt made them equal."

Charles Martin
Bullets are bullets and ammunition is just ammunition, right? The reality is, that statement couldn't be further from the truth. As outlined in my last article, bullets (or projectiles) come in many different forms and these forms have their intended purpose. In this installment, I want to dive deeper into the application of the Jacketed Hollow Point (JHP). The reason this projectile is going to get its own article is due to the importance of it and how it applies to self-defense and in the industry of close protection. 
Design & Function

 
I want to start out by discussing the design and intended function of the projectile itself. The name "Jacketed Hollow Point" implies a void in the nose of the bullet, often giving it a flat profile with a concave "divot" up front. This shape and profile serve a dual purpose: The divot aids in expansion and the weight of the bullet being further back in the projectile gives it much better accuracy potential. This is why JHPs have a tendency to be more accurate than their FMJ counterparts. Let's be honest, who doesn't want a little bit more accuracy when it comes to a life or death encounter? 
When looking at a JHP, you will often see various things going on. Some, if not most, have what is called a cannelure. A cannelure is the knurling or groove around the middle of the exterior of the projectile. This often serves a couple of purposes, mainly aiding in stopping what is called jacket core separation. Jacket core separation happens when the core and the jacket separate upon impact with a target. Beneficial, as you don't want your bullet coming apart. Because when it does energy is lost and the effectiveness of the JHP goes down, which translates to the potential failure to stop the threat. Another thing you may notice is something else inside the cavity of the bullet. Some manufactures use a polymer to fill the gap, while others use lead in the shape of a post or spike. And despite this, yes, they are still considered JHPs. The reason behind this is that these materials show the potential to stop clogging of the hollow point and aid in expansion. With a standard hollow point, if it becomes clogged with clothing or wallboard, it will start to act like a full metal-jacketed bullet (meaning over penetration and decreased terminal effect). 
The meat and potatoes of all of this is that when you draw your firearm to defend yourself or your Protectee, you want to be able to stop the threat as fast and as accurately as possible. The hollow point will help with that as it is designed to be a terminally effective projectile. What I mean by that is the bullet itself is designed to expand beyond its original size when there is an introduction of fluid to the cavity of the bullet. Expansion is one of a few other variables that we will discuss here. 
The Science of Bullets/Projectiles
I would be remiss if I didn't discuss the advancements in projectiles and the science that goes into what we have today. Hours and hours of development and testing go into the rounds that make it onto the shelves of your local sporting goods store. They have been designed to penetrate and expand at a given velocity out of a given barrel length (usually 4 inches). That is why you are starting to see more and more rounds designed with specific firearms in mind. The best example of that is the surge of "short barreled" self-defense ammo from the major manufactures. As guns get smaller, ammunition has to be tailored as well. On the topic of expansion, when the bullet gets bigger, the wound channel gets bigger as well. This where the lethality of this whole things begins (something which I will dive into in more depth in my final installment). 
I mentioned it before, but penetration is a key consideration when trying to decide on the right ammo to use. If you are in a crowded scenario, you don't want bullets plowing right through the intended target. On the other side of that coin, you don't want a projectile to under penetrate, failing to reach that vital, fight stopping "off switch."  Penetration is a balancing act of epic proportion. You want the projectile to dump all of its energy on target, expand, and go deep enough to reach vital organs and tissue. And this is all controlled by the bullet design itself. Most JHPs are designed to open up with the lead and copper in a pealing back effect like a banana. How big the pedals get and whether they stay attached will play a role in penetration. Even the cannelure and its placement have something to do with how the projectile will perform. Needless to say, there is a ton of science and engineering that goes into each round that comes off the line and each is designed with a purpose.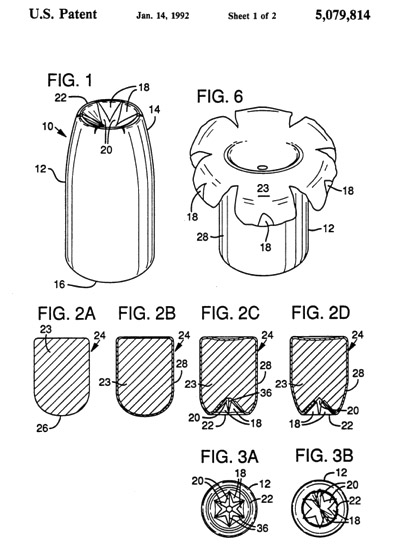 Construction Matters

 
Lastly, I want to talk about JHP construction and the different types to look for. With the shape of the projectile being equal, the construction of the bullet can come in a few different forms. The first is just the standard cup and core design. This is where you take a copper jacket, add a lead core, and then form it into a finished product. Some companies may add a cannelure or two and call it a "mechanically bonded" bullet. And in the most literal terms, this is correct. The cannelure mechanically combines the copper jacket and lead together to help in jacket/core separation. Some do this better than others, so do your research. The other main type of construction is the bonded round. This is where a secondary process is introduced to adhere the copper to the lead, making them almost inseparable. 
These types of projectiles rarely come apart and maintain, most if not all, their weight after being shot into a target. This type of bonding can be done with chemicals or electro-plating. The construction of bonded bullets is second to none, albeit, a tad more expensive. At the end of the day, look towards what your local law enforcement agencies are using, as this usually tells the tale of what works effectively in the field.  
There is a reason, that all over the world, the jacketed hollow point is one of the most commonly used projectiles for duty and self-defense. Take the time to look at what's out there in the marketplace, shoot the different offerings, find out what works with your gun, and what works for you. 
Until next time… stay safe! 
---
Ammunition – Why the JHP? Part 2
By: Justin L. Johnson
Justin started his journey in the military and has grown his passion for firearms and training ever since. He has a resume that covers just about every segment of the security industry from armed and unarmed static security, investigations, close protection, high-risk protection, sports and entertainment venue security management, risk assessment, and consulting. He has spent the last 5 years managing ammunition product portfolios for major ammunition and firearms manufactures in the industry. He is also an avid competitive shooting, crossing multiple disciplines.