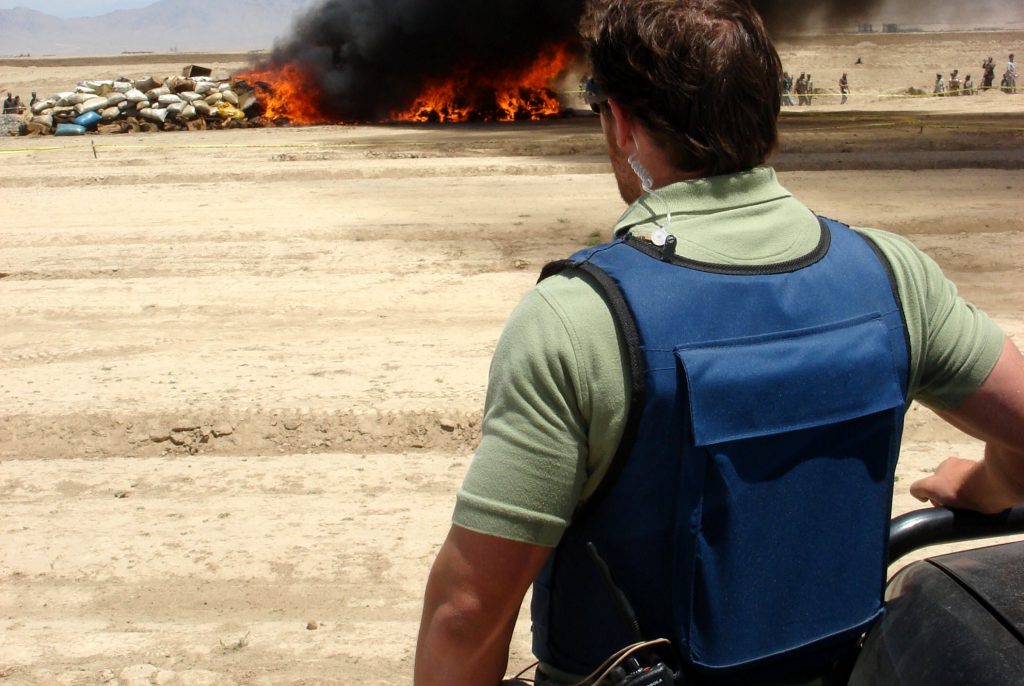 You can only perform to the best of your ability with preparation and awareness. Prioritising preparation is the only way to ensure that you can deal with difficult situations accordingly.
This preparation can extend to a great many areas, and understanding personal defence, security, and first aid are just a few topics that Security Operatives (SOs) have to familiarise themselves with. You will already know just how important body armour is for Security work, yet many do not completely understand the different options available.
Body armour covers a wide range of protective options, from helmets to Tactical Armour, but all of them can be categorised as protective clothing. Bullet proof vests are of course the staple protective option, but even these items have a number of different levels and styles to consider. For SOs in particular it is important to choose the right vest, particularly when working in the UK where firearms are not the most pressing threat facing the Security Operative.
Soft Armour
Bullet proof vests are available at different levels depending on the protection they can offer. This ballistic protection is regulated by the US National Institute of Justice, or NIJ, which then ascribes levels to vests. This means that any man or woman can see at a glance what their vest can protect them against.
'Soft Armour' simply refers to the materials used in body armour, namely soft fabrics like Kevlar. 'Hard armour' will also use these soft fabrics, but with overlays of rigid materials like Ceramics or Polyethylene. Manufacturers of body armour are increasingly using ultra-lightweight materials to ensure comfortable fits in their vests, particularly in women's sizes. Providing vests designed for female body shapes has been an important area of development, and solves the deplorable situation of having women wearing vests that do not fit properly, leaving them unprotected. Soft armour is available up to and including NIJ Level IIIa, providing protection against high velocity 9mm full metal jacketed round nose bullets, as well as .44 Magnum jacketed hollow points, in addition to all the ammunition provided by lower levels.
Each level of protection can stop the ammunition listed at lower levels. Level IIa armour is considered the minimum recommend protection for all armour, and is capable of protecting against 9mm full metal jacketed round nose and .40 S&W full metal jacketed ammunition, which are commonly found in most handguns. Even this 'basic level' is capable of protecting against a wide variety of rounds, with 10mm Auto, .357 SIG, and even .45 ACP rounds all covered by this level of protection. The Level II armour, conversely, can protect against all this as .357 Magnum jacketed soft points and the 9mm Parabellum fired at higher speeds. As mentioned above, however, the 9mm fired from a semi-automatic will require Level IIIa armour.
However, bulletproof vests cannot protect against edged and spiked weapons. SOs will often be working around large crowds or in close quarters, and even in countries where firearms are readily available, weapons like knives and needles are still far more accessible. These weapons can be just as deadly, and you will need a stab or spike proof vest to protect against them properly.
Stab and spike proof vests will still use soft fabrics like Kevlar, as this allows the vest to absorb the impact of an attack. However, they will also require hard materials like chainmail and/or plastic laminate to protect the fibres underneath from being cut or bypassed by a weapon like a knife or needle. Stab and spike proof vests therefore often come with ballistic protection, and these multi-threat vests remain lightweight and discreet, making them perfect for Security work.
Hard Armour
Hard Armour, as mentioned above, will still use soft fabrics like Kevlar. However, in order to provide protection against more powerful weaponry, the vest will use rigid plates of ceramics or polyethylene. This provides far stronger protection than simple Kevlar, at the cost of weight and flexibility. Of course, developments in material technologies mean even hard armour can be worn underneath clothing in a discreet fashion.
Hard Armour is available at NIJ Level III and IV, which is the highest available level of ballistic protection. Level III hard armour protects against 7.62mmx51mm NATO full metal jacketed rifle rounds, as well as the 5.56x45mm NATO round. Most rifle and automatic rounds are covered by the Level III, including such staples as the .30-06 and the .308 Winchester. However, the highest level of protection, the Level IV, offers protection against all these bullets, as well as armour-piercing variants.
There are number of protective options available to the Security Operative, including helmets and Tactical Armour. These options are there to reflect the various situations that an individual may find her or himself in, and allow anybody to be protected. Bullet, stab, or spike proof vests are accessible and relatively inexpensive protective options that should be invested in by anyone keen on preparing for the future and safeguarding their wellbeing.
---
What You Need to Know About Body Armour
By: SafeGuard Armour