Having already looked at the basics of choosing a camera body in a previous article, lens selection is equally, if not more important.
There are two main factors to consider when choosing a lens and they are the focal length and the speed. Both of which are equally significant, depending on what you actually need to photograph.
When people refer to lenses, they normally describe them by their focal length and their speed, such as a 50mm, f1.4 or a 300mm, f5.6. The 'f' number relates to the size of the maximum aperture.
What Focal Length?
The first thing most people consider if they are choosing a lens (especially for surveillance) is the focal length to bring the subject closer. The focal length is the distance from the objective lens to the sensor such as 100mm.
Many lenses are 'Zoom' lenses, which have a variable focal length such as 24mm-55mm, 70mm-300mm or 100mm-400mm. For the surveillance photographer, lenses of 300mm are normally adequate. The following size lenses are used for the various types of photography.
The beauty about digital photography is that if you can take a good picture with a 'fast' 200mm lens, and then zoom in close once it is up on a computer screen and crop it without losing too much quality.
What is Lens Speed (Maximum Aperture)?
The aperture is an adjustable 'diaphragm' within the lens body and acts very much like the iris in your eye. It opens to let in more light when dark and closes to let in less light when too bright. The size of the aperture is measured in what is called 'f stops' and follows in the sequence:
f:   1.4    2   2.8    4     5.6 …
f1.4 being the widest aperture, letting in a lot of light and f5.6 four times smaller.
A wide aperture such as f1.4 or f2.8 will allow in plenty of light and this is needed in a low light situation, which is common in surveillance photography, especially in low light. In addition, a larger aperture will allow you to use faster shutter speeds, which is important when using telephoto lenses to prevent camera shake and allows you to freeze movement. Therefore the larger the aperture, the faster the shutter speed, hence the term 'fast' lens.
This is where cost comes into it.  An average 'kit' telephoto lens that you get with most cameras may be a 70-250mm but restricted to f4.5. The speed of this lens is therefore f4.5 and not really that fast and will cost in the region of £200. A fast lens, however, such as a 70-200mm, f2.8 allows in more light but will cost £900. It's what the pros use.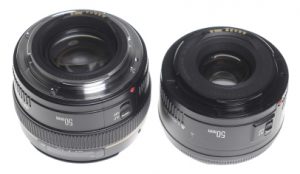 The Paparazzi are often seen with long lenses of 300mm and above but you will note that they are also very wide in diameter. This is because they are very fast f1.2 or f2.8. This enables the photographer to use faster shutter speeds in order to freeze action and reduce camera shake.
Variable Lens Speed
With zoom lenses, focal length is variable, such as 28-135mm, therefore it follows that the speed of the lens will also be variable. This is often displayed as a ratio, such as 1:3.5-4.5 (f3.5 to f4.5) so that when it's set to its widest of 28mm, the widest aperture will be f3.5 and when zoomed in to 135mm the widest aperture will be f4.5. One of my best zoom lenses is a 28-70mm which has a fast aperture of f2.8 but there's not much change out of £1500.
Cropped Frame Sensors
In the previous article on the subject, we described the difference between full-frame (35mm) and APS-C (cropped) sensor cameras. When lenses are fitted to these APS-C cameras the focal length of the lens will appear to be extended by approximately 1.5 times. Therefore a 300mm lens becomes a more powerful 450mm.
Shutter Speed and Telephoto Lenses
As mentioned, fast shutter speeds are required because we are using long lenses which exaggerate camera shake and we have to overcome image blur. This is so important, therefore, try to use a support or tripod whenever possible. If the camera has to be handheld, use the following table as a guide to selecting a shutter speed that will help prevent blur.
For every millimetre of focal length lens used, use a reciprocal shutter speed; for example:
Lens               Minimum Shutter Speed
50mm              1/60th sec
100mm            1/125th sec
250mm            1/250th sec
500mm            1/500th sec
Image Stabilisation (IS)
Some lenses have 'Image Stabilisation', that lets you shoot with lower shutter speeds and still retain sharp images. They are more expensive but well worth the extra money, keep it in mind, stabilisation only stabilises the lens, it does not freeze action.
---
Choosing Camera Lenses for Surveillance
By: Peter Jenkins
Peter Jenkins is Director of ISS Training Ltd, a security consultancy and specialist training company. ISS specialises in Covert Surveillance, Intelligence and photography training.
Peter is the author of 'Surveillance Tradecraft' and 'Covert Imagery & Photography'.