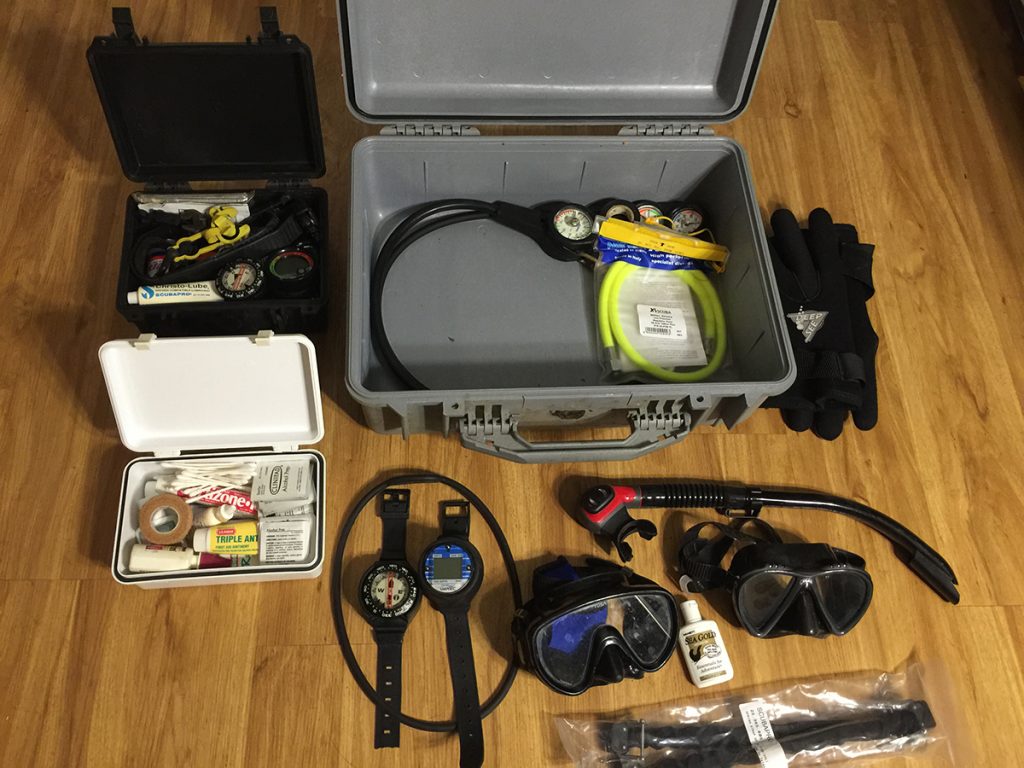 We use the word "Go Bag" a lot in the Close Protection Industry but the bag itself has a multitude of different uses and can contain a variety of items depending on the assignment. For the purposes of this article, I'd like to discuss one type of bag, made for a very specialized segment, in this case, Scuba diving. However, it can also be utilized for many other marine applications.
Scuba diving is an equipment-heavy task, and divers have check-off lists in the same way that Protectors do for conducting an advance, for the purpose of ensuring we bring everything we need for a successful trip. Forgetting something usually brings an abrupt end to a day's worth of diving, and that's a mistake you'll usually only make once.
Apart from the standard dive gear, there are a number of useful things, which divers don't necessarily need to bring every time, but we carry it just to err on the side of caution. During my years of diving, a few things have crept into my bag as I have expanded my diving knowledge, and they have just remained there since. Having a dedicated diving go-bag means that I don't worry about packing these items for each trip. I grab the bag on my way out the door, and I know I have the essential things that I, the client or anyone else I dive with might otherwise forget.  Here's what's in mine, feel free to use this as a place to start from to develop your own.
1. A divers tool kit.There are many store-bought kits, which can be purchased featuring tools that a diver may need if something breaks or just requires adjusting before a dive. Having been a mechanic for so many years I made my own kit from tools I already possessed.
Here are a few examples of what might be in such a kit:
Allen wrenches in various sizes, to fit the LP and HP plugs in your regulators, and a bigger one for the din adaptor plugs so you can add or remove them, as required, to work with your regulator.
A couple of adjustable wrenches.
A pair of pliers.
Several wire strips, and a pair of snips to cut the access strips off

 

with.
It's always good to have a few

 

picks to remove damaged O-rings with, and even a couple of replacement O-rings, which go between your regulator and the scuba

 

tank.
And finally, both Din and Yoke. You personally might not need both but I guarantee that someone else will need the one you don't have and if so, you just made a

 

friend for life.
2. O2 analyzer. Most people use Nitrox when they dive these days, but sometimes the label with your mix might fall off and for the life of you, you can't remember what it was. If you can't analyze it on the spot you just lost that days dive.
3. A diver's spare parts kit. Essential replacements for the things most likely to break on your gear. Mask straps, fin straps, extra batteries, extra buckles, tie straps, gear to fix small holes in your wet/dry suit. I also bring a replacement mouthpiece. Over time the mouthpiece wears out and/or loses its tabs that you bite down onto, which makes it very uncomfortable to swim with when this happens.
4. Snorkel. I rarely dive with one, but they can be handy to have with you. I usually have one in a pocket or tied to one of my D-rings. They are useful for any free time that you have in-between dives for snorkeling or long surface swims and things like that.
5. Spare spring strap. As my dive gear has evolved, some items have dropped off the list which is no longer needed, like the fin straps. All my fins now use a spring strap, so a spare spring strap has made it into my kit. Although no longer required I still keep the old straps as part of my kit.
6. Underwater flashlight. I carry a backup and regular underwater flashlight, as well as a strap-on headlight. Why have both? Most scuba lights are built for being in water and are therefore prone to overheating or even melting if used for an extended period of time above water. I also carry spare batteries for all my lights and computers in my spare parts kit.
7. Dive log, or spare pages for your log book. For the longest time I only used my logbook when helping classes as a Dive Master (DM), but having all your logs documented helps if the day should come when you transition away from EP and pursue a career in scuba as an instructor or assistant instructor.
8. Container. My scuba diving go-bag is not actually a bag at all, but rather a Pelican case, with room for everything. Many people use regular bags, and if you decide to go that route it would be helpful for you to pick a duffel bag that doubles as a backpack and is both weather and water-resistant. A medium-sized duffel bag offers the right combination of being spacious, yet compact enough for most peoples needs.
9. Medical kit. There are many good medical kits out there made for marine use. The main difference between regular medical kits and those intended for use in marine environments is that the latter also comes with items needed to treat marine related stings, such as an unfortunate encounter with a jellyfish.
The Go Bag might be the number one symbol of the Professional Protector and in accompanying our clients, who are out there conquering and exploring different environments, we must ensure we can adapt to their needs by being properly prepared and with the right tools for the job.
---
What's In A Scuba Diving Go-Bag
By: Einar Myklebust
Einar Myklebust is a Trained US Based Close Protection Specialist.  He is also a scuba diver since 1996 and a Divemaster since 1998 and is currently working on his Assistant Instructor rating.
What's In A Scuba Diving Bag, Divers Tool Kit, I Dive, Go Bag. We use the word "Go Bag" a lot in the Close Protection Industry.