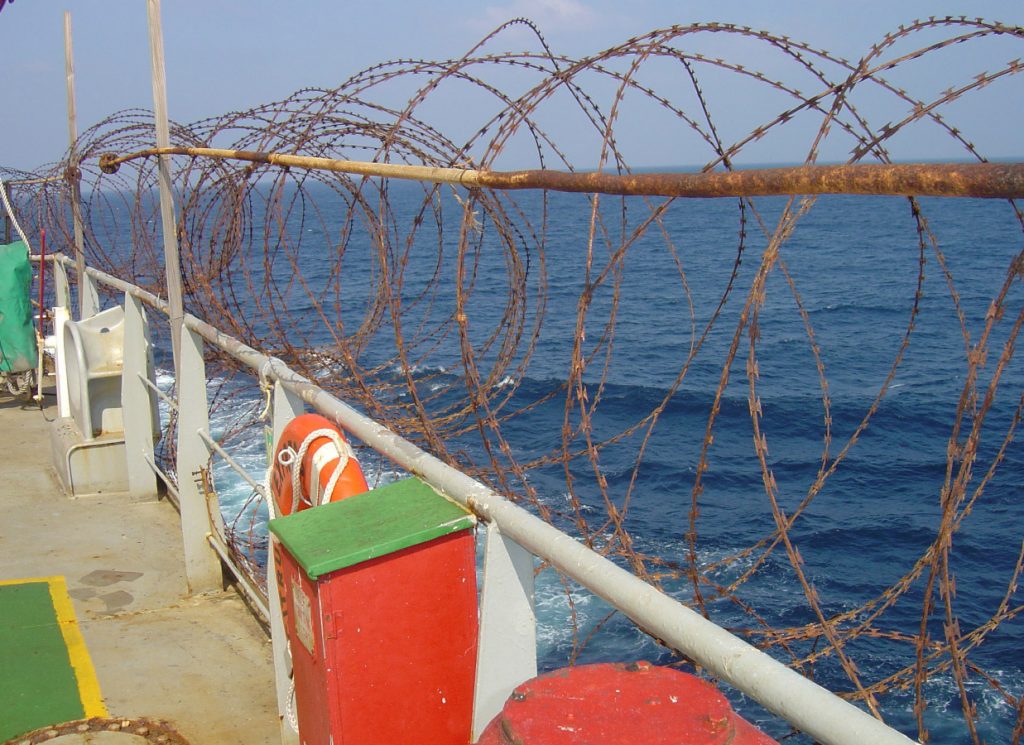 When President George W. Bush famously stood on board the USS Abraham Lincoln declaring the end of major combat operations in Iraq in 2003, few people would of anticipated the private security boom that was about to unfold. 
The post-war reconstruction programme coupled with an overburdened military meant that anyone with an ounce of previous military experience was called upon to fly out to Iraq to service the growing demand for armed security services.  The prospect of earning  a monthly salary that tripled the salary of  the average serving soldier resulted in a 'gold-rush' like exodus of former military  personnel to join the growing army of Private Security Companies (PSC's) plying their trade in Iraq.
The utilisation of armed private security contractors in a war zone received heavy condemnation from some quarters with particular concern directed towards their overall lack of accountability. A number of well publicised accusations of atrocities committed by private security contractors did little to stem the criticism.
Nevertheless, private security contractors made a huge contribution towards the Iraq reconstruction programme and their role should not be underestimated. As PSC's became more established in Iraq, a pricing war began.  Tenders were slashed in a bid to attract clients with a cost effective option.  Many contractors became disenfranchised with the constant reduction in salaries and began to look elsewhere for alternative employment.
Simultaneously, a new opportunity was emerging but this time the role was very different. Somalia, just like Iraq, had been in the international wilderness for a number of years.  Ravaged by internal fighting and neglected by the rest of the world, this impoverished African country was about to have a major impact on world trade.
Somalia's northern coastline lies on the Gulf of Aden, one of the world's busiest shipping routes.  An estimated 23,000 ships a year transited these waters accessing the vital link to Europe through the Suez Canal. However, the voyage through these seas presented an increasingly perilous risk of attack by Somali based pirates.
Taking advantage of their status as a 'failed state' and lawless circumstances, Somali fishermen quickly realised how lucrative piracy could be.  Small boats known as skiffs roamed the seas in search of ships to board and commandeer before forcibly taking the ship back to Somalia.  On arrival the ship, cargo and crew would be held, often for many months, until the pirates' ransom demands were met.
As more ransoms were being paid, news quickly spread along the Somali coastline of this new profitable vocation.  Upon hearing of the substantial profits to be made, young Somali males were turning to piracy to grab a piece of the action.   Meanwhile, the international shipping community was unprepared and totally defenceless against this rapidly escalating threat.
In response, a number of predominantly British entrepreneurial former military personnel began offering their services to protect ships in the region with the provision of armed security guards.  As in Iraq, almost overnight came a sudden clamour for former military personnel to provide protection to ships against the threat of pirate attack.  Almost overnight, a new industry was born and an increasing number of Private Maritime Security Companies (PMSC's) were being formed.
For many contractors, this opportunity was too good to refuse.  There was less time spent away from home, the job was generally less hazardous and the pay scales mirrored those on offer in Iraq.
Initially, these piracy protection services were of a makeshift nature.  Firearms and ammunition would sometimes be 'acquired' for a transit and when no longer needed, would be unceremoniously thrown overboard.  There were no procedures for the vetting of personnel and Rules of Engagement (Rule for the Use of Force) were almost non-existent.
The arrival of a security team on board a ship about to cross the Gulf of Aden was generally welcomed by the crew.  However, with negative headlines concerning PSC's in Iraq fresh in their minds, the opinion of the wider shipping community was divided with many major players feeling very uncomfortable with the lack of regulation of this growing industry.
Nevertheless, pirate attacks on shipping continued unabated with hijackings becoming more and more frequent. Simultaneously, the security companies proudly promoted the fact that no ship carrying armed guards had so far been taken.  Despite a major reluctance to engage with armed security providers it became glaringly obvious that those ships evading capture were those carrying armed guards.
The situation got so bad that some ship's crews refused to sail unless their management company invested in armed guards to protect them.  Ships were being refused insurance cover unless they could guarantee having armed security personnel on board.  Ships were being violently attacked on a daily basis and the situation was rapidly spiralling out of control.
Somewhat reluctantly, the shipping industry came to the realisation that the only feasible means of protecting their ships from this piracy scourge was to employ armed private security guards.  However, a huge question mark still hung over regulation.
Shipping companies created their own vetting procedures for the selection of armed PMSC's whilst some insurance companies took note of the shipping industry's naivety towards security and adopted their own vetting scheme conducted on their client's behalf.  While these were viewed as a positive step, they lacked any means of worldwide industry standardisation.
That said, the shipping companies were becoming savvy and they were now the ones calling the shots.  There was an abundance of maritime security providers that were suddenly flooding the market and the shipping companies began to dictate their demands.
In order to preserve their employment, maritime security personnel were now required to produce certification of a clean criminal record, undergo maritime-specific medicals and become qualified in basic shipboard skills such as firefighting and sea survival.
Also, regardless of their previous military experience, maritime security operators were now required to attend a 'Firearms Competency Course', usually conducted with .22 calibre replica firearms.  These training requirements averaged a total cost of around £5,000, all funded by the individual.
Individual operators were not the only ones ordered to obtain the required qualifications. PMSC's were ordered to take out increased levels of insurance, become ISO 9001 certified and be in possession of the legal documentation supporting their ownership of firearms.
The increased regulations were particularly welcomed by the larger, more established PMSC's.  Threatened by the arrival of so many new companies in the market, the larger companies viewed increased regulations as a means of squeezing out the smaller companies.
Desperate to gain a foothold in the market, many of the smaller PMSC's offered their potential clients a cheaper option and so, just like in Iraq, a bidding war began.  The shipping industry had certainly not been immune to the global economic recession so any opportunity to reduce costs was eagerly seized.
Taking note of the shipping industry's desire to cut costs, a number of PMSC's began recruiting their security personnel from further afield.  Maritime security operators from Sri Lanka, the Philippines or Eastern Europe were being employed at a fraction of the cost of their British counterparts.
This presented the shipping industry with a huge reduction in costs and many shipping companies were all too eager to go for the cheaper option.
This fresh influx of cheaper personnel may have been popular but complaints came flooding in about their professional ability.  Concerns of their inability to speak English, their poor weapon handling and being caught asleep whilst on watch were commonplace.  Regardless, they were cheap and the client wanted to save money.
Almost all ships passing by the Horn of Africa were now carrying teams of armed guards of varying nationalities.  Most pirate attacks were being successfully repelled and consequently, the number of hijackings had dramatically plummeted.
The British maritime security operators, who for so long had been the vanguard of the industry were being squeezed out by the incoming legion of cheap foreign operators.  Presented with an unprecedented quantity of security providers, the shipping companies held the aces and were now in the strong position of naming their price.  Typically, security contracts would be awarded to the lowest bidder.
To be able to compete, PMSC's started slashing the salaries of their British operatives.  Disgruntled with exceeding contractual demands, a dramatic drop in pay and having to endure appalling living conditions on board floating armouries, a large number of British maritime security operators began looking for alternative employment outside of maritime security.
Some had hoped that the dramatic rise in piracy attacks in the Gulf of Guinea would furnish a new opportunity for the requirement of their skills.  This however, proved to be a false dawn.  Others had hoped that the introduction of ISO 28007, an internationally agreed and generic standard for companies providing armed maritime security personnel would lead to many of the foreign operators being forced out of the industry but again, these hopes were dashed.
The plight of the maritime security industry was typified in the summer of 2014 when security company Gulf of Aden Group Transits, one of the larger PMSC's suddenly went bankrupt. With the downward spiral in Somali piracy, it's been predicted that many more will soon follow.
Some shipping companies, still keen to trim their costs are now conducting transits with just two armed guards on board.  Rumours are also rife that a number of shipping companies are considering scrapping the employment of on board security completely.  Anticipating the downward trend, many PMSC's began diversifying into the land based security market.
It could be argued that the private maritime security industry became a victim of its own success.  The employment of armed guards has undoubtedly been the overriding factor in the containing of Somali piracy.  Their services are no longer required as a result of the diminished threat.
The success of PMSC's in deterring the pirates led to a reduction in the amount of attacks which in turn led to a safer HRA.  Concurrent with the exceptional growth of private maritime security companies, all desperate to get business by undercutting the prices of their competitors led to a race to the bottom for the industry.
Despite the massive reduction in ships being attacked, some intelligence sources indicate that Somali piracy isn't completely dead.  Whether we'll witness a resurgence of pirate activity, time will tell.  Southeast Asia is currently dominating the piracy headlines and is now regarded as the global piracy hotspot.  However, a return to the maritime security 'heyday' for British maritime security personnel of an abundance of work and big wages is highly unlikely.
Maritime Security: The Race to the Bottom – By: Ed Hill

Ed Hill is a former Royal Marines Commando with a Masters' Degree in Maritime Security.  He is also Managing Director of Intrepid Risk Management, a company that provides specialist security services to superyachts and their owners.