(Tactical Combat Casualty Care)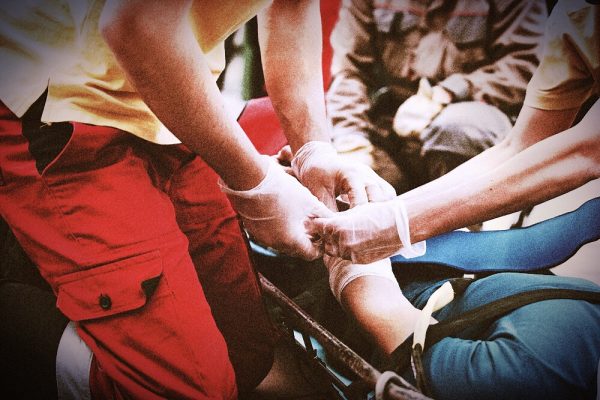 With the security market becoming flooded with operators looking for work, it has become more important to both network and make your resume stand out from the hundreds of others received in recruiters' inboxes. Having completed FPOSi during my CP course, I completed MIRA with Exmed, to give my resume an edge over others, however MIRA has become very popular/common, so the next step up in the first aid world is a acquire a PHTLS qualification.
The Exmed TCCC course is certified by the NAEMT, which is not well recognised on the UK circuit, but would be better known by American clients in hostile environments and it complements the British recognised FPOSi and the MIRA. The Exmed TCCC course is fully compliant with the Department of Defence's Committee on Tactical Combat Casualty Care (CoTCCC) guidelines and it is the only TCCC course endorsed by the American College of Surgeons.
After enrolling and being accepted onto the course I received a quite literally massive PHTLS Military textbook, with accompanying DVD. I then booked accommodation at Pengethley Manor, where Exmed are now located and I was all set.
Day 1
First up were the ubiquitous introductions to the team and other students. After going round the room I started getting a little worried as there was a doctor, a couple of Exmed instructors and paramedics doing the course for CPD, leaving only myself and a firearms police officer who were not healthcare professionals. It was a little intimidating after the introductions believing that you are the weakest link! However, once things got underway I felt a little better as this course is about tactical combat care, very similar to the manner in which team medic cadres are run in the forces.
After the intro to the course we moved onto Care Under Fire (CUF) which included: tourniquets, how to extract a casualty from a potentially harmful situation, practicing 2 man carries etc.
Once CUF had been covered we moved onto airway management, including the practice of surgical airways on live tissue and needle decompression with practice on dummies.
After the first day it was clear that the Exmed TCCC course is an American military course, but it is one that fills the gap beyond civilian FPOSi courses for contractors working in hostile environments.
Day 2
The second day consisted of classroom lessons followed by more practical lessons which included practicing cannulation, and F.A.S.T.1, a new I.O. method of drilling into the bone. There was also practical lessons on fitting pelvis splints, SAM splints and Kendrick splints. After lessons came exam time, the first being a written/multiple choice exam from NAEMT with 50 questions and an hour to complete; then the second was a scenario which was set inside one of Exmeds environmental rooms. This is a darkened room designed to create the atmospherics of a battle scenario; using smoke and audio tracks to represent the sounds of helicopters and machine gun fire.
All of the core medical skills are taught on the MIRA course which I completed the year previous, also with Exmed, however, it was good to get a refresher. The CUF training was not unfamiliar to me either, having had it drilled into me during many Team Medic cadres in the military, but again served as an excellent refresher, with the added bonus of being another recognised qualification to add to my resume.
Overall, I thoroughly enjoyed the Exmed TCCC course; the instructors have a wealth of knowledge and don't mind answering questions or explaining anything which someone doesn't understand. They have created a relaxing environment in which to learn (unless in a scenario!), with plenty of hands-on experience where possible. I thoroughly recommend this course to anyone wanting to expand their clinical knowledge.
Scott Geddes
SIA Licence Close Protection Officer & Maritime Security Consultant
Contact:  s_geddes@hotmail.co.uk