FocusOn: YEMEN
October 2013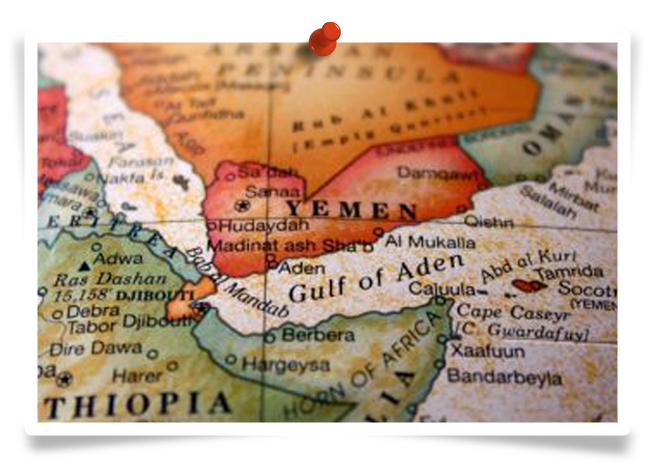 Significant Events
October 7: al-Qaeda (AQ) militants attacked a checkpoint in al-Bayda province, killing eight soldiers. Four other soldiers are missing.
October 7: the Yemeni Air Force launched air strikes against AQ militants who were trying to attack a government complex in Shabwa.
October 6: gunmen shot and killed a German embassy bodyguard in a popular market in Sana'a.

October 6: gunmen kidnapped a Sierra Leonean UN worker from his car in Sana'a. His driver was not taken or injured.
October 3: unidentified gunmen assassinated a Special Forces commander in Aden.
October 2: FM Abu Bakr al-Qirbi announced that the National Dialogue Conference (NDC) may be delayed for up to 3 months.
September 30: al-Qaeda in the Arabian Peninsula (AQAP) militants seized the military headquarters in al-Mukalla, Hadramout. The gunmen took hostages and held the building for three days before the military regained control. At least 10 soldiers were killed in the events.
September 29: AQAP gunmen on motorcycles killed a police colonel in downtown Ta'iz.
September 28: Colonel Ali Nasser Dambur survived an assassination attempt in Sana'a, though was wounded after being shot four times.
September 26: two Improvised Explosive Devices (IEDs) wounded around 17 people on Rabat Street in Sana'a. September 26 was the 51st anniversary of the 1962 revolution and creation of a republic in Yemen.
Flashpoint's to Monitor
US counter-terrorism: Officials claimed the media stories that detailed AQ communication interceptions compromised counter- terrorism efforts. This could make it more difficult for Yemeni forces to operate.
Kidnappings: The two incidents in Sana'a this reporting period show the vulnerability of foreigners in the city, even in wealthy neighbourhoods in broad daylight.
Outlook
Short-Medium Term:
The National Dialogue appears to be delayed further due to walk outs by hardline elements of the talks. As the negotiations near their end, demonstrations could be seen to influence talks or protest their conclusions.
Medium-Long Term:
AQ operations in recent weeks show their ability to strike hardened military targets, to the grave embarrassment of security forces. Also, drive-by assassinations continue in large cities.
Current assessment
Terrorism
A tandem bombing attack wounded around 17 people, some critically, on Rabat Street in Sana'a on September 26. The first IED exploded with no injuries but attracted a crowd to examine the destruction, many of whom fell victim to the second explosion. The IEDs were placed in trash containers near the street to remain undetected. September 26 was the anniversary of the start of the 1962 revolution that ended the monarchic Mutawakkilite rule and established a republic in North Yemen. The date of the attack could suggest the bombing is a statement against the current attempts to proceed with democratic change and the shift toward federalism.
Please log in to continue reading the rest of this article. – Don't have a subscription? Click Here
[account_login]