As is common with us all, we love our gear and we can't get enough. A common discussion in our Facebook group, The Protective Security Group, is travel gear and equipment.
While not meant to be a comprehensive or 'cookie-cutter' list, below I share a typical packing of my 'go-bag' which I hope you all find useful; at least as a good baseline to add/subtract from for your travel needs.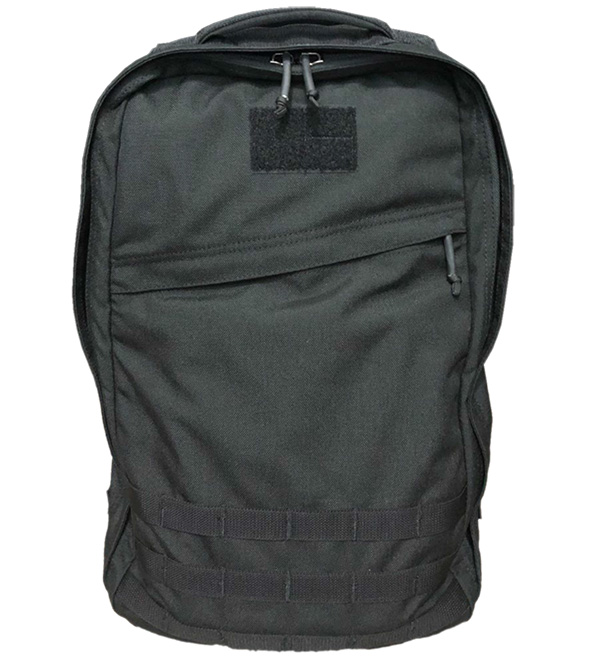 When profile is not a consideration, my new favorite bag is the GoRuck GR-1. This bag is incredibly durable, well thought out, excellently structured and top quality. The pouches are well placed with durable zippers. The back panel is perfect for a ballistic plate and the straps are comfortable. Additionally, the slime profile fits well under the seat in front of you on a plane with easy access to your need-to-have items if you leave the zipper pulls on top. This bag was an incredible present from an associate of mine, Art Dorst.
Below are a series of pictures and explanations which display and list the contents I typically travel with.
Note: Personal items (like clothes) are not discussed in this article.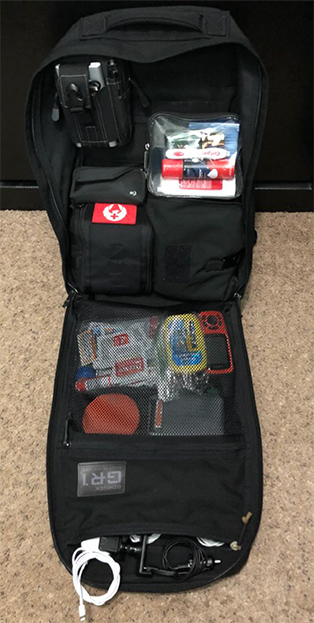 In the center top pouch, I put the things I need quickly and frequently on flights or in a vehicle: a collapsible water bottle, hand-sanitizer, sanitizing packets, napkins and IPAK (when not on my belt) on the other, charging accessories, lens wipes, chapstick and vent mount, etc.
In the pack, I have: a Go-Ruck Wire Dopp with all of my charging/media accessories for my phone and others, head sets, backup phone, duct tape/e-tape/550 cord, laptop charger, and PowerAll accessories; DMR/Analog radio and charger; small bottle of Rain-X; tire pressure gauge; credentials and business cards; Ritein-the-Rain notebook, pens and pencils; tactical pen; flashlight; PowerAll; SwissTech Tools Bodyguard; noise cancelling ear buds, cell
phone chargers, Breath of Life Masks; (If traveling internationally, I will also pack a Smoke/CO detector) and I also carry a SkyRoam, Garmin InReach and IridiumGO for constant communications/tracking capabilities. In the outside compartment I keep my iPad Pro with smart keyboard, Quest Protein bars; gum and cough drops. In this pack, I put my laptop in the back compartment along with a foldable convenience tray and a ballistic plate.
Shown below, the clear small hygiene kit and a clear small pill pack with Ibuprofen and Tylenol, Benadryl, allergy pills (diphenhydramine), dramamine, glucose tabs and jolly ranchers, misc bandaids and Neosporin/Polysporin packets, Tums, hydrocortisone cream, burn jel, liquid skin, sunscreen packets, temp quick strips, oral pain relief gel, eye drops, and a mini Tide pen; PX Hero "Scout" with trauma gear (pic below) and I added a SWAT-T, Hyfin chest seals, and combat gauze and Celox rolled gauze.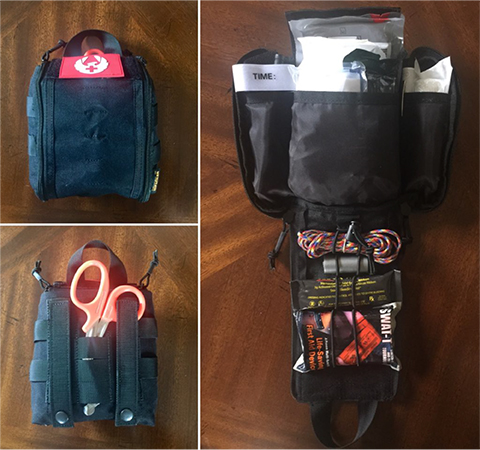 ---
Executive Protection Travel Pack: Things to Consider
By: Joseph M. LaSorsa
Joseph M. LaSorsa, CPP® is a senior partner managing and conducting: Protective Operations Training Courses, Executive Protection & Bodyguard Services, Risk Management Consultations & Seminars, Workplace Violence Prevention Seminars & Intervention Services, Security Consultations & Seminars, Private Investigations and Technical Surveillance Counter-Measures with LaSorsa & Associates – an International Protection, Investigations & Consulting Firm.