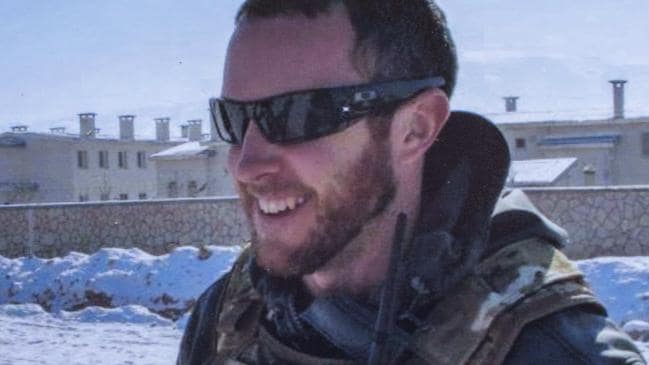 Bodyguards at Australia's embassy in Baghdad were told not to speculate about what occurred in a room where their colleague Chris Betts was fatally shot in 2016.
The warning came after a shocked colleague, Patrick O'Keefe, described the wounds he had seen on Mr Betts' corpse which indicated he had been shot in the left side of his head.
Mr Betts, who was right-handed, died in the early hours of 12 May 2016 after a night of drinking and playing video games with colleague Sun McKay.
During the third day of an inquest in Brisbane, former Unity Resources Group employee Mr O'Keefe told coroner Terry Ryan that Mr McKay was a "nice guy but a strange guy" who had acted "extremely unusually" at a shooting range and once laughed while shining a powerful laser into oncoming vehicles at night on an Iraqi highway.
URG had been contracted to protect Australian diplomats since 2011.
Company operating procedures prohibited employees from keeping weapons in their room, but a breach by protesters in the secure "green zone" in the weeks before Mr Betts's death allegedly led to a policy change that permitted them to keep their weapons and ammunition accessible.
A month before Mr Betts died, he was drinking with Mr McKay, Mr O'Keefe and Ben Turner, a former soldier who gave evidence before the inquest on Tuesday, when Mr McKay allegedly pointed his Glock pistol, loaded with a "dummy" bullet, between Mr Betts' eyes.
"Then he pointed the weapon at Chris's head and said 'do you trust me', very stoically, no humour at all, then pulled the trigger," Mr O'Keefe said.
"There was just a click and nothing happened."
Mr O'Keefe was woken about 3am the night Mr Betts died.
"My team leader said to me, 'Chris has been shot', and I was half asleep and I just said, 'Sun?'
"He nodded his head and said yes, 'he was in Sun's room'.
Later, when Mr O'Keefe saw his friend's body as it was being handed over to Iraqi authorities, he was shocked to notice an entry wound on the left side of his head and exit wound on the right.
Mr O'Keefe told his project manager about the injury but was allegedly told not to discuss what he'd seen.
The entire team was called in to a meeting and told not to speculate about the incident.
Source: