For me, the last three months has seen some well earned time off and a chance to get over to the States and train at some of the top fight gyms. It was a pilgrimage of sorts, visiting the stomping ground of great fighters past and present. My aim was to push myself physically, learn new skills, but most importantly, soak up as much knowledge from the world-class trainers as possible.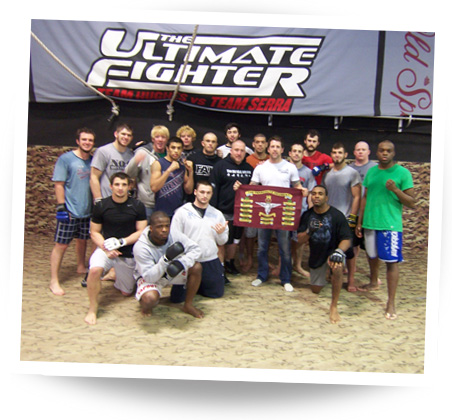 First stop was the H.I.T. Squad in Granite City, Illinois, home of the 9 times UFC champion Matt Hughes. This gym is renowned for its toughness both in the level of fighters it turns out and the intensity of the daily training sessions. The majority of the fighters live in the dormitory accommodation 100 metres from the gym. It is very much daily routine; fighters rise at around 0800hrs, eat breakfast then head to the gym for the 0930hrs Strength and Conditioning session. These sessions are what the camp is known for, balls to the wall, no holds barred Hybrid circuits combining:
• Olympic lifts
• tyre flips
• rock throws
• sprints.
It's soul-searching stuff, testing both anaerobic and aerobic conditioning to the max. The technical classes start at 1600hrs with: Wrestling, Boxing, Brazilian Ju-Jitsu and Muay Thai being drilled at different times throughout the remainder of the day. The fighters pick which ones they attend. Sparring is always hard and I frequently heard one fighter telling another "I was trying to knock you out there!" The phrase 'Train hard fight easy' rings true within these walls.
The thing I most took away from my time here that would crossover to our industry is the importance of recovery. With high workloads coupled with extreme stress, it is vital that every step is taken to insure we maintain a healthy immune system. This includes the food choices we make, along with the frequency and amount of food consumed. Good preparation is the key, it is far too easy to grab convenience food when out and about, resulting in poor quality nutrient content and the gaining of unwanted fat weight. I appreciate it isn't easy, but I have been in the situation many times and worked through it. Key points:
Source while away or travel with a few good quality supplements: Obviously weight restrictions and operational equipment carried will determine the amount that can be carried:
Multi-Vitamin/Mineral
High-strength Vitamin C
Joint complex (Glucosamine/Chondroitin)
Omega 3,6,9 (fish and flax oils)
Whey Protein (Isolate is the best and purest quality)
I will travel with this as standard where possible, if I have extra room/weight I will usually fill it with more dry food options:
Seed mixes (Flax/almond/hemp)
Ground complex Carbohydrate Powders (Milled Oats/Barley)
Nuts (almond/peanut/walnut)
Never have I experienced any problems with bringing these foods into another country. I have been stopped once in Florida where the customs tested some of the protein powder I was carrying, when it came back that nothing was untoward it was returned to me. I have carried 20kg of supplements in hold luggage into the Middle East also without incident.
Next gym of note was 5th Street Gym in Miami, Florida. This has only recently been reopened having previously been the location for the majority of Muhammad Ali's fight camps. The history is proudly displayed on the walls of the gym showing the great champions that trained there along with signed gloves and championship belts. It was lucky that the time I was here, David Haye the current WBA Heavyweight Champion of the World, had based his training camp in Miami. I was lucky enough to witness from ringside, George Groves the reigning Commonwealth Super-Middleweight Champion, going toe to toe with former World title contender Andre Dirrell for eight fast paced rounds. The heat that radiated through this gym was immense, the fighters suffered and the aircon was kept to a minimum with the fluid loss extreme. That said, get a set of body armour on, carry a weapon and cut about in Basra during the summer months, it's all relative!
It does hammer home the importance of proper hydration and that doesn't just mean numerous bottles of water. Having worked as a Team medic in the Middle East, I did a lot of research on the effects of dehydration and how to combat it. A loss of Electrolytes is a major concern and by just ingesting pure water this can have a more damaging effect. Electrolytes are basically minerals found in blood, urine and body fluids. They are sourced from the food and fluid we ingest. It is important to retain a balance within the body as water levels change, especially in the intense heat. By just taking on pure water you can effectively drive the electrolytes out of the body causing a condition called Hyponatremia. It is a balancing act however; some of the leading brands that offer these sports drinks are far too potent in their consistency so should be diluted before drinking. This is something I used to prepare for my clients every morning. Having said that, giving them bottles of cloudy yellow water did raise a few eyebrows! I suggest you do your own research on Hyponatremia and its effects; it may save somebody's life one day.
My final stop was Gleasons gym in Brooklyn, New York. This is probably the most famous boxing gym in the world. In its current location under the Brooklyn bridge it has seen such great champions as Mike Tyson, Riddick Bowe, the late Arturo Gatti, Iran Barkley, the list goes on and on. On entering the gym you are under no illusions as to where you are, it's a 'spit and sawdust' gym that smells how a boxing gym should do. There are a huge amount of trainers who you can work with; some former champions Pro and Amateur, most with a list of champions they have trained as long as their arm. I had a couple of sessions with James 'Country' Thornwell, a veteran of the fight game who trained former Light-Heavyweight Champion of the World Eddie Mustafa Muhammad and former Heavyweight Champion of the World Tim Witherspoon. It was a privilege to be taken on the pads by him and soaked up as much knowledge as I could in the short time I was there. On the final day of my trip I entered a 4 mile race in central park; a nice way to finish, with the mandatory all day pub session to follow and an emotional flight home early hours the following morning, (not an advert for good recovery by the way).
The last year has hammered home to me that the training I involve myself with and encourage others to follow, works on all levels. It's a 'Jack of all trades' system that has the flexibility to transfer to many different sports and fitness disciplines. By maintaining an all-round excellent level of general fitness, this allows me to hold my own in most un-skilled physical activities. Training for a specific event that demands certain training qualities, the general strength and conditioning base is always there, which only requires a 3-4 week specific training period to reach a peak. Minimal equipment is needed and time is not an issue, no excuses!
Ryan Naish