The Chinese Bodyguards
Personal Protection in the land of the Dragon
On the morning of January 22nd 2003, visitors streamed in and out of the Southern Chinese Shanxi office of Li Haicang. Nothing was out of the ordinary until a lone assassin produced a sawn off rifle and fired a bullet into Li's body.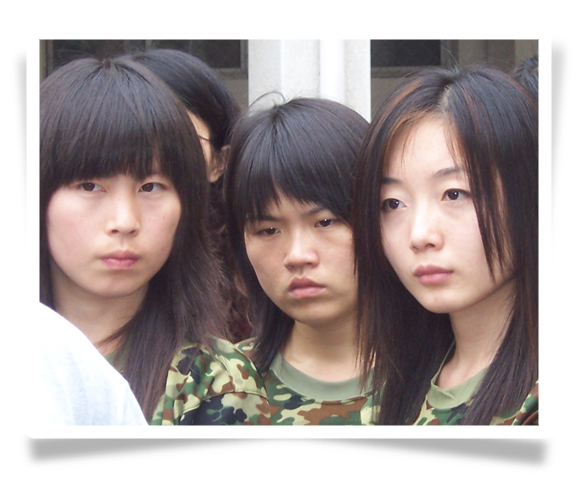 Until that fateful moment, Li was the Chairman of a multinational company and 27th on the 2002 Forbes list of China's richest people. Only several weeks later on 12th February, a Chinese millionaire from the wealthy enclave on Wenzhou in Zhejiang Province, was stabbed to death by 5 men outside his home in a pre-planned assassination attack.
Various media reports indicated that in 2004 alone, around 4,000 people were kidnapped in China.  Well known actor Wu Ruofu was abducted whilst driving his BMW and hid in the north of Beijing by a notorious Chinese organised crime group who demanded a ransom, but police were able to track them down after several hours and freed Wu.
These incidents are just several in part of a growing number of occupational hazards for China's emerging ultra-rich; assassination and kidnapping and a reason why many of China's rich are undertaking precautionary measures which are becoming more and more necessary for the emerging class of millionaires and billionaires. With around 30% of China's millionaires believed to be women and a widening wealth gap has made safety an issue for the rich, it's easy to see that private security and in particular, Baobiao, the Chinese word for Bodyguard is taking off as the nation struggles with some of the side effects of its booming growth.
A 2004 media report in the China Daily newspaper stated that in Guangzhou alone, the private security industry employed no fewer than 5000 personal bodyguards. This is just a small step in the great wall of Chinese security and protection firms opening up throughout the country. There are even Chinese firms now specializing in kidnap insurance and from accounts; business is booming.
Australian's Eddie Wazen and Jason Watson are two industry experts based in Beijing who are leading the way in developing new training programs and services for the Chinese market.
During his time in China, Wazen has trained officers from the police, law enforcement and the growing number of corporate firms offering Bodyguards. He states that a large number of China's private bodyguards are retired police and/or soldiers from elite units, or former Chinese secret-service members, and furthermore, that there has also been a large number of wealthy Chinese who are turning to female bodyguards in a measure of protection.
Wazen recalls a local executive, who had received threats that his child would be kidnapped, hired a female bodyguard to escort his child to and from school. He says that employers of bodyguards in China are successful people like senior executives of foreign or private businesses, as well as entertainers and a growing number of entrepreneurs. Wazen states that like anywhere in the world, there are those who are jealous of, or simply hate the rich and successful for their lavish and enjoyable lifestyle.
He says that he has seen Bodyguard training programs designed for females advertised at martial arts schools where the training curriculum includes instruction in driving, computer skills, self-defense related laws and "polite conversation". The teacher's at these schools are veteran martial artist, former Special Forces soldiers and operational bodyguards. Female bodyguards are becoming more and more popular as businessmen want them to protect wives, girlfriends and children.  Like Australia and the western world, there are some schools which are professional and understand the complexities of what constitutes the role of a bodyguard whilst there are many other courses that run their course from an outdated training manual without any formal experience or training.
He says that there has also been a growing demand for private bodyguards being hired by Taiwanese pop singers and prominent entertainers when visiting mainland China.
When asked who makes the best bodyguard he is quick to note that the Chinese have long prized Manchurian bodyguards for their physical size, loyalty and bravery, and female bodyguards have many advantages of their own. Furthermore, many bodyguard training programs place a large emphasis on fitness and physical exercise and often the bodyguard will double as a coach in fitness training for their "bosses".
Many former career military and police officers turned entrepreneur have identified the specialist market of private security and its success in western society and have now turned their focus on China.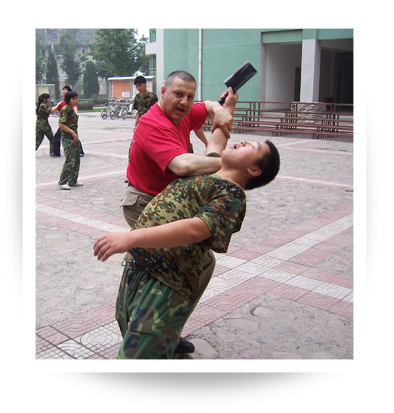 Just over a decade ago the industry didn't legally exist. Although there have been several security firms who have received China's Ministry of State approval to do business if their founders have at least five years of security experience, the employment of personal bodyguards in China is still a grey area as far as the law goes and there are no laws yet in China completely governing the industry.
Wazen said that the word 'bodyguard' has had a very negative image in China and because of the lack of legal clarity surrounding the private bodyguards it means that their work is often described as "personal assistant" or "advisor" and their multi functions are also reflected in the job description. Some firms have also resorted to calling their bodyguard firm a "business etiquette" firm although of late, the Ministry of State insists that the word 'security consultant' be used to avoid comparisons with the bodyguard image in America and other western nations.
Many lawyers believe that what is not specifically forbidden by law should be legal however; government officials claim that no firm can legally be registered as a private bodyguard service. There have been a number of occasions where firms have been shut down by the Public Security Bureau.
Wazen states that as far back as the early 1990's there was a special course in Wuhan, Central China which offered young women the opportunity to train as bodyguards. In 1999, Wazen was invited to teach at the Dalian Peoples Police College where he witnessed firsthand a large number of young, fit and attractive females being trained as bodyguards by a specialist unit within the police. These ladies had been trained in all aspects of body guarding including firearms and Chinese martial arts.
An example of the popularity of females attending these programs was highlighted in a Chinese media report which stated that the Wuhan College of Physical Education received 3,000 enquiries when it first announced that it would begin offering a six month training program to teach women how to become bodyguards. The report stated that of that number, over 700 women formally applied and 150 were accepted.
It's a special time in the history of China and the country has been in an economic transition. As such, China is no different to many other countries and crimes towards rich people are inevitable. Furthermore, a widening rich-poor gap, the 2008 Olympic Games and the global market are raising safety concerns among the nation's elite and leaving many of them vulnerable.  This is another reason why private bodyguard services have surfaced and are increasing each year.
Like their western counterparts, many Chinese performers and business executives employ bodyguards as a symbol of their status and prestige.  However; aside from prestige, another reason for the increase in popularity of having a bodyguard is the crime rate. Whilst serious crimes such as robbery, theft and murder are still less frequent then in western society, they are becoming more and more common in China than ever before.
Chinese criminal gangs are also now renowned for carrying weapons including firearms, allegedly bought illegally from corrupt police or military personnel. Furthermore, there have been a number of major incidents over the past several years including the countdown to the Summer Olympic Games in Beijing. Some of these include the March 2008 hijack of a bus in Xian which was carrying Australian passengers and was hijacked by a Chinese man wearing explosives and threatening to blow it up. Furthermore, there was an alleged attempt by Uighur minorities in China to hijack a plane traveling to Beijing in the same year.
Many Chinese are rushing to join the ranks of one of China's newest and best paid professions and Chinese bodyguards can look forward to salaries of about $200 USD – $5000 a month depending on their military/police background, formal bodyguard training, education, appearance, knowledge of martial arts and foreign languages.
However, whilst many sign up to a world of glamour there are many underlying problems including exploitation of female bodyguards as nothing more than an attractive fashion accessory or for "ornamental reasons". However; there are those companies that also require a secretary, public relations officer and a bodyguard so in a female they can have all roles put into one role.
The director of a firm that Wazen and his team has previously trained stated that he dresses his bodyguards in matching designer suits and long black coats as symbol of status and as far as he is concerned, if people see this in conjunction with his latest European designer car   then it means success and that they will want to do business with him.
In 2008, security specialist Jason Watson was invited to train students undertaking specialist bodyguard training in the lead up to the Beijing Olympic Games.
He states that the Chinese Bodyguards rely too much on traditional and outdated martial skills which are not relevant to the modern bodyguard. Whilst having these skills is an advantage they are not suited to the close quarter and dynamic situations of the modern era. Instead, systems such as Street-Edge Defensive Tactics and Bujinkan Ninjutsu are much more suited to the Bodyguard/High Risk Protection industry.
In early 2012 prominent media reports throughout China and Asia showed young female students at a bodyguard training school having bottles smashed over their heads to prepare them in the event they may encounter this type of attack when they are a body guard. Wazen states that this type of training is more for show then having any real learning outcomes for the students.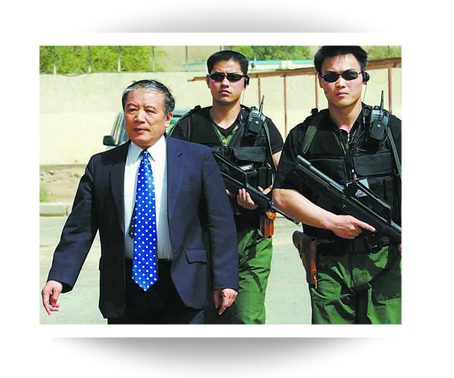 Watson says that Chinese law prohibits private security guards from carrying guns, and there are also very strict laws in relation to carrying knives. In theory, Chinese bodyguards do not have any special privileges and they have the same rights and responsibilities as civilians including they have no right or entitlement to carry firearms however; it is often the case that many do carry weapons in complete violation of the law and are often "protected" by corrupt government officials or because they "know someone".
There are unconfirmed reports that there may be over 20,000 companies throughout China who are involved in security, body guarding and private investigation work. Although there are some that are licensed by the state Public Security Bureau (PSB), both Wazen and Watson believes that most of these firms operate underground or in a gray area with little regulation or by paying bribes to local government officials to turn the other way.
With the increase of crime in China including murder, assassination, kidnapping, corporate and financial crime the government is not in a position to be sending police and troops to provide personal protection to private entrepreneurs, local and foreign business executives and for those that require around the clock safety measures. Furthermore, there are an increasing number of foreign executives, entertainment and corporate businesses conducting business in China and many of these expect the same type of private security found in their native countries.
Over the past several years and since China became a member of the WTO, Wazen has  noticed a trend in Chinese Bodyguard firms seeking formal educational accreditation for their bodyguards and security specialist. As China continues to open up to the modern international world, education and formal qualifications in specialist fields such as personal protection is being sought from renowned "subject matter expert" countries such as Australia, Israel and the United States.
By Paul Johnstone (Defensive Measures International)
Paul Johnstone is the founder of Defensive Measures International and is a security and intelligence consultant who has over 30 years' experience within the military, policing, intelligence, law enforcement and corporate security fields.
Paul welcomes referrals and requests for advice so please feel free to contact him at dmint@bigpond.com or jisseninternational@gmail.com