How to become more employable by specialising in pre hospital care
Many close protection operators (CPO's) are now identifying the value of becoming specialised in other aspects that surround the role. One of these specialist areas is Pre Hospital Care (PHC), and with this in mind I would like to share my thoughts and tips with you.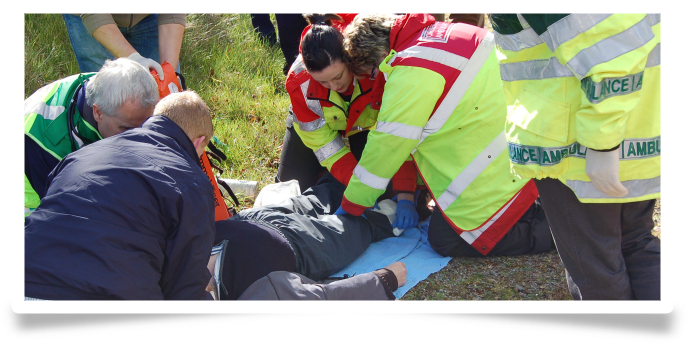 Having a specialism in medicine will allow you to move into new roles, by becoming a greater asset to any potential employer.
If you are a CPO who is keen to develop your PHC skills, you may have questions like; what qualifications do I need? Who can help me get these? How do I manage my development? How do I stand out from the crowd?
The following thoughts and tips should help you answer those and maybe give you some further development ideas for your future.
What qualifications do you need?
If you know PHC is the route you want to take and have done a bit of research, you may, at this be point, be thinking FPOS-I, then MIRA then some other impressive sounding course with an acronym, is the way forward.  For the most part, as a newly emerging medic, these qualifications will give you a good level of industry-required skills. However most of these courses are designed as specific competency areas, and as stand alone courses do not give you any professional registrations.
Before spending lots of money on defining your skills with a collection of courses, the question you should first ask yourself is 'how can I be identified as a competent and employable medic'? The simple answer is; you require a professional registration and you need to document continual professional development.
Professional Registration
Not having a professional registration means that you if you use some of the more advanced skills, it could have legal consequences.
Having a professional registration will benefit you because it ensures you have a foundation of learning. It gives you greater understanding into the human body, how it works and how it responds to treatment. By having this base level of knowledge you will be in a much better position to develop your skills further, and develop a specific competency area, such as ALS and MIRA.
The right way to develop yourself is to start from the bottom and work your way up. Don't be rushed into thinking you can by pass some of these stages, they are essential in making you the best medic you have always wanted to be.
So, my advice for your next step following on from FPOS-I is to undertake a medical education program that gives you a professional registration such as HCPC, AREMT or NAEMT, then move into your area of specialism.
How do you decide which registry body to use?
Professional Registrations are run by regulatory bodies, deciding which one to use can be confusing and you will often hear many mixed messages.
To cut through these mixed messages, the best piece of advice is to look at where you aim to work. Many overseas employers recognise HCPC, AREMT and NAEMT, however if you aim to work in UK you will need HCPC standard training. You will need HCPC training because the NHS only employ HCPC registered Paramedics and other staff with UK accredited ambulance qualifications. The HCPC may recognize and register AREMT and NAEMT qualifications but this is done on a case by case basis where you will need to demonstrate you meet their criteria.
By registering with a professional body you become part of a regulated organisation, which gives you the authority to undertake work at different qualification levels.  All these registrations help with making you become a competent and employable medic, and in addition you should be planning your continual professional development to ensure you remain competent while expanding your skills.
Continual Professional Development
Once you have a registration with a professional body you can now begin your commitment to Continual Professional Development (CPD). Yes you have probably heard of these three little letters but have you ever thought what the lack of CPD means to an employer? In a word…..LIABILTY.
An employer wants to hire people who are professional and competent in role (and are committed to staying that way). You can be that person if you commit to developing yourself with a structural approach to CPD.  Put yourself in the shoes of a potential employer and ask yourself this question; who would you hire out of these two types of applicants?
An operator with a huge list of certificates from numerous five day courses they have attended, but cannot legally use most of the skills learned.
OR
A registered health care professional who conforms to an internationally recognised code of practice and undertakes regular development training relevant to their scope of practice.
The choice is obvious? But you would be surprised at how many people focus on being the first and not the second.  Changing your approach and mindset is the key to not becoming the first type of person described here
The most important part of you new approach is that development is an ongoing cycle. By making it an ongoing cycle it means you will always continue to improve your skills. If you do not maintain your skills they will degrade rapidly.
So how do you manage CPD?

You need a system, not just a portfolio!
Look at what your scope of practice is and break it down into key areas such as:
Common areas of practice
Infrequent areas of practice
Rare areas of practice
Once you have identified these you can attribute risk levels to them and identify where you will need to focus your development. For example:
Problematic airway management may be an infrequent or even rare occurrence in your role as a CPO medic in Afghanistan. The outcome of getting it wrong is life threatening. The probability of getting it wrong is high due to the fact that is a rarely practiced skill. This puts in a high risk category.
If on the other hand you are a rapid response Paramedic in UK and deal with problematic airways several times a month, then the likelihood of getting it wrong is reduced. Therefore you might choose to put this in a low risk category.
Attributing risk levels in your CPD
| | | | |
| --- | --- | --- | --- |
| Area of skill | Outcome if done incorrectly | Nature of dealing with this problem | Category of risk |
| Airway management | Life threatening | Done several times a month | Low |
| Airway management | Life threatening | Rare occurrence as located in Afghanistan | High |
So understanding what risks you face and the likelihood of those risks becoming realised, will lead you to decide what development training you need to undertake, and how frequent that training needs to be repeated.
A prioritised list of training needs and a plan to execute that, ensures you remain competent and safe to carry out your role.
Just because a certificate is valid for three years doesn't mean you don't need to undertake further development. Many certifications are on a three year renewal scheme, and although the certificate demonstrates you reached the standard at the point of certification, remaining competent at that standard is your responsibility.
You already do CPD but may not realise it
Every article you read, documentary you watch and even every conversation you have can hold hidden learning outcomes. To use these events as CPD, all you need to do is document what you learned from the experience and link it to how this lesson can influence the way you practice for the better. This could even be something as simple as recognising an error made by another medic, and documenting what system you have in place that prevents you from making the same mistake.
So how can all this help you stand out in the crowd?
You should present your CPD portfolio in a easy to read and simplistic format to potential employers.
CPD should contain auditable references to the evidence you have documented so that an employer can verify what you state.
It should demonstrate a methodical approach to development and competency over time.
It should reflect your whole scope of practice and future ambitions.
It should be obtained from a diverse array of development sources.
It MUST be factual and auditable.
So my suggestion is that your next email to a potential employer should contain a cover letter, a CV and your CPD portfolio, along with an explanation of how you prioritise your development.
These four things will be what potential employers take notice of. If you present yourself in a professional manner and with information that covers all their tick boxes, you will be a step ahead of the others.
In summary
It is a competitive market out there so specialising in medicine can be a way to distinguish yourself and become more employable. Being more employable means taking steps to get the foundations right and structuring your CPD so that you stand out from the others. Registering with the right governing body that matches your ambitions is key, and if you combine all this with a great CV and CPD portfolio you will go far.
by Adam Barrett
If you have any questions or are keen to know more about this area, you can get in touch with Adam Barrett, Director of North East Rescue and Medical Services on info@nerams.co.uk and 07841 337152