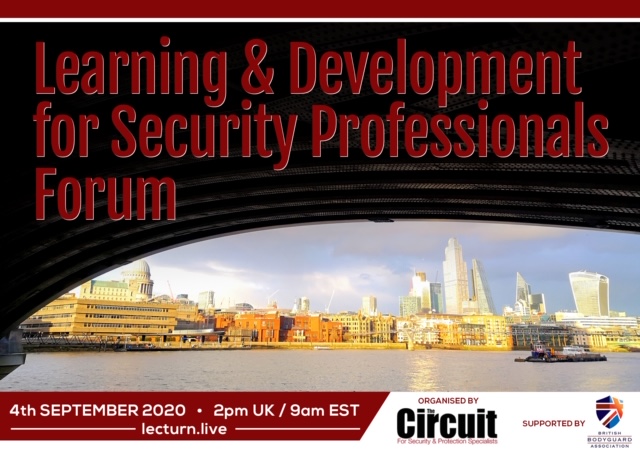 The Circuit Magazine held a Virtual Learning and Development Forum on September 4, 2020, that was attended by Executive Protection specialists and experts from around the globe, including the UK, US, Europe, Latin America, Middle East and West Africa.
The goal of the Forum was to highlight the emerging training and development priorities that should guide and inform the working CP in the current pandemic world and beyond.
The recent pandemic has resulted in many companies needing to pivot their products and service delivery new and innovative ways in order to continue to reach their customers and audiences. In the training and educational space, this has meant many providers have taken to offering virtual training and dispensing self-accredited awards. While, in a general sense, this is understandable and even applauded, it has given rise to opportunist and half-baked, poorly implemented systems.
"For me, part of it is getting a sense of a person's character and then that way I have additional assurances of the skillset they're presenting for, what they're trying to say, and if they are managing themselves well."
Elijah Shaw on assessing a CP beyond just the training and qualifications listed on his or her resume.
Being uniquely placed at the heart of the protection community, the Circuit Magazine brought together and connected thought leaders in this space to dig deep to discover whether online training has a place in this industry and how practitioners can navigate this potential minefield to make valuable investments in their education and development.
From topics such as: "Does an academic degree add to your employment prospects?" and "Are tactical medical skills still an area of neglect?", the event featured key industry heavy hitters, all of whom generously contributed informative and valuable expertise and perspectives on a range of relevant and timely topics. Participants also gleaned tips and insights on how to go beyond their paper CVs and better navigate their careers in a post-COVID world.
Not only did participants gain from the expertise presented, they also participated and engaged in the highly interactive workshops as a unique and effective learning and development tool. Various workshop presenters highlighted real-world scenarios that a working CP might encounter and how to best overcome them.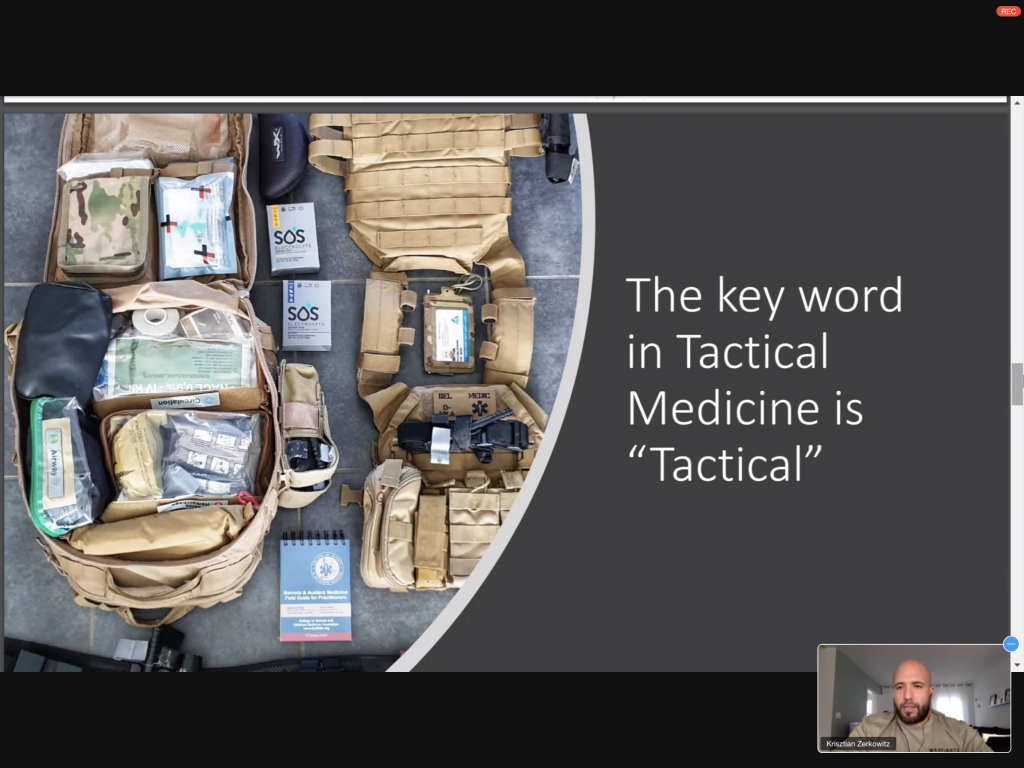 "The principal was able to continue on and her secretary didn't get fired."
Kristian Zerkowitz on 'preventing further casualties' when the battlefield is a client with ill-fitting stiletto heels.
The event was extremely well-attended, with almost all participants staying until the very end as the curtain came down after 4 hours of jam-packed sessions. 80% of attendees were solo practitioners, actively pursuing careers in protection, while the other 20% comprised of employers, small business owners, and training providers.
The event itself was of much greater value than other online event formats due to participants feeling included, valued and acknowledged which, in turn, helped develop our existing community.
Special Thanks…
Special thanks must go out to all our participants and esteemed speakers and panellists who held nothing back and delivered a truly memorable experience. We're indebted to each and every one of you for the time you gave and the selfless dedication in sharing of your valuable professional experience and knowledge.
In an era of unprecedented uncertainty facing the modern close protection specialist, we set out with the goal of providing some guidance and direction, without knowing, for sure, that this type of format would meet the needs. Based on the feedback we have received from you, both during the event and post-event, we believe that it has indeed been a valuable addition and welcomed resource. And given that it was so well-received, we will look to bring you more in the near future.
The only question which remains is what topics should we cover? And again, this is where we look to hear from you, our valued readers. If you'd like to  suggest a topic for our next event, drop us an email at info@circuit-magazine.com with your suggestions.

---
Event Programme
The forum was compressed into an intensive 4 hours of discussion and training split across 8 sessions.
Session 1: How can today's CPO make sense of the training landscape?
Discussion panel featuring Ivor Terret, Director, Enablement Advisors; Angie Clarke, Retired. Metropolitan Police; Sean Colsey, Director, Minerva Elite; Jacquie Davis, COO, Optimal Risk; Mike O'Neill, MD, Optimal Risk
Session 2: Future direction of the Circuit Magazine and British Bodyguard Association.
Fireside chat with Jon Moss, Chief Editor, Circuit Magazine.
Session 3: Healthcare Planning and Training in a Pandemic Environment
Workshop delivered by Paul Steward of Platinum Oak Ltd.
Session 4: The importance of academic training in intelligence and security
Discussion panel featuring Kevin Weekes, Director, Zenrs, Gavin Wilson, Wilson James, Samantha Newbury, University of Salford.
Session 5: Tactical Medicine Training
Workshop delivered by Kristian Zerkowitz, Chief Operating Officer, Auriex Global
Session 6: What Wider Skills Does Today's EP Professional Need to Succeed?
Discussion panel featuring Elijah Shaw, Editor, Circuit Magazine & Director Industry Icon, Anton Kalaydjian, CEO, Guardian Professional Security, Joe LaSorsa, LaSorsa & Associates.
Session 7: Developing Infosec Skills as an Executive Protection Professional
Discussion and presentation delivered by James Bore of Bores
Session 8: TRM & hotel security skills for the EP agent of tomorrow
Workshop presented by Mac Segal, Vice President of Business Development and Consulting, AS Solution
---
Event Review – Learning and Development Forum
Circuit Magazine Hosts Learning and Development Forum for Security Professionals

If you'd like to  suggest a topic for our next event, drop us an email at info@circuit-magazine.com with your suggestions.