A female's perspective of being a Maritime Security Operative in the HRA.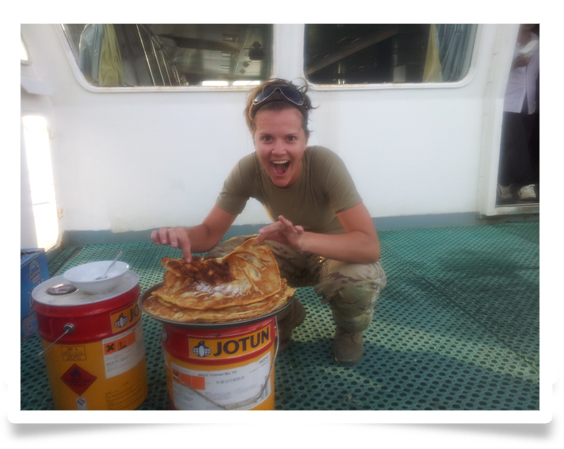 I first met Ruth Tiik floating on a platform in the Red Sea where we and many others were stuck for several days waiting for our next task. I was then fortunate enough to sail with Ruth back to port where we got chatting. I was interested in how she got involved in the maritime industry, as she was the first girl I'd met on the maritime circuit in 2 and half years.
Once I got chatting and only after a short time I found her to be an interesting character with a good sense of humour and a bit of a hidden past.
I have come across females before on the circuit, in the UK, and I have several female friends that had previously worked in Afghanistan and Iraq, but I have never met any women in maritime security, other than CP client-based women who occasionally get on their employer's superyachts. So I was quite interested in speaking to her and getting her viewpoint, as a woman, on what it's like to work in the maritime High-Risk Area on commercial vessels.
Once I got to know Ruth and did some digging, I found that she has been a bit of a celebrity back in her home country of Estonia. Having initially been refused the right to go to the frontline in an Infantry role, she was so frustrated that she battled with the Ministry of Defence for her equal rights and eventually won her case, and as a result, ended up getting her wish to go front line. Yeah, she is a very determined lady! Publicity accompanied her on her return, a magazine feature and an interview on a national TV station. She was a fairly quiet girl on the vessel when I first met her and her favourite English phrase is "WTF," which she uses a lot and makes for a very amusing conversation.
Why did you want to get involved with maritime security?
"Basically, I love adventure I wanted to see more of the world. I had served in Afghanistan and Iraq and didn't want to miss out on seeing Africa as well".
Did you have military experience prior to working in maritime security?
"Yes, I joined the army when I was 19 and ended up serving in Iraq, and then went straight to Afghanistan after that, I must have upset someone in the government! I had various jobs, my main job being a rifleman and a driver in an Infantry unit. I also worked alongside the Swedes as part of their Nordic Battlegroup training for arctic warfare in Sweden. Some of us were approached by a company from the United States and asked us if we wanted to do security work at sea, so I said "Yes".
What was your role in the military, and where did you serve?
"After graduating from school, all Estonian men have to serve in the military, it used to be around 8 months but now its 11 months. Women don't have to do this, but I wanted to, so I applied and I joined the army, I didn't want to do the normal jobs that females had carried out before and I applied to join the infantry. Girls normally did medical roles and office jobs, non-combat. It is a long story, but as I wasn't classed as a conscript which is only for men and I was going into the professional army I was entitled to have the same rights as the men, so that way I could join Infantry, so basically I was their first female, after a lot of arguing I got to serve in Iraq, after that 2 more girls joined. We were the last Estonian troops to serve in Iraq. It wasn't easy proving myself to my male colleagues, but I had to prove it to myself just as much, to show that I could do it. My Mom always said I was a bit of a "tomboy". But more and more girls are now joining so that is good.
What age are you now and how long have you been working the maritime circuit?
"I am 27 and joined the army when I was 19. I left the army in 2011 and I have been doing maritime security for almost a year now".
How do you find being at sea?
"There are some good things and some bad things. Fresh air at sea is good and so is not having any landmines or IED's, also there's less uniform and kit to keep prepared. However, I have too much time on my hands at sea, and I am someone who likes to keep active which I can't always do. If I have too long to ponder about things that I want to do, I can get frustrated".
What does your family think about your choice of vocation?
"My Mom and 2 sisters are happy I am at sea as it's safer than being in the army and they are used to me being away but we all miss each other. I was always the "Tomboy" in the family so I don't think it surprised them too much when I wanted to go in to the army. They are happy for me, and very happy I am away from Afghanistan. They're very understanding and we keep in touch with Skype as much as possible though so I don't feel too far away"!
What has been your best transit?
"That is a hard question as every transit has good and sometimes bad points. But my most interesting transit was where we had contact with pirates".
What is the best country you have visited?
"It has to be Sri Lanka and Mozambique; I like them both very much".
How much rivalry is there between you and your male counterparts?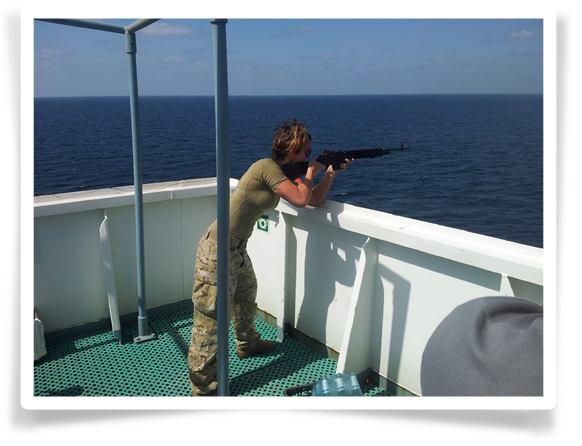 "It's difficult as we change teams all the time and don't always get to know each other very well. The rivalry comes when we come to shoot. I am quite a good shot so I'm often as good as, or better than some of the guys so that helps. I think because I have served on the front line as well I get on okay with them because of that. There isn't too much rivalry, we generally work well as a team".
What do you do to keep yourself from getting bored on the ship?
"Mainly just watch movies, I am an active person and like to do sport, I used to run a lot when I was in the army but not so much now as I can't run on ship but I do as much fitness as possible".
There are still very few women serving as crew on ships and you are the only female I have met in this area doing maritime security, have you met any hostility because you are a woman?
"No, actually, quite the opposite, everyone is always very friendly to me and I think they are shocked, as they often haven't seen a female doing security before.
There are things we all miss from home when we are at sea, what is yours?
"Friends, food and roller-skating".
What is the one item you can't leave home without when you go away?
"This may sound a bit manly, but my Leatherman, even when I went to Hawaii for vacation I took it with me, it goes everywhere! Suppose that's the Tomboy bit of me"!
Have you met any other females on the maritime security circuit?
"No, I hear about other girls doing CP stuff, but only on land, I have never bumped into any others doing the maritime stuff down here".
Has Ruth paved the way for other females to join the industry?
Can female operators with experience and the right level of training be suited to work in certain areas of the maritime security industry? Women are working elsewhere within the industry, so why not here, what holds them back?
The International Maritime Organization (IMO) has an active campaign to encourage females to enter the Shipping Industry, but we would be naïve to think it is not without its issues. Many operators will have their opinions on whether women are suited for maritime roles, you only need to look at some of the security forums to see them, but does that mean women can't do the job? I have encountered many men who, in my opinion, aren't up to it, so maybe it's not a question of gender and perhaps it's more about ability and skills.
Ruth's experiences have been very positive and she doesn't accept NO as an answer, so will she lead the way for other females to enter Maritime Security? Only time will tell.
---
By Scott D