Each issue our global geopolitical partner, Stratfor, provides an in-depth analysis of global incidents via in-house experts, cutting edge technology, and through a comprehensive globally sourced network. Here is your summary for the last 30 days.

West Africa: Al Qaeda Is Expanding Operations in Benin and Ivory Coast
Feb 2, 2021 
France's intelligence chief, Bernard Emie, said he believes al Qaeda leaders in the Islamic Maghreb (AQIM), Jama'at Nusrat al-Islam Muslimeen (JNIM) and other affiliate groups met in central Mali to plan an expansion of their operations. According to Emie, these militants are already spreading southward, financing militants who are active in Benin and the Ivory Coast, and operating along the borders of other countries including Chad, Niger and Nigeria.
Why It Matters:  The potential expansion of al Qaeda operations may increase the risk of militant attacks against coastal West African countries, especially Benin and the Ivory Coast. Heightened insurgent activity amid the pending withdrawal of French forces from the region may also prompt local countries to seek deeper security ties with Russia and other potential partners.


Afghanistan: Foreign Troops to Remain as Taliban Attacks Rise

 
Feb 1, 2021
Four senior NATO officials have said foreign troops will likely remain in Afghanistan beyond the May deadline agreed upon in the U.S.-Taliban deal signed by former U.S. President Donald Trump, as the Taliban has so far failed to meet the conditions set by the deal, Reuters reported Feb. 1.
Why It Matters: An end to violence is unlikely in the near future as the Taliban continues to press its demands and the Afghan government doubles down on its demand for a lasting cease-fire. While the United States has announced its plans to withdraw troops from Afghanistan as required under a U.S.-Taliban peace deal, U.S. President Joe Biden has said his administration plans to reevaluate that deal. 

Colombia: Court Accuses Former FARC Commanders of

 

War Crimes
Jan 29, 2021 
Colombia's Special Jurisdiction for Peace (JEP) has accused eight former commanders of the Revolutionary Armed Forces of Colombia (FARC) of committing crimes against humanity and war crimes for taking hostages during their time in the militarized guerilla group. The commanders have 30 days to accept the accusations and have their freedoms restricted for 5-8 years. Otherwise, they'll face a 20-year prison sentence.
Why It Matters:  The accusations will bode well for Colombian politicians in favor of the 2016 peace deal, as the main criticisms of the deal have centered on the seeming impunity for former FARC leaders. Such charges, however, ultimately risk dissuading leaders of the FARC, as well as other armed groups like Colombia's National Liberation Army (ELN), from wanting to strike a deal with the government.

Myanmar: U.N. and EU Calls on Military to Accept Election Results
Jan 29, 2021
The United Nations and European Union called on Myanmar's military to respect the results of the country's Nov. 8 election ahead of the Feb. 5 convening of the country's new parliament, Reuters reported Jan. 29. This followed several recent statements from the military that raise the specter of a potential coup over unsubstantiated allegations of electoral fraud.
Why It Matters:  While a coup in Myanmar is not impossible, such an outcome is unlikely given the military's role in the current political system, which allows it to check civilian power without resorting to direct interventions that might disrupt the military's economic interests and risk major international backlash. Instead, the military's recent statements are likely meant to increase its leverage over the ruling National League for Democracy.

Iraq: Country's Top Islamic State Commander Killed in Military Strike
Jan 29, 2021
A joint U.S.-Iraqi military strike near the northern city of Kirkuk killed the top Islamic State leader in Iraq, Abu Yaser al-Issawi, along with 10 other militants, The Wall Street Journal reported Jan. 29, citing statements made by both U.S. and Iraqi officials. 
Why It Matters:  The killing of al-Issawi helps fulfill the Iraqi government's promise to respond swiftly to the group's recent deadly attack on Baghdad. The Islamic State, however, has built an organizational framework that is not overly reliant on one person, and has also proven capable of replacing leaders with relative ease. Al-Issawi's death is thus unlikely to significantly alter the group's operations, though it will raise the risk of the Islamic State conducting a more spectacular or deadly retaliatory attack in Iraq in the coming days.

U.K., China: Beijing Condemns London's Rollout of Special Visas for Hong Kongers
Jan 28, 2021
The Chinese government said it would not recognize the Hong Kong British National Overseas (BNO) passport as a travel document, calling it a violation of sovereignty and warning of "further measures," the BBC reported Jan. 29. The decision comes ahead of the Jan. 31 start of a British visa scheme that would allow BNO passport holders to live in the United Kingdom.
Why It Matters: U.K. Prime Minister Boris Johnson has touted the visa scheme as part of his government's effort to "[stand] up for freedom and autonomy." Its rollout thus represents a high-profile affront to China that could bring some level of retaliation. However, Beijing's initial move to disallow the BNO document's use in Hong Kong or Chinese contexts is largely symbolic, given that passport holders would only use the document upon arriving in the United Kingdom or elsewhere abroad. 

U.S.: White House Freezes Arms Sales to Saudi Arabia, UAE
Jan 27, 2021  
The administration of U.S. President Joe Biden is imposing a temporary freeze on U.S. arms sales to Saudi Arabia and the United Arab Emirates while it assesses whether such sales support Washington's "strategic objectives," The Wall Street Journal reported Jan. 27. The freeze includes precision-guided munitions the U.S. government had planned to sell to Riyadh, as well as F-35 fighter jets it had planned to sell to Abu Dhabi.  
Why It Matters: Biden is not the first U.S. president to review the arms sales conducted and approved by his predecessor. This suspension, however, comes at a particularly tense time in U.S.-Arab Gulf ties, which means it could lead to a longer freeze or cancellation of particularly sensitive arms sales, especially munitions that could be used in the Saudi campaign in Yemen.

Afghanistan: U.S. Report Says al Qaeda Strengthening Due to Taliban Tiesh
Jan 26, 2021 
A U.S. Department of Treasury report stated that al Qaeda's core is gaining strength in Afghanistan as a result of its continuing relationship with the Taliban, Khaama reported Jan. 26. Al Qaeda reportedly provides advice, financial support and guidance to the Taliban through embedded networks, while the Taliban provides it protection.
Why It Matters: The report aligns with U.N statements in late 2020 saying that al Qaeda leader Ayman al-Zawahiri maintains close ties with the Taliban. This contradicts the Taliban's obligation in a landmark February 2020 agreement, in which the group agreed to cut ties with al Qaeda in exchange for a full U.S. troop withdrawal. 

Iraq, Saudi Arabia: New Iraqi Militia Claims Drone Attack on Riyadh
Jan 25, 2021 
An Iraqi group calling itself Alwiya Alwaad al Haq claimed it launched a Jan. 23 drone attack against Saudi Arabia intercepted by air defense systems over the capital of Riyadh, and threatened additional attacks, CNN Arabic reported Jan. 24. Saudi Arabia blamed the Yemen-based Houthis, who have launched hundreds of attacks against Saudi Arabia, but the group denied responsibility.
Why It Matters:  The incident sets the stage for additional attacks by Iranian-backed Iraqi militias against Saudi Arabia. While these will not be frequent, they will have an outsize impact.

Iraq: Twin Bombings Mark Deadliest Attack in Baghdad in Years
Jan 21, 2021 
Twin suicide bombings struck a market in central Baghdad's Tayaran Square, killing at least 32 people and injuring 110 more, marking the deadliest attack in Baghdad in nearly three years, Reuters reported Jan. 21.
Why It Matters:  These bombings strongly resemble past attacks conducted by the Islamic State, which is the only group with the capability and intent to conduct such an attack against civilians in Baghdad. The Islamic State was also linked to a Jan. 19 attack just south of Baghdad, which targeted an electronic transmission tower. This series of attacks highlight an expanding Islamic State presence around Baghdad. The group will seek to increase high-profile attacks in Iraq ahead of the country's October elections, given its ideological opposition to democracy and history of seeking to undermine such elections.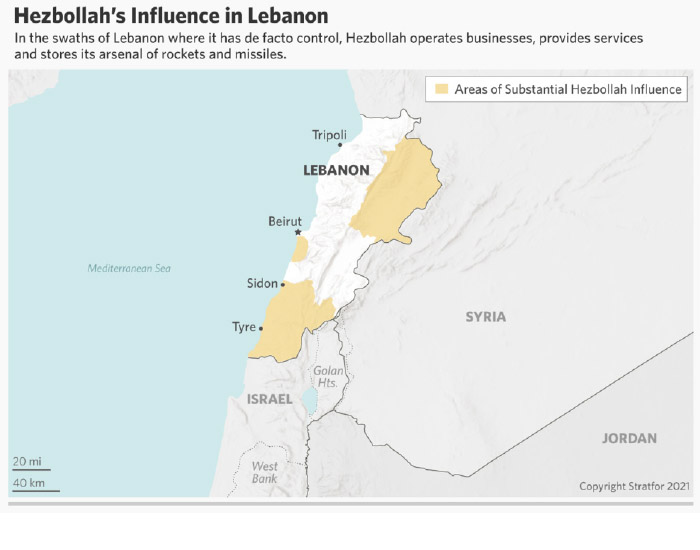 Lebanon's Crises Force Hezbollah to Turn Inward
Hezbollah will be more internally focused on Lebanon in 2021 as it grapples with a unique confluence of substantial political unrest, an unprecedented financial crisis and a new wave of social and health challenges — a turn that will intensify political frictions in Lebanon and decrease the extent of the group's operations elsewhere in the Middle East.
The largest anti-government protests inLebanon's history broke out in October 2019, forcing the resignation of former Prime Minister Saad Hariri's government later that month.
Lebanon's most recent government under Prime Minister Hassan Diab resigned in August 2020 amid the public uproar following the deadly Beirut port explosion. Major parties remain gridlocked on forming another government.
To address these developments, Hezbollah will likely devote more of its resources towards expanding its domestic power, shifting its decade-old focus on external objectives. Since 2012, Hezbollah has intervened in Syria's civil war in support of President Bashar al Assad's regime. The group has also aided Iranian-linked militias in Iraq, along with Houthi rebels in Yemen. 
In January 2020, Hezbollah reportedly played a key role in helping Iranian-backed militias in Iraq form a new ~ strategic outlook following the assassinations of Iranian General Qasem Soleimani and Iraqi militia commander Abu Mahdi al-Muhandis.
Hezbollah's greater domestic focus will also decrease its willingness to undertake external actions, including overtly challenging Israel and leading military operations in Syria, which will ease Lebanese-Israeli tensions and weaken the al Assad government. 
Hezbollah's responses to frequent Israeli overflights over Lebanese airspace, drone crashes in Beirut and other actions along the disputed border have been muted or non-existent, even after it promised a ~ "new phase" of resistance in September 2019.

Border negotiations between Israel and Lebanon began in October 2020, marking the first such talks in 30 years. The talks took place with the approval of Hezbollah, which maintains de-facto control over much of the Lebanese side of the border.

Dozens of Israeli strikes have targeted Hezbollah fighters and positions in Syria in recent years, but have not yet triggered a direct military response from Hezbollah.

Iran
Feb 4, 2021
The United States does not appear to be rushing into negotiations with Iran, which will keep short-term security risks in the Middle East high by testing Tehran's patience. But once Washington does eventually come to the table, the European Union may have the opportunity to usher the two sides toward a deal.
Northern Ireland
Feb 3, 2021
Renewed tensions between the United Kingdom and the European Union over the implementation of customs controls in Northern Ireland underscore the underlying problems that the Brexit deal failed to solve, while opening the door to sporadic episodes of violence in the area.
Russia
Feb 2, 2021
In response to the jailing of Russian opposition leader Alexei Navalny, the United States and Europe will struggle to find penalties that actually reverse the Kremlin's behavior, thus keeping Russia's relationship with the West at an impasse.
Syria
Jan 15, 2021
Turkey's gambit to undermine the U.S.-brokered 2019 cease-fire in northeastern Syria could strengthen its position on the battlefield, while increasing the Kurdish-led Syrian Democratic Forces (SDF)'s reliance on Russia and the Syrian government.
Myanmar
Feb 1, 2021
Myanmar's military will use its recent coup to reverse the erosion of its political power and influence, with the pace of return to civilian control determining the reaction of global powers intent on limiting China's opportunities to strengthen its position in a regionally important country.
Scotland
Jan 25, 2021
Scotland's governing Scottish National Party (SNP) is calling for an independence referendum, but has been vague about the terms and the timing of such a vote. While independence is improbable in 2021, the issue of Scottish secession will continue to generate questions about the United Kingdom's long-term territorial integrity.
Australia
Jan 22, 2021
Australia's pursuit of a media code that would force Facebook and Google to pay for sharing content from local media companies risks pushing the U.S. tech giants to pull some of their services from the country.
Yemen
Jan 20, 2021
The former administration of U.S. President Donald Trump's last-minute move to designate Houthi rebels as terrorists will leave its successor to manage the fallout in Yemen, which will likely include a more severe humanitarian crisis, more complicated intra-Yemeni political negotiations, and ultimately, a more entrenched civil conflict.
---
Having informed insight in today's increasingly complex international environment is more important than ever. That's why we've partnered with Stratfor, the worlds leading geopolitical intelligence platform, to bring readers regular analysis and accurate forecasting of global trends from someone you can trust.