Serena Hotel Attack
20 March 2014
At approximately 2055hrs, on 20 March 2014, the Serena Hotel located close to the Presidential Palace in Kabul  was attacked by four men armed with pistols.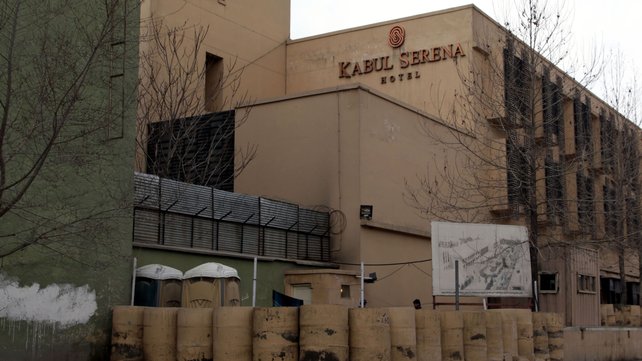 Incident Detail
At approximately 2055hrs, on 20 March 2014, the Serena Hotel located close to the Presidential Palace in Kabul  was attacked by four men armed with pistols. Initial shots were heard followed by sustained gunfire. ANSF responded quickly, arriving at approximately 2125hrs. Explosions were reported and intermittent gunfire (most of which most likely came from ANSF clearance – there are no suggestions that the attackers carried IEDs) continued for approximately two hours. The area was cordoned by the Afghan Crisis Response Unit and ISAF troops. Troops began to clear the hotel at approximately 2150hrs and all attackers are believed to have been killed by approximately 2300hrs. At approximately 2345hrs, ANSF and ISAF troops began to move guests outside the hotel to the car parking area.
Nine people were killed in the attack, including four international guests (two women and two men) and five Afghans (one man, two women and two children). At least nine people were wounded. All four gunmen were killed. Immediately after the attack, a Taliban spokesman claimed responsibility for the attack.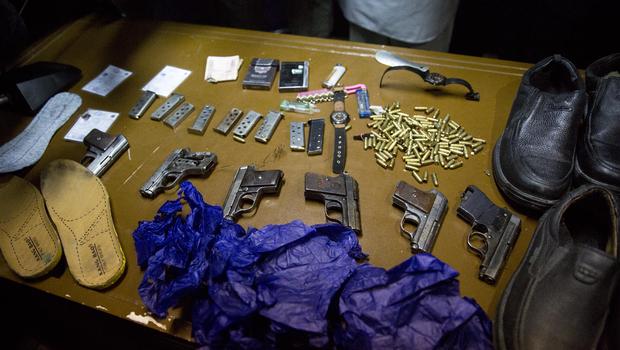 Early reporting states that the four attackers arrived at the hotel at approximately 1800hrs. The gunmen, who have been described as teenagers, are believed to have gained entry to the hotel by pretending to be diners. An interior ministry spokesman has said that the four men were able to bypass security by hiding small pistols in their socks. The men wore heavy shoes which helped to conceal the weapons and appear to have wrapped the guns in some form of paper, possibly to disguise the shape. Photographs have now been released showing six small pistols and ammunition used (below). The men remained in or around the hotel lobby before mounting their attack. They were described as clean shaven teenagers, wearing shirt and trousers.
Summary
The attack on the Serena hotel was very different to some of the high profile CPX attacks seen more commonly in Afghanistan. The attackers were able to conceal small pistols in their socks, thereby bypassing strict security at the hotel entry points. Reports suggesting that the attackers carried hand grenades or IEDs are thought to be incorrect. Metal detectors are used at the hotel, but presumably full body searches were not conducted properly. Reports suggest that the four teenage attackers were well dressed and attempted to fit in with other hotel guests appearances. A Nawruz celebration was ongoing in Kabul and a number of high profile Afghan figures, as well as numerous international guests were present at the hotel. Attackers waited for approximately three hours before mounting their attack. They were perhaps waiting for the hotel to reach its busiest period before opening fire. Following the initial attack, security at the hotel appeared to react well, moving guests into safe rooms where possible. ANSF was also quick to respond to the incident.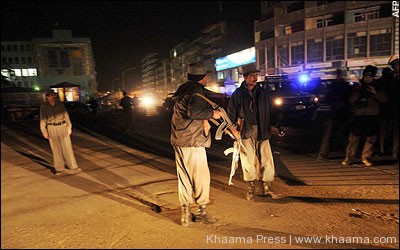 This attack did bear some resemblance to the recent Lebanese Taverna attack in January 2014. Although the method of attack differs, the targeting of a social venue frequented by international guests and wealthy Afghans is similar. The Lebanese Taverna attack was clearly seen as a success and recent reporting has indicated plans to target more social venues. The shooting of a Swedish journalist in Kabul recently also demonstrates that attacks with pistols can be an effective TTP. It is of notable that the Serena Hotel has been attacked on previous occasions. Its high profile mean that it will remain a primary target.
With elections approaching, there has been a notable increase in high profile attacks during the last three days. A VBIED attack in Faryab on 18Mar killed approximately 18 people, whilst a CPX attack on an ANP building in Jalalabad earlier on 20Mar, killed eleven people.
Final thought: Further attacks are likely and this threat will increase as elections approach.