Explorer Travel Security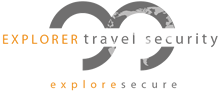 Explorer Travel Security provide counter surveillance and protective surveillance services throughout the globe utilizing a small specialist team of highly experienced ex UK Government surveillance operatives with years of experience in counter terrorism, espionage and criminal operations. We provide a range of travel risk management solutions for organizations, groups and individuals. Our planning and implementation of numerous protective and risk management strategies enables us to offer tailored solutions to client's requirements. We also operate with a specialist low profile executive protection and counter surveillance team.
Mark Deane – Managing Director
Mark Deane, B.A. (Hons) is a travel risk management and security specialist whose experience stems from his role working as an Operational Officer for British Intelligence, serving in a multitude of sensitive operations in counter terrorism and espionage.
During his career Mark has planned and managed numerous security and surveillance operations at both a government and corporate level. Within the field of risk management and security his clients in the corporate world have included a Fortune 10 company, HNWI's, the oil and gas industry and multinational organizations.  He is an experienced team leader and project manager who leverages years of counter-terrorism, security and travel risk management experience to deliver a range of unique services precisely adapted to meet client requirements.
A sound operational knowledge is complemented with his in-depth experience of training and instructing in a range of subjects, having designed and implemented training courses for clientele that include special forces units, government agencies, multinational organizations and civilians.
Mark has worked, traveled and trained in six continents of the world and visited over 45 countries, and as Managing Director of Explorer Travel Security (ETS) Mark brings a fresh approach to the travel risk management market. He designed the ETS Protective Pyramid system to provide clients tailored security services with a focus on low profile methodology coupled with protective intelligence, accurate security assessments, sound risk management procedure and strong customer relationship management.
Objectives are achieved through his extensive global network and close knit workforce – all of whom he has worked with personally. Complemented with his passion for travel and adventure Mark ensures ETS is dedicated to the safety and security of businesses, organizations and individuals throughout the globe.
For more information visit: www.exploresecure.com .