FocusOn: NIGERIA
 April 2013
BACKGROUND
The Federal Republic of Nigeria is the most populous nation in Africa with a population of 166 million1, comprising 250 linguistic groups, almost as many ethnic factions and with a relatively even religious divide. Northern Nigeria is predominately Muslim while Christians make up the majority in the South with an uneasy mix in the central belt, where communities are more contentious.
Nigeria is a former British Colony that has lurched from one military coup to another since independence in 1960, before returning to civilian rule in 1999, the fourth such creation of a republic in its history and one which has governed since. During this period of Republic, no fewer than 18,000 Nigerians have died in more than 600 incidents of communal violence – ranging from large urban hostility to the low intensity conflicts in the Niger Delta where disputes over land, rights or representation can quickly descend into violence, occasionally resulting in fatalities.
Nigeria has an abundance of natural resources and boasts the largest oil and gas reserves in sub-Saharan Africa. However, due to endemic problems with an inefficient, corrupt military & civilian rule more than half of its people live in poverty. Trade in stolen oil has fuelled continued violence and corruption in the Niger delta -the home of the industry.
Instability is a constant threat to the country and can be seen in its political, social and economic dimensions.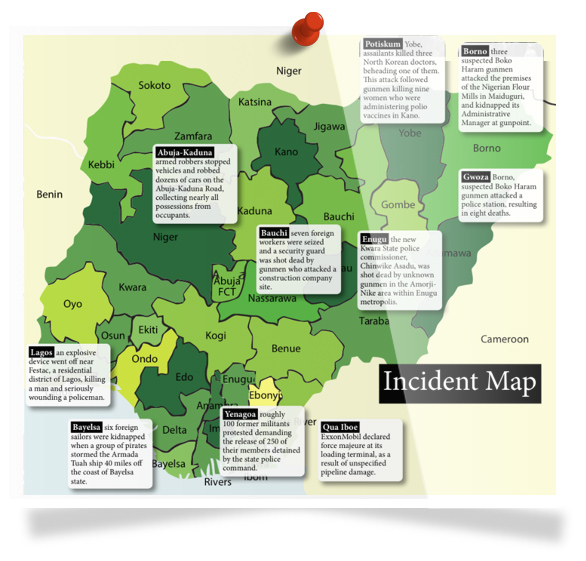 RECENT SIGNIFICANT EVENTS
Amid mounting pressure for him to visit Yobe State, the heart of the Boko Haram insurgency, President Goodluck Jonathan visited the region on March 7 for the first time since he was elected in 2011.
Suspected Boko Haram gunmen attacked a bank and the police station in the village of Gwoza in Borno state, leading to eight deaths on March 4.
Nigerian troops killed 20 suspected Boko Haram militants in a botched attack on military barracks in the village of Monguno on March 3.
Gunmen shot dead a senior police officer of Kwara state, while he was visiting his home state of Enugu in southeast Nigeria on March 2.
Six sailors, including two Indians, kidnapped from an oil service ship off the coast were released unharmed by armed pirates on February 27.
On February 26, unidentified gunmen shot and killed seven men guarding a market in Yobe state.
On February 20, Nigeria's State Security Service said it broke up what it characterized as a terrorist group, backed by "Iranian handlers," that attempted to gather intelligence about locations frequented by Americans and Israelis.
Armed gunmen abducted seven foreigners at a construction company's compound in Jama'are on February 16
Click Here> to read the full Country Threat Assessment