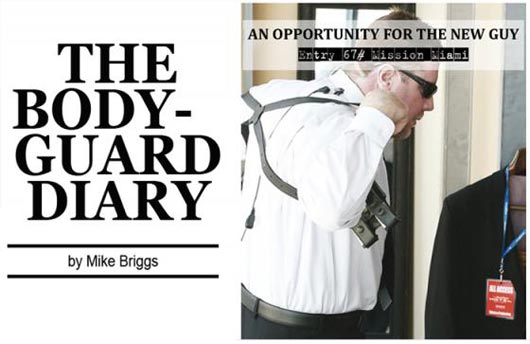 Just under a year ago I graduated from a recognized executive protection training course. After doing some pretty consistent work for the sponsor company, I was then presented with an opportunity to join a team escorting a very prominent VIP.
I was absolutely floored. While not my first detail, this was the first with a celebrity, let alone one of this stature.
The boss calls me in his office and explains; "If the budget will allow for us to bring you in, would you like the opportunity to act as a security driver
for six days on Miami's South Beach for a highprofile client?"
I instantly answered "Absolutely!"
This was my chance to show everyone my value. I didn't even ask what the rate was, for the experience I was going to get, I would have paid my
employer to go. I instantly went to work as I left the boss's office. It wasn't even a sure thing that I would be joining the team for what I've dubbed
Mission Miami, but I wanted to stack the deck in my favor as much as I could … just in case.
While waiting for the green light, I started watching the daily weather forecast to get an idea of how to pack. I was amazed to see the temperature in South Beach in January got down to 30 degrees Fahrenheit. I put together a go-bag,
planning for the worst and hoping for the best. I also downloaded a map of the area. As I studied Google Earth, I knew the key to my success would come from a portable GPS; an invaluable tool. My mindset was to travel as light as I could with no checked baggage at the airport to slow me down.
For this trip, I purchased a Wagner Laptop Backpack that would fit all the basics I would normally have in my go-bag such as: chargers, batteries, passport, business cards, energy drinks, maps, flashlight, day planner, camera, pens and so on.
Next, I was going to pack my luggage carry-on bag tightly, hoping I would be able to fit everything I needed in it. I had packed all the clothes I needed with one mistake; I only brought one suit. My first lesson: On any job more than two days,
bring at least one other distinct suit. I learned from the team leader to bring along a portable steamer for your dress shirts and suits. This allows you to pack them tightly in a regular bag, yet easily get the creases out once they're unpacked. To minimize the chance of being slowed down through security checkpoints at the airport, I decided to purchase travel size toiletries such as
deodorant, toothpaste, hair gel, and razors at the local pharmacy when I reached my destination.
For phase two of my planning, I researched local car rental places to check the prices and availability on the desired vehicle for this trip. The key when renting cars is establishing a personal relationship with the rental agent. No one wants to guarantee models, let alone colors, but for this trip my intentions were to secure a black XL Cadillac Escalade, so that's what I made happen. A key point: try and establish a rapport with every resource you may need during your assignment. People will think outside the box for you if they like or respect you. All my ducks are in a row, so now I'm on standby.
A few days later I get the call, "MISSION MIAMI IS A GO." Understandably, I experience some anxiety, so to regain focus, I study my maps closer, unpack my bags, take inventory, and repack them again. I reach out to the car company and verify nothing has changed, confirm my flights, and call the Agent In Charge for a briefing on what is expected of me when I am on the ground. This is my shot. It's my opportunity to show both the team and the Principal the value I bring to the big picture, that I'm the guy to call on for future assignments. The next few nights lying in bed are filled with anticipation, and some anxiety. What could go wrong? Everything could go wrong.
Then I snap out of it, I wanted it, now I have it, time to focus on the job.
Mike Briggs