2 guards with Juice WRLD charged with gun violations
Two security guards for Juice WRLD face misdemeanor gun charges after authorities responded to Midway Airport as the Chicago rapper suffered a fatal seizure.
Emergency crews responded about 2 a.m. Sunday to a private hangar at the airport. Juice WRLD, whose real name is Jarad Anthony Higgins, was rushed to Christ Medical Center in Oak Lawn and pronounced dead at 3:14 a.m.
Guglielmi said Juice WRLD was with about a dozen people, including his entourage, security guards and aircraft staff, and was seen "basically convulsing" at a private hangar.
Guglielmi said two of the guards were armed with weapons. The guards had valid concealed-carry permits, but they don't allow them to bring weapons to an airport, so they were arrested and charged with misdemeanor gun violations.
---
Texas Church Shooting 'Hero' was Firearms Instructor and Head of Church Security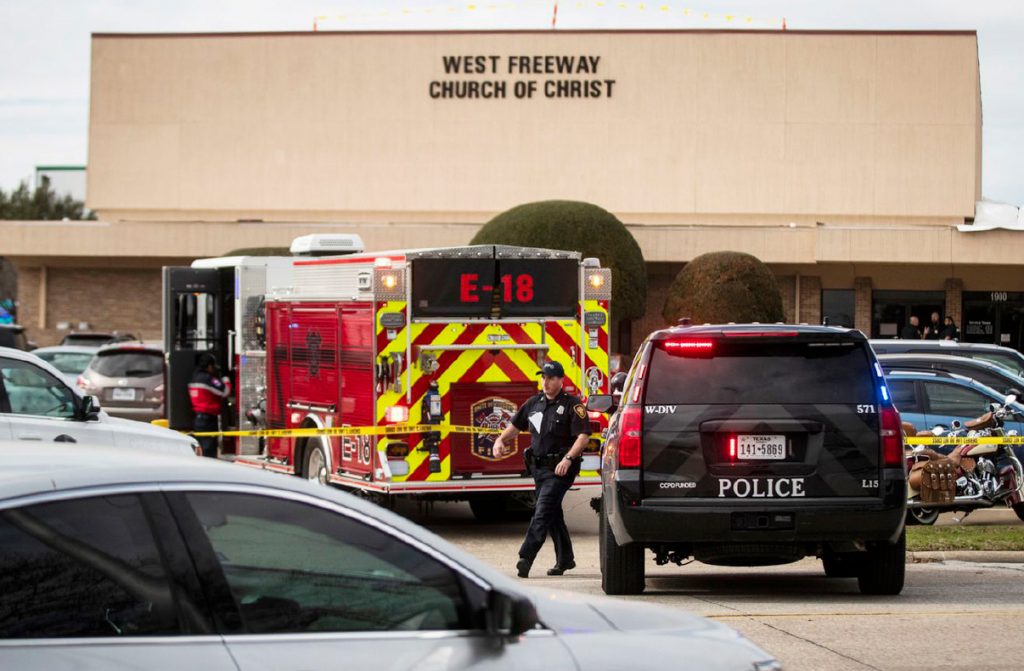 The man who used his own weapon to fatally wound a shooter who opened fire in a church and killed two people, is a firearms instructor who has trained parishioners how to shoot at his own range.
As authorities in Texas identified the man suspected of killing two people at the West Freeway Church of Christ in White Settlement, near Forth Worth.
Officials said Mr Wilson fired a single shot, putting a quick end to the attack, which was launched as the church live streamed the service, and up 240 members of the congregation watched in horror.
"The events at West Freeway Church of Christ put me in a position that I would hope no one would have to be in, but evil exists and I had to take out an active shooter in church," Mr Wilson, head of the church's security team, wrote on Facebook after the incident.
On Monday, Mr Wilson spoke to reporters gathered outside his home, telling them the suspect first shot Richard White, one of the security guards, who has been keeping an eye on the man due to "some concerns about him".
Mr Wilson said people had noticed the man had a fake beard and fake wig on, in addition to a long coat. When he opened fire, several people were between him and the suspect. People then ducked behind the pews. 
"I had a clear shot and I was comfortable taking the shot," Mr Wilson said, according to Fox News. 
"You have to be prepared at all times, at all places. And that's what I strive, that's the way I teach, that's the way I want people to understand if they are going to wear a firearm for personal protection….It can happen anytime, anywhere."
---

Royal Bodyguard Says He Can't Remember Vital Information Related to Allegations about Prince Andrew
Prince Andrew's former bodyguard has said he 'can't remember' if he accompanied the royal on a now notorious trip to New York where he is alleged to have slept with 17-year-old Virginia Roberts.
The prince is said to have first met Ms Roberts at Jeffrey Epstein's Manhattan mansion in April 2001.
Royal Protection Officer Jeff Fuller spent 20 years alongside the Duke in the 1990s and 2000s and regularly accompanied him on social engagements.
However, when asked whether he was with the prince during the trip to New York 18 years ago, Mr Fuller asked MailOnline: 'Do you remember what you were doing in 2001?
'Do you know how long I served with him? It was a long time. I have no idea if I was there, I can't remember and I have no comment to make.'
Mr Fuller, now 65, appears in a number of photographs flanking the prince, including one image which shows Andrew meeting US rock star Courtenay Love in 2000.
He was also snapped in the front seat when the duke escorted a glamorous young friend from a London nightclub earlier the same year.
Ms Roberts has claimed she was trafficked by the late billionaire paedophile Jeffrey Epstein and made to have sex with his powerful and influential friends, including Andrew.
Mr Fuller was equally evasive when asked if he had ever been present during any meeting between Andrew and Epstein.
Speaking on the doorstep of his home in South West London, the former detective sergeant in Scotland Yard's elite Royal Protection Group added: 'I can't remember and that's all I'm going to say, sorry.
---

Indian Rapper, Raftaar says he can Take a Bullet for his Bodyguard
Rapper Raftaar's video crtiticising the Indian Citizenship Amendment Act, and saying he can "take a bullet" for his bodyguard Arshad, has now gone viral.
Raftaar is then joined on stage by his bodyguard. Talking about him, the rapper says "His name is Arshad. He takes care of me so well he does not allow anyone to even push me. If he is asked to leave his country, I will take a bullet for him."
He went on to say whether people are Hindus, Sikhs, Christians or Muslims, they are all our brothers. He clearly mentioned he would not let anyone be taken out of this country. He added he was not bothered about what happens to his career after this.
Citizens from across the country are protesting against the Citizenship Amendment Act. People have not just taken to social media to condemn the law but have also organised demonstrations in locations across the country.
---
Pirates release 19 crew kidnapped from Nave Constellation
The 19 seafarers kidnapped by pirates from the VLCC Nave Constellation off Nigeria have been released.
Owners Navios Maritime Acquisition Corporation and managers, Anglo-Eastern Tanker Management said that the 19 crew, 18 Indian nationals and one Turkish national, kidnapped on 3 December were released on Saturday, 21 December.
"All those taken and now released are in good spirits and well, given the circumstances of their time in captivity," the owners and managers said.
No operational details of the kidnapping, which took place deep offshore Nigeria, or the subsequent release of the 19 crew nearly three weeks later were given.
"Since the attack, the prime concern has been the safety, well-being and early return of the seafarers taken by the pirate gang. Owners and managers are now delighted to report that on December 21 all of those taken were released and are now safe and undergoing medical tests and debriefing, following which they will return to their loved ones at home," the company said.
Last week 20 seafarers were kidnapped by pirates from tanker Duke of Togo.
According to Dryad Global the attack on the Nave Constellation was incident the sixth maritime security incident and the fourth kidnapping incident to occur within 30 nm of the South Eastern boundary of the Nigerian EEZ within 2019.
---

Kevin Hart Blames Woman Knocked Down by His Bodyguards
Kevin Hart said a woman who claims she was knocked down by his bodyguards outside the screening of "The Upside" should have known the "hazard" of walking on the sidewalk that day, according to new court papers.
Hart was sued in June by Carmen Marrero, who claimed that she busted her eye socket when Hart and his security team came rushing out a building slamming into her and knocking her down.
She had been walking on the sidewalk on 52nd Street near Eighth Avenue trying to avoid a crowd outside the film event in January, the suit said.
Lawyers for Hart filed papers in Manhattan Supreme court Tuesday responding to the lawsuit, in which they claim Marrero was at fault and should have known the risks of being there.
The incident was "strictly caused by the provocation of the plaintiff and not by any act of the defendant," the papers say.
If a jury does find Hart liable, he says he should have to split the costs with his co-defendants including the security company, his film company and the building owners.
Marrero's lawyer, Richard Russo, said: "It's a defense as old as time. Blame the victim."
"When you walk the streets of New York you don't assume the risk that an overzealous bodyguard will throw you to the ground and brake your face," Russo said.
---

Bassil's Bodyguard Took a Prominent Journalist's Phone in Switzerland
While in the lobby of the UN Headquarters during meetings to discuss the issues of the Syrian Refugees, a prominent journalist filming the attendees with his cellphone, including minister Bassil, saw his cellphone suddenly seized by the bodyguard of MP Bassil.
Jaafar Abul Karim took to Twitter to tell the public: "Lebanese FM [Foreign Minister] Gebran Bassil had his security confiscate my phone and erase the video when I was trying to interview him at UN Refugees forum in Geneva. UN Security is investigating the incident."
According to the Declaration of Rights and Duties of Journalists, "The right to information, to freedom of expression and criticism is one of the fundamental rights of man." Accordingly, journalists and their equipment are protected by laws for them to carry on their jobs safely.
We might not respect that in Lebanon, and our people in power might feel entitled to cross the line when they want, but "civilized" countries take it very seriously; the way they take very seriously the fundamental principles of Human Rights and freedom of the press, freedom of expression, freedom of beliefs, and respect of others' property.
---
Industry News at a Glance
January 2020,