ICON Advanced Executive Protection Course Review
When I made the choice that I was going to make a move into the Executive Protection industry, I started researching the countless different training schools in the marketplace.  I was looking for a school that wouldn't just show me PowerPoint presentations all day or give me 10,000 rounds of ammo and tell me to shoot at a metal target.   Days turned into week's worth of research, and countless hours of phone calls eventually lead me to a company called ICON.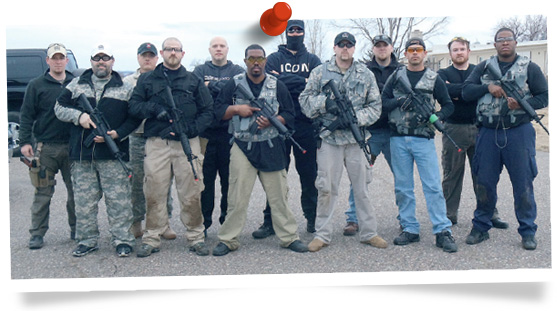 Just what was their edge in choosing them over some very distinguished competition?  Well for starters, the instructors all currently work in the industry on a full time basis as active Operators.  Their knowledge and experience in the industry has been vetted by a number of prestigious sources which were made accessible to me, but the proof was in the pudding as they say.  I first underwent their 5 day Celebrity & VIP Protection Course which was excellent, so the decision to join their 10 day Advance Executive Protection class seemed like a natural progression.
Being that this is the advanced course with an emphasis on working in a hostile environment, familiarization with the fundamentals of Close Protection is necessary for acceptance.  That became evident from day one, as we hit the ground running with weapons drills, close quarters combat/defensive tactics (CQC), and team building.  We were told repeatedly to assess your situation, identify your target, move, and engage.  Over the next few days, everything we learned became a stepping stone for the next evolution, beginning with the advance plan.   While we all understand the importance, it's easy to underestimate the time and attention to detail that goes into successful planning.  Given a name, destination, time, and a few other bits of information, my team who were mostly comprised of stranger's, a short time before, were tasked to develop a very detailed and informative plan with a rapidly shrinking window of implementation.  This assignment forced us to work as a team, and the old adage of a group being only as strong as its weakest link, will definitely show through.
In addition to the Advance, we spent the next several days "Working the Principal".  Agents perfected cover and evacuation techniques, studied medical applications based on situational factors (from basic first aid to combat medicine) and practiced room clearing.  Using teams of multiple sizes, students repeatedly drilled on how to properly breach and enter a room for clearing.  As could be expected, team dynamics played a major part at this time and it became evident one could be doing the best job ever, but if a teammate was not covering his sector correctly, the error could be fatal in the real world.  ICON's approach to this portion of the training puts the team into actual room-to-room searches, in an environment the size of a large office complex focusing on speed and violence of action, as well as technique, and safety.
Before we knew it, the course was nearing its conclusion and if it was not painfully apparent before, it's evident that everything we studied and drilled from day one had a purpose, and would likely be applied during the final exercise.  Our team, already operating on minimal sleep and fatigued muscles, wouldn't know when the exercise ends.   We were dropped in the thick of it and told to respond accordingly.  As protectors, our sole purpose is to finish the day with our Principle safe from harm and embarrassment, but let's face it we're taking an advanced course with an emphasis on high risk, so we knew something big was coming.  Keeping that firmly in the back of our mind, what do you do when all of your "I's" are dotted and your "T's" are crossed and your best laid plans still fail you?  What would you do if your Principal (heaven forbid) was kidnapped while in a hostile country?  You mount a rescue and get him/her back of course.  Most classes teach you all the right things to do, but spend little time rehearsing what to do if things go wrong.  That is one of the most significant examples of what sets this course apart from the pack.   S**T hit the fan.  Now what?
This is the moment where it all comes together, and by now we have a good idea of what our team is capable of.  Egos were set aside and a plan was drawn up using the accumulated experiences of the group to put together a successful assault and rescue force.  Those countless drills of breaching and clearing rooms became a major focus during this stage and with the team now navigating an unfamiliar environment that closely resembled the base camp of a third world dictator, our antenna were definitely up.  Add to that the use of non-lethal ammunition (Airsoft) and the force on force piece so closely resembled the real thing that one could easily believe we were transported to another country.  Picture the inventible adrenalin dump of bounding, dodging mobile and foot patrols, shooting, getting shot at, and the countless other variables that accompany the fog-of-war, and mistakes are sure to be made.  I learned this the hard way as while my team was entering and clearing a room, the first man in stopped and hesitated for the briefest of moments which lead to jam up in the door way at which point the enemy seized the opportunity to engage. I was stuck in the proverbial "fatal funnel", took a round to the chest and was KIA.  Now, not only did the rest of my team have to continue to locate the Principal, they were down one member, and the tactical leader at that.
We finished the exercise successfully, and yes even though our team did lose a member, we did manage to rescue our Principal and bring him home.  There were a few other twist and turns thrown into this exercise, and the days leading to it, but I would not want to spoil the experience for anyone interested in taking the course in the future.  I will say that if you are looking for an intense and comprehensive training course with a budget that won't break your bank, I would highly recommend the Advanced Executive Protection course offered at ICON Services.  I walked away with the rust knocked off of my old skills as well as several new tools for my toolbox that will help me continue my focus towards a Close Protection career that has longevity.
Marshall Burt