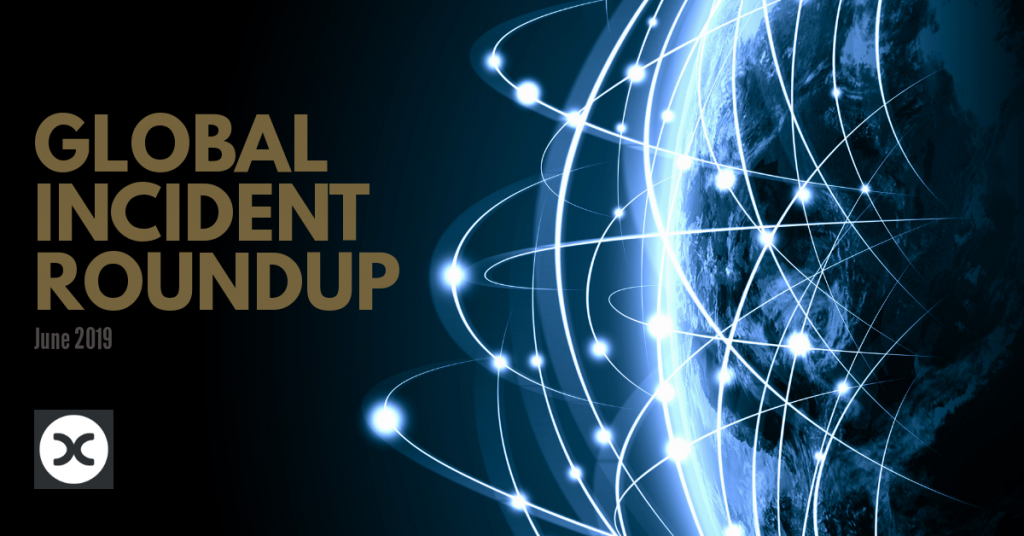 Our Global Risk partners, Drum Cussac, provide in-depth analysis of global risks via in-house experts, cutting edge technology and through a comprehensive global source network. Here is your summary of the incidents you need to know about from the last 30 days.
Africa
Niger
Dozens Killed and Injured Following Fuel Tanker Explosion in Niamey
At least 50 people have been killed and dozens more injured after a fuel tanker exploded in the airport district of the city of Niamey. The blast occurred near a gas station in the early hours of the morning. Reports indicate that as many as 30 have been hospitalised following the blast. It is not yet clear what has caused the tanker to explode.
Somalia
Embed from Getty Images
Multiple Killed in Suicide VBIED Explosion at Checkpoint near Presidential Palace
At least six were killed and more than 13 injured in a vehicle-borne improvised explosive device (VBIED) attack at a checkpoint near the presidential palace in Mogadishu. The attack was claimed by Islamist militant group, al-Shabaab, which said in a statement it had targeted a convoy escorting officials and lawmakers heading to the presidential palace. Several vehicles were destroyed in the blast and rescue personnel are at the scene tending to the wounded. Al-Shabaab frequently carries out bomb blasts in the capital near the presidential compound and at hotels frequented by government officials and foreigners. Further reports suggest that one of the victims was the former foreign minister Hussein Elabe Fahiye.
Democratic Republic of Congo
Multiple Fatalities Reported After Gunmen Attack Fish Market in Ituri Province
At least 19 people were killed and eight others wounded after gunmen open fired on a fish market in the northeast village of Tara near Lake Albert in Ituri province. No group has claimed responsibility for the attack. This comes as Ituri province has been experiencing high levels of inter-communal violence between militias from Hema and Lendu communities.
Comoros, Mayotte & Madagascar
Tropical Storm Expected to Bring Heavy Rains and Winds in Comoros, Mayotte, and Northern Madagascar
A tropical storm heading towards the African coast in the southern Indian Ocean is expected to bring heavy rain and winds to northern Madagascar, Mayotte, and the Comoros. Rainfall levels could reach 25-75 mm (1-3 inches) in Mayotte and 50-100 mm (2-4 inches) in the Comoros. Authorities are monitoring the possible development of a tropical system that would be named Cyclone Kenneth and could potentially make landfall in Tanzania and Mozambique.
Americas
Chile
Multiple Fatalities Confirmed in Road Traffic Incident in Pailahueque, La Araucania Region
At least six people were killed and more than 30 injured when a passenger bus overturned while crossing a bridge in the town of Pailahueque, La Araucania region. Authorities say the bus was travelling from Santiago to Puerto Montt with approximately 55 passengers on board. Police have arrested the driver and have begun investigations into the cause of the incident.
Brazil
Multiple Fatalities Reported following Bar Shooting in Belem, Para State
Seven armed men killed at least 11 people at a bar in the Guama neighbourhood of Belem, Para state. The assailants reportedly arrived at Wanda's Bar on three motorbikes and in one car and opened fire on the patrons in the bar. Five women and six men were killed, including the owner of the bar. One person survived the shooting and was taken to hospital. The Homicide Division of the Civil Police has launched an investigation into the incident and is attempting to track down the perpetrators of the attack. No motive for the shooting has been revealed and as yet no arrests have been made.
Canada
Evacuations Ordered, Highway Closed as Wildfire Spreads near Marlboro, West-Central Alberta
Homes have been evacuated and Highway 16 has been closed in both directions in the Marlboro area as a wildfire has spread on both sides of the highway over the weekend. The Royal Canadian Mounted Police (RCMP) has said that a reception centre has been setup for those who have had to evacuate their homes. Highway 16 is a major east-west route through Alberta province and major delays are likely during the closure.
United States
Fatalities Reported following Shooting at University of North Carolina; Suspected Gunman in Custody
Embed from Getty Images
Two people have allegedly been killed and four others were hurt after shots were fired at the Charlotte campus of the University of North Carolina. The incident reportedly occurred near the Kennedy Hall administrative building, where the suspected gunman was apprehended. Law enforcement officers are currently sweeping buildings across the campus, which reportedly remains on lockdown.
Middle East and North Africa
Saudi Arabia
Reports of Drone Attacks on Saudi Aramco Oil Pump Stations in Dawadmi, Riyadh Region and Afif, Najd Region
The Minister of Energy, Industry, and Mineral Resources stated that two oil pump stations on the East-West pipeline were attacked using armed drones. The drone attacks targeted the oil pumping stations of Saudi Aramco in Dawadmi, Riyadh region and Afif, Najd region. There have been reports of minor structural damages, but no reports of any casualties. Saudi Aramco has temporarily shut down the pipeline to evaluate its condition. Further information is awaited.
Yemen
Casualties Reported Following IED Explosion in Al-Qatn, Hadramout Governorate
Multiple casualties have been reported following an IED explosion in al-Qatn, Hadramout Governorate. The explosive device was reported to have had the flag of al-Qaeda before being detonated on the side of a local road. A number of ambulances were dispatched to the scene, attending to the injured. Further information is awaited.
Morocco
Dozens Wounded as Police Use Water Cannons to Disperse Protesting Teachers in Rabat
Embed from Getty Images
Police resorted to using water cannons to disperse thousands of protesting teachers in Rabat. Over 70 demonstrators were reportedly left wounded in skirmishes with the police. The protests were parts of a series of actions to demand an end to temporary contracts in favour of permanent jobs that offer civil service benefits. The Education Ministry has reportedly threatened to fire teachers who took part in strikes and protests over the issue. Ongoing industrial action and protests have been carried out since March by teachers to press their demands.
Europe
France
Hundreds of Protesters Attempt to Storm Police Station in Besancon in Doubs Department
Around 200 to 300 Yellow Vest (Gilets Jaunes) protesters tried to force their way into a police station in Besancon in Doubs department during May Day demonstrations. Around 2,000 people were taking part in a peaceful rally to commemorate Labour Day in the city when the assault occurred. Officials reported that the protesters made two attempts to gain entry to the police station via the parking lot at the back of the building, but they were repelled by police using tear gas. There have been no confirmed reports of any arrests or injuries following the incident.
Turkey
Dozens of Casualties in Road Traffic Incident in Milas, Mugla Province
At least three people are confirmed dead and at least 39 injured when a passenger bus overturned in Milas district of Mugla province. The accident reportedly occurred at the crossroads of the Milas-Soke highway during rainy conditions. The injured have been transferred to Milas State Hospital for treatment. The bus belonged to a private company that left Milas en route to Istanbul.
Ireland
Met Eireann Issues a Red Level Warning for Clare County as Storm Hannah set to Reach High Wind Speeds
Met Eireann, the Irish meteorological service, has issued a red level warning for Clare as Storm Hannah is set to reach high wind speeds as it moves east across Ireland and the south coast of the UK. The meteorological service has forecast that Storm Hannah will reach speeds in excess of 80kmph (50mph), with violent gusts of 130 to 150kmph (80 to 93mph) predicted.
Asia and the Pacific
India
Over a Dozen Confirmed Killed following Large Fire in Surat
At least 15 schoolchildren are believed to have died, after being caught up in a large fire in the Surat area. A fire broke out Friday morning, and quickly spread, engulfing the Surat coaching centre. It's believed a number of those fatalities came after students began to jump from the building.
China
Fatalities Reported due to Suspected Gas Leak on-board Cargo Ship in Weihai, Shangdong Province
At least 10 people have been killed, and a further 19 have been admitted to hospital following a suspected carbon monoxide leak from a cargo ships fire prevention system in Longyan Port, Weihai, eastern Shangdong. The vessel was in port for maintenance when the leak occurred. Reports are also noting that a number of crew members have been detained for not following safety regulations.
Papa New Guinea
Emerging Reports of 7.7 Magnitude Earthquake in East New Britain Region; Tsunami Threat Issued
According to an alert issued by the United States Geological Survey, a 7.7 magnitude earthquake occurred 28km (17 miles) east-northeast of Kokopo, East New Britain region. The tremor occurred at a depth of 10km (6.2miles), with a Tsunami warning being issued. Regarding the Tsunami, the most affected areas are predicted to be Rabaul, Matala and Bai.
---
Global Risk Roundup – April 2019
Drum Cussac is a global security consultancy responsible for ensuring the safety of more than 15 million lives across hundreds of organisations on a daily basis. Our Intelligence and Analysis Services team specialises in providing in-depth analysis of global risks via in-house experts, cutting edge technology and a comprehensive global source network.
Discover more about the services Drum Cussac offer here: drum-cussac.com