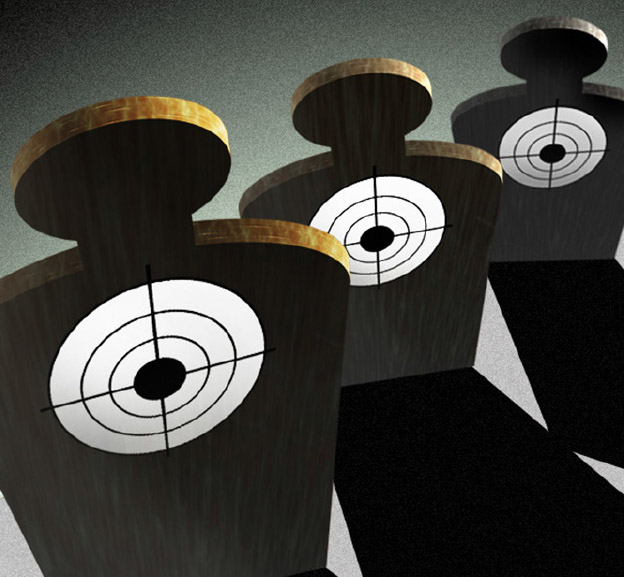 Bodyguard Or Executive Protection Specialist… What's In A Name?
When someone asks, "what do you do for a living"?  Do you say, I'm a "Bodyguard" or do you tell them that you're an Executive Protection Specialist? What's in a name?
What's in a name? Let's break it down to their foundations and see the differences if any. Let me first state for the record that in European countries the title of "bodyguard" like many words, has a different interpretation, so for the purposes of discussion, I am basing this article on the US usage.
Bodyguard: (Merriam Webster, Inc.)
noun
Date: 1704
A usually armed attendant, or group of attendants whose duty is to protect a person.
By definition, a "Bodyguard" is an armed attendant whose sole purpose is to protect. The word "attendant" seems kind of small or insufficient when talking about protection. While it's true that we serve our clients, "attendant" seems like another position. To go a step further, "usually armed" with what? As we all know 90% of our work is unarmed as it pertains to a firearm use. The definition of "bodyguard" in this case invokes thoughts of protection by the gun and nothing else. So let's go from definition to reality, shall we?
To the layman, a "bodyguard" is stereotypically a large individual that escorts a celebrity where they want to go. They usually protect using intimidation, both physically and verbally. They typically have little to no professional training and count on size as their deterrent to all things attack. They typically are part of the "crew" with no distinct line between friendship and protector, becoming in essence, "buddyguards". They will dress any kind of ways, lack in the education of professional protection standards, lack the skills associated with weapons use for professional purposes, in some cases will have criminal records, and protect only the physical being. They usually find themselves involved in matters of their clients not associated with their job description and fail to have a plan of action other than what comes to them at the time of duress. This is not to say that they are mean or evil people, they just lack the professional tactics, knowledge, training, and skills associated with being a professional protector.
I believe there are stark realities and differences between what a "bodyguard" is and does, and what an Executive Protection Specialist is and does. Most of us have seen a "bodyguard" and know what purpose they have when we see them. As I stated earlier, if seen by the layperson they would probably consider them a professional. The arch of all things protective and professional is a small one in my view.
Now let's explore how an Executive Protection Specialist differs.
Executive Protection (EP): (Wikipedia)
Noun
Date: 2014
Also known as close personal protection, refers to security measures taken to ensure the safety of VIP's or other individuals who may be exposed to elevated personal risk because of their employment, celebrity status, wealth, associations or geographical location.
Specialist:
Noun
Date: 2014
A person who concentrates primarily on a particular subject or activity; a person highly skilled in a specific and restricted field.
By definition alone, you can clearly see a difference already. Now, "refers to security measures taken to ensure the safety of VIP's or other individuals who may be exposed to elevated personal risk" verses, "a usually armed attendant". EPS' are neither simply "bodyguards" nor, "attendants"; EPS' are highly skilled individuals or teams with a purpose, and a plan of action.
Creatures of adaptation, executive protection specialists mold themselves into a situation(s). We can come in any size, male or female it makes no difference. We operate with tact, professionalism, and a sense of purpose. We try to be proactive so that we don't have to be reactive. EPS' are always dressed professionally, dressed up or down he/she still looks professional. EPS' protect more than the "person" we protect the entirety of that client's interest's while assigned to that particular detail. Most of our "off " time is consumed by our CRAFT keeping mentally and physically prepared for our client's. We realize the enormity of our responsibilities and work hard to fulfil our contracts. Executive protection specialists work on the premise of making the unknown known, to ensure to the best of our abilities, the successful completion of the detail and protective coverage of our client(s). A bodyguard acts when a situation arises as opposed to planning ahead. Protection specialists constantly work on tactics and pay attention to the direction of our industry as it progresses, does a bodyguard?
What's in a name?…Everything.  For the time and effort executive protection specialists put into becoming experienced professionals, we should look to be defined as such. Someone recently said to me, "it's the same thing!" I ask you, is it? I'm a person who believes that " it's not what you're called, it's what you answer to". If someone refers to me as a bodyguard outside of our profession, I wouldn't be upset but, given the time, I would try to educate them on the differences between the two. In the protection industry, I would probably take a little more of a stern approach because I feel that those specialists, as well as our industry, need to move on from the term "bodyguard".
The Security Industry, here in the U.S., has suffered because of the "bodyguard" mentality, which too close of an association with a "glorified thug". The fact that professionals go out every day, do things correctly, are licensed, insured, trained, and educated in their field should correlate into PROFESSIONAL! As a friend, mentor, and agency owner said, "this is not a hobby" and everyone in this industry should feel the same. I believe our industry is changing and we must all, as an industry facilitate this.
To invoke this change, we must all encourage those who consider themselves "bodyguards" to become trained, licensed, and included. As I stated before, bodyguards outside of the U.S., where the nomenclature is different, deserve the same level of respect, but for those of us who are US-based, the next time someone asks, "what do you do for a living?'…. What will you say?
By: Mark Roche EPS