England's Euro 2020 heroes hired security and bodyguards to protect them on holiday after Harry Maguire incident
Players were aware of the problems Harry Maguire found himself in when arrested in Mykonos last year.
So a large number went away with security, who spent their evenings sat at the back of restaurants and bars sipping soft drinks and keeping an eye on things.
Mason Mount, Jack Grealish and Ben Chilwell all headed to Mykonos
You might think the added security measures are extreme.
But when you consider the value of these players — and the potential for disaster — employing bodyguards is not a bad shout.
The clubs did not come up with the idea but were certainly not disapproving. 
And it is a sign of things to come.
---
Getting Shot, Being On Call & Watching The Millionaire Boxer Blow Through Cash
In an exclusive interview with Radar, Floyd Mayweather's top bodyguard, Greg La Rosa, pulled back the curtain of the life he feels he was born to lead and is blessed to have, but that doesn't mean it doesn't come without sacrifice.
"When I first started working for Floyd, I literally got a call when I was in bed, saying that Floyd needed extra guys out in Miami," Greg told us. "And I literally hopped out of bed, and I'm speaking to the assistant, and she's telling me, 'Yeah, I have a flight for you in two hours. Can you make it here?' And I said, 'Absolutely.' So at the beginning, it was a little bit of an adjustment to explain to my lady, 'Hey, I gotta go to Miami right now.' We're like in bed. She doesn't even have the chance to wake up and register what's going on, and next thing you know, I'm packed up, out the door and headed to Miami."
Last-minute calls simply come with the territory, as do first-class flights – "always," says Greg, "always first class with Floyd."
When we asked whether he was on call all the time, Greg laughed and replied, "Every minute of every hour of every day. 365, 24/7."
In 2018, Greg took a bullet for the athlete after their caravan of two SUVs and one sprinter van was targeted in a drive-by shooting in Atlanta, Georgia. Police never caught the perpetrators.
Following Floyd's appearance at Medusa Restaurant & Lounge, he and his team got into their cars and drove back to their hotel, the InterContinental in Buckhead.
Greg was in the last car – the sprinter van – while Floyd was in one of the SUVs up front. Right as they pulled up to the hotel, a vehicle across the street opened fire on the van. Greg was sitting in the backseat on the driver's side.
"It was a complete ambush," he told us. "As we're pulling into our valet, the first thing I heard was just a massive, massive, massive sound. It sounded like a car accident without the thump or the base noise. Like someone taking a baseball bat and hitting your car as hard as they can, but even louder than that. Between the first bullet and the second bullet was probably a fraction of a second, but it felt like I had so much time in my head to think about what was happening. I had a few thoughts running, like, 'What was that? A baseball bat? Did someone throw a rock at the car?' And it was a bullet. And then I heard the next one piercing through. At that point, I realized what was going on, so I got down. And as I got down, I got hit in the leg."
Of the dozen shots that were fired off in a matter of seconds, six bullets hit the sprinter van, one of which struck Greg. He was shot in the lower leg, he said, right in between where an artery splits into two. Had his artery been hit, Greg was told he would've likely bled out and died within minutes. The shooter vehicle drove off and was not seen again. To this day, he does not know who it was or what their motive could've been.
Read the full interview with Greg > 
---
6ix9ine's Bodyguards Charged in Wild Chase Around NYC
Bodyguards for troubled rapper Tekashi 6ix9ine turned New York City into the Wild West last summer, piling into SUVs and chasing a man for 20 blocks with lights flashing after he attempted to record cellphone video of the recording star, prosecutors said Monday (July 19).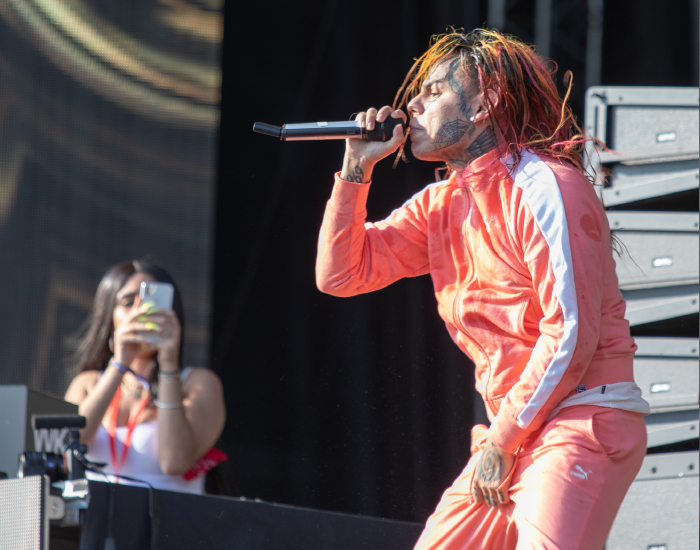 Five members of 6ix9ine's security team, including a retired New York City police detective accused of lying and attempting to cover up the incident, were indicted Monday on robbery, false impersonation and other charges stemming from the pursuit last August in Harlem.
Tekashi 6ix9ine, whose real name is Daniel Hernandez, was not charged.
"A celebrity entourage is not a police department, and Manhattan is not the Wild West," Manhattan District Attorney Cyrus Vance Jr. said in a written statement announcing the indictments.
"As alleged, these highly-compensated vigilantes caravanned through the streets of Harlem with sirens flashing in order to track a man down and steal and break his phone," Vance said.
"A celebrity entourage is not a police department, and Manhattan is not the Wild West," Manhattan District Attorney Cyrus Vance Jr. said in a written statement announcing the indictments.
"As alleged, these highly-compensated vigilantes caravanned through the streets of Harlem with sirens flashing in order to track a man down and steal and break his phone," Vance said.
---
Study reveals shocking levels of abuse on frontline security staff
A study has reveals the levels of verbal and physical violence and aggression security staff experience on a day-to-day basis while at work.
Carried out by Workingthedoors.co.uk, it is the largest piece of research ever undertaken on the subject of violence against security workers.
They wanted to highlight the levels of violence that many in the security industry face and the effect that has on the individual.
The study found 36% of door staff and security workers are physically attacked on a monthly basis. Some 36% have to use physical force weekly and 51% are verbally abused every time they work.
57% said that an incident has affected their mental state more than 24 hours after the event, while 48% saying that they have had a flashback/nightmare about a specific incident.
Sadly, 65% of respondents were
resigned to the fact that violence within the security industry was inevitable, while 86% said that they felt that the levels of violence they see and experience whilst at work had increased over the past five years.
A large number – 68% – of the workers also said they had not received any on-going training after gaining their SIA (Security Industry Authority) licence.
You can read their full report here >
---
Head of Miami security firm linked to Haiti killing denies involvement
The head of a Miami-based security firm that hired the Colombian bodyguards suspected of killing Haiti's president denied involvement in his death, saying on Wednesday he had been tricked and that the president's own guards were to blame.
President Jovenel Moise was killed last month at his home in Port-au-Prince, and a group of former soldiers from Colombia were arrested in the attack.
Haitian officials said Antonio Intriago's company, CTU, Security had hired the former soldiers, which he indirectly confirmed in a statement issued through his lawyers in Miami.
"Mr. Intriago had no knowledge of and no part in the tragic events," his attorneys at Lacayo Law Firm said, marking Intriago's first public remarks on the matter.
According to the statement, Intriago believed that his "unarmed security contractors" had been hired as personal guards in Haiti, but that there was a last-minute change of plans and the men were asked to serve an arrest warrant on Moise.
Intriago's lawyers attached the warrant with their statement. The warrant was signed by a judge and dated February 2019.
"When they entered the presidential residence, they found the president deceased, his wife wounded, and the house ransacked," the statement said. "It is our belief that the president's own bodyguards betrayed him."
"Mr. Intriago was the victim of an elaborate scheme," it said, arguing the contractors had "no part" in Moise's killing.
In Colombia, families and colleagues of Intriago's hires have told reporters the men were hired to act as bodyguards.
---
SIA announces a change to the launch date for the new Close Protection qualification
The new implementation date will allow for full testing of the new skills before they are introduced. The SIA will run a pilot in early 2022 with selected training centres. This will enable those delivering the qualification to provide feedback on the new bespoke physical intervention unit and make any required adjustments to the course before it goes live in April 2022.
The changes to be introduced by the SIA have been informed by the views of expert stakeholders and reflect extensive research and discussion with the industry, including a public consultation.
Changes to the qualification includes new physical intervention skills for close protection operatives.
The new content will allow the integration arrangement that permits close protection licence holders to work as Door Supervisors to continue.
The SIA will run a series of webinars for training providers, operatives and the wider industry towards the end of September. These sessions will outline the content added to the new qualification and also provide an overview of the new bespoke physical intervention skills for close protection operatives.
---
Industry News 
We cast our eye over the main stories impacting the security industry. Here's what's appeared on the radar since the last issue.