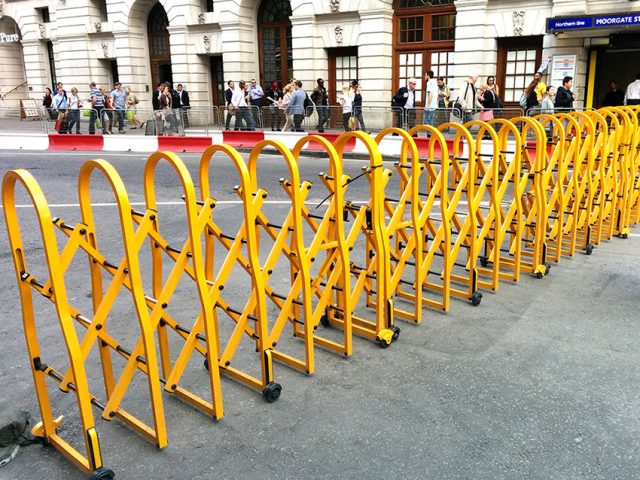 Crowd control solutions should provide quick deployment with minimum hassle. Enter Turtlegate Barriers, fast emerging as one of the UK's top barrier solutions for easy, efficient crowd control.
Fit for purpose
Turtlegates' rising popularity lies in the flexibility and functionality of its innovative design, providing:
Retractable adjustability, expanding up to 2.04m.
Two height options of 1.3 m and 1.8 m.
Compact overall size, for convenient storage and handling.
Rubber wheels with wheel locks for efficient manoeuvring and deployment, suiting both indoor and outside use.
Highly durable aluminium alloy construction for robust weather resistance.
Crowd Management Solutions
Research by Arinite Health & Safety reveals 2016's health and safety fines were significantly higher than costs of compliance – by an average of £75k. Turtlegate barriers offer cost-effective, versatile crowd-control systems essential for meeting both public safety and financial considerations, in a range of situations:
Extended runs in mixed environments, long-term deployment and access needed, e.g: across phases of work, indoors and out.
Solution:
Barriers runs are created by expanding multiple Turtlegate Barriers, linked through a sectional and alligator locking design. Once locked into place, sections can be unlocked for access. Rubber wheels support conveyance and installation across all types of indoor and outdoor grounds and surfaces.
Ad-hoc, speedy deployment and removal, e.g:
At supermarkets, shopping centres, sports and entertainment venues, warehouses, factories, transport zones such as stations: to facilitate cleaning, emergency and planned repairs; separation zones for safe operation of forklifts and machinery; safety and security.
Solution:
Turtlegates can be efficiently deployed, installed and removed by a single person, as required.
Awkward sites, e.g: remote, rough terrain making transportation difficult; awkward width gaps, such as escalator and elevator access points.
Solution:
Turtlegate barriers' compact unextended size means relatively lightweight carrying, whilst wheeled manoeuvrability supports conveyance to awkward locations. The expand-to-fit design ensures access points of varying sizes can be secured.
Crowded, mixed use areas means maximum effectiveness needed, e.g:

Supermarkets and shopping centres

Stations, transport hubs and car parks

Solution:
Deploying Turtlegates establishes crowd and vehicle access control, and pedestrian/vehicle separation in mixed use areas as needed.
Turtlegates prohibit access with more stability than cordons created by tapes, bollards or cones, which crowds can easily dislodge, or children easily run through. Both sizes of barrier are difficult to breach.
Crowd security and visibility required
Solutions:
Seeing: Turtlegate's retractable 'lattice' design facilitates crowd control, vigilance, security surveillance and safety monitoring. Seeing 'through' barriers adds to crowd control effectiveness at:

Turnstiles, access and ticketing points.

Stations, airports and entertainment venues.

Turtlegate barriers promote safety without limiting the public's viewing at a distance, e.g. at:

Outdoor events: parades, tournaments, competitions.

Visual events and experiences: zoos, safari and theme parks

Indoor venues, including museums and exhibition centres.

Being seen:
With custom and standard colour options, Turtlegate barriers provide smart, highly visible alternatives to scruffy tapes and easily-breached rope cordons.
Whatever your crowd control situation, find out more about hiring or buying Turtlegate Barriers from SafeSite Facilities.