Can you briefly describe your personal history with firearms training?
I trained with Investigator Mitchell who is a Recon Marine, Robert Wilson who's featured in Glock Magazine, and Mark "SIX" James of Panther Protective Services.   My Skill level increased with Mark James as he was a perfectionist and so was I. We discovered we had likeminded goals, and as a result we trained a lot together and we became very good friends. This evolved into us working together in Executive Protection. I consistently trained with instructors at the range and have been in 2 shootouts while off duty doing security work. While unfortunate, that has helped me with my instructing, and the ability to give real world advice when it comes to thought processing in a crisis.  
Describe your professional journey?
I played on the Georgia State Patrols basketball league then joined the reserve sheriffs, I then did freelance security with 2 Georgia state troopers that started a company. I took a hiatus and actually became a barber while still doing security work on the side. While cutting hair I ran into someone who gave me a window of opportunity which led me to land a 6 figure contract. My company SS consulting specialized in threat assessments and advances but I didn't just limit myself to that. I would land other contracts doing different types of security.  The reality is, it's who you know vs what you know. 
Why do you think people are drawn to you? When it comes to firearms training.
I focus on real world scenarios. Practical vs tactical. I practice situations so people watching get an idea of what they have to practice and what to seek from an instructor. 
I like to inspire people to get the training they need to be better prepared and not just have a gun to "get them up off you" but have accountability and responsibility on firearms safety. 
I notice you are active on social media with a high viewership,  specifically Instagram, why did you start your IG page and what was the reasoning behind it?
I wanted to inspire people to get the firearms training they need, and to also train their families. You can't change people's morality, but you can defend yourself given our second amendment constitutional rights. I don't advocate violence, I advocate protection. Which is why I give visual tactics which gives people more to think about. Most firearms instructor don't show as much as I do because "they don't want to give everything away," but I just want people to learn and get training from whomever. Not everyone has money for gun courses, and that's okay. Having people telling me that my training has helped them is the most satisfying moment. I also advocate that everyone [in the US] should get a Concealed Weapons  permit as soon as they become of age.  If you use the IG platform you can find me @7mikesmith_trainingwithbigmike.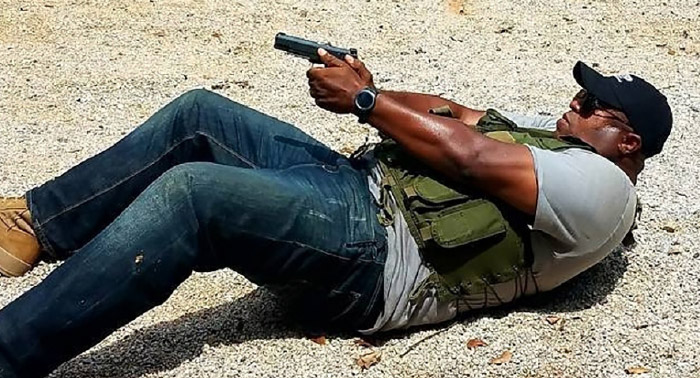 What type of clients did you have when you did Executive Protection Full Time? Did you have any tense moments?
I did EP for Athletes, High end executives, musical artist and celebrities. Younger celebrities bring a different element and you have to navigate around that.  I've never gotten into trouble with my clients. 
My clients have never been arrested or attacked, however some situations could have ended real bad. In my experience verbal judo is crucial. You have to calm them down while at the same time, don't make them look weak. 
In what unconventional ways did your past experiences help you with your EP career?
My time spent playing basketball league for the Georgia State Patrol helped me with my firearms training. It helped me with my athleticism. 
Being a big guy i still move fast and that's because of my muscle  memory. My hand/eye coordination also helped my firearm drills. My firearms training really helps speed up my thought process. And in EP thought processing really helps. I'm able to de-esclate situations with a clear mind and that really helps out a lot. 
Finally, any tips on home defense?
Having a gun light attached helps keep one hand free. Don't move from your position unless you have to get your children etc. Don't clear rooms unless you have to. Protect your loved ones, then hold an angle in which you have a good vantagepoint and call 911. Have a plan with your family so you all know what to do. 
---
Foot Steps Episode 5: Mike Smith
By: Jose Casillas 
Jose Casillas is a Los Angles based Executive Protection Agent who specializes in red carpet events, movie premiers & estate security.  He also teaches martial arts and works as an Emergency Medical Technician (EMT).