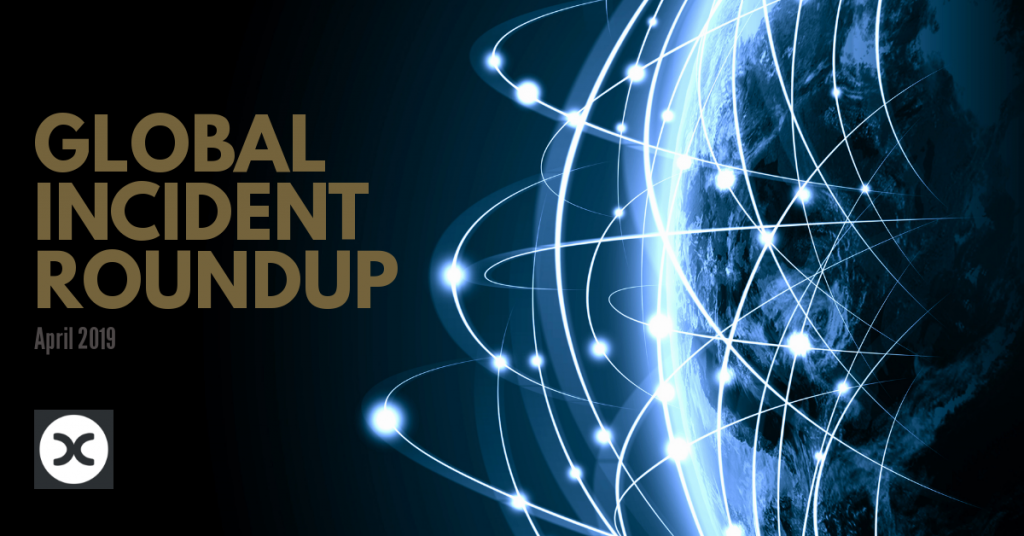 Our Global Risk partners, Drum Cussac, provide in-depth analysis of global risks via in-house experts, cutting edge technology and through a comprehensive global source network. Here is your summary of the incidents you need to know about from the last 30 days.
Africa
Mozambique
Fatalities Reported as Cyclone IDAI-19 Continues to Strengthen
At least ten people have been killed by flooding in Tete and Zambezia province as Cyclone IDAI-19 continues to strengthen. At least 62,000 others have also been affected by flooding in the two aforementioned provinces, as well as parts of northern Niassa province. IDAI-19 is currently sustaining winds of 100kmh (62mph) and is projected to move towards the provinces of Sofala and Zambezia provinces and is currently projected to make landfall at the strength of category 3 after reaching category 4 whilst moving through the Mozambique Channel. The UN has stated that it anticipates that flooding and heavy rains resulting from the cyclone will affect at least 120,000 people. Alerts have been issued by authorities for the provinces of Cabo Delgado, Manica, Nampula, Niassa, Sofala, Tetet and Zambezia.
Mali
Multiple Fatalities Reported following Armed Attack on Peul Community in Bankass, Mopti Region
As many as 40 civilians were killed following an armed attack on a Peul community village in the Bankass area of Mopti region. Armed men entered the village in the early hours of Sunday and set over 60 houses and food stores on fire. Police have attributed the attack to Dozo militiamen, who carried out a similar assault in January 2019, which left over 30 civilians killed. This latest incident comes as part of increasing intercommunal violence between the Bambara, Dogon and Fulani groups over recent years.
Madagascar
Death Toll Related to Ongoing Measles Outbreak Rises to Over 900
The death toll from the nationwide measles outbreak has risen to more than 900 deaths. According to recent figures by the World Health Organisation (WHO), there have been more than 68,000 cases of the disease since the outbreak began in September 2018, with the most affected areas being Antananarivo and Ambato Boeny. The recent epidemic is blamed on a low immunisation rate for measles across the country, with the vaccination rate estimated to be less than 60 percent. The country has launched a nationwide campaign consisting of mass vaccination campaigns and surveillance, to try and bring the epidemic under control, with help from organisations such as UNICEF and the WHO.
Ethiopa
Ethiopian Airlines Plane Crashes Shortly After Taking Off from Bole International Airport (ADD)
Embed from Getty Images
An Ethiopian Airlines Boeing 733 aircraft has crashed soon after it took off from the Bole International Airport (ADD) in Addis Ababa. The ET302 flight from Addis Ababa to Nairobi, Kenya, dropped from the radar 6 minutes after take-off. The plane is believed to be carrying 149 passengers and eight crew. Ethiopian Airlines and local authorities are currently investigating the incident and will communicate shortly on the circumstances of the crash.
Americas
Mexico
Multiple Fatalities following Armed Attack on Bar in Guanajuato State; Hostage Situation Ongoing
At least 13 have been killed and 18 others wounded after a bar in Salamanca, Guanajuato state, came under attack. A group of armed men entered the bar "La Playa Men's Club Salamanca" in the San Roque neighbourhood and began firing indiscriminately. It is further reported that three bar patrons have been taken hostage. Federal police have responded to the incident and cordoned off the bar. Further information is awaited.
Brazil
Fatalities Reported following Separate incidents in Zone Norte, Rio de Janeiro
At least two people have died and several others have been injured, following two separate incidents in the Zone Norte area of Rio de Janeiro. Marechal Hermes, armed gang members clashed, killing two and injuring a further four people. It's believed at least one firearm was used in the incident. Further, in Rocha Miranda, an unknown person drove a car into a crowd of people at a Carnival street party in Verissimo Machado where at least five people were injured.
United States
Fatalities Reported following Severe Weather in Central US; Disruption Expected
Two people, one from Colorado and one from Texas, are known to have died from severe storm conditions in parts of the central US. The states likely to be impacted by the cyclonic storm are Colorado, Wyoming, Montana, Nebraska, South Dakota, and northern Arizona. Additionally, winds of up to 160kph (100mph) are forecast across New Mexico, Texas, Kansas and Colorado. The Governor of Colorado declared a state of emergency and activated the Colorado National Guard to assist with search and rescue operations. Nebraska's Governor also issued a state of emergency. Many roads remained closed in Colorado, Nebraska, Kansas, South Dakota and Iowa due to snow and flooding, including stretches of I-80 and I-70. 1,129 flights have been delayed in and out of the US and a total of 1,213 cancellations within, into, or out of the US have occurred also. Further updates are awaited in order to confirm the duration of the storm.
Middle East and North Africa
Iraq
Security Forces Kill Multiple Islamic State Militants in Badush, Nineveh Province
Iraqi security forces killed five suspected Islamic State suicide bombers in the northern province of Nineveh. The joint operation involving Iraqi army and paramilitary Hashd Shaabi ambushed the five suicide bombers wearing explosive vests and surrounded them in their vehicle in the Badush and opened fire, killing the all five and set the vehicle ablaze.
Syria
Dozens of Casualties Reported Following Minibus Bomb Blast in Deir al-Zor Province
At least 20 people were killed and 14 injured when a bomb blast hit a minibus carrying workers employed in a major oil installation in the southeast region of Deir al-Zor province that borders Iraq. Local residents in the area said many of the young men in the blown-up minibus had come from work in the nearby al-Omar field, one of Syria's largest oil fields. It is not yet known who carried out the attack. Further information is awaited.
Morocco
Fatal Shooting Attack Reported in Guelmim
At least one person has been killed and 11 others have been lightly injured following a shooting attack in the city of Guelmim. The assailant reportedly opened fire on passers-by with a hunting rifle from the roof of his home, injuring at least two police officers in the process, in the Tekna area of the city. Police responded to the scene and detained the assailant after shooting him in the legs. Although investigations into the incident are continuing, police have stated that they can detect no discernible motive for the attack at this time.
Europe
Sweden
Reports of Explosion on Bus in Central Stockholm
Embed from Getty Images
A large explosion has occurred in the centre of Stockholm. Initial reports suggest that a bus has exploded close to the entrance of the Klaratunnel in the Tegelbacken area of the city. Images from the scene show the bus on fire and large plumes of smoke. There are no confirmed reports of casualties, although some reports suggest that at least one person has been injured. Emergency services are currently at the scene and further updates on the situation are awaited.
Ukraine
Multiple Fatalities Reported following Clashes in Donetsk and Lukansk, Donbas Region
Violent clashes between Ukrainian armed forces and separatist fighters broke out in the Donbas region. Separatist fighters attacked Ukrainian positions in Donetsk and Luhansk oblasts. One Ukrainian soldier and at least four separatist fighters were killed in the fighting. In Donetsk region, separatists reportedly targeted the areas of Lebedynske, Vodyane, Shyrokyne, Pisky and Avdiivka. In Luhansk region, they targeted the vicinity of Krymske.
Albania
Police Use Teargas to Disperse Protesters near Parliament Building in Tirana
Police have reportedly used tear gas to disperse a crowd of protesters outside of the Parliament Building in central Tirana. Supporters of Albania's opposition threw flares and torched a car tire in an attempt to block ruling lawmakers entering the building amid calls for the government to quit. Opposition parties recently announced that weekly protests will take place outside parliament every Thursday, prompting the UK Foreign and Commonwealth Office (FC) to update its travel advice for Albania. The planned protests form the latest in a series of anti-government demonstrations which are calling for the government to step down amid accusations of corruption and links to organised crime.
Asia and the Pacific
Indonesia
Multiple Casualties as Landslide Hits Town of Labuan Bajo in Nusa Tenggara Region
Four people have been killed and a further four are missing following a landslide in the town of Labuan Bajo in the West Manggarai regency of the eastern Nusa Tenggara region. The incident occurred following a series of floods that hit the region when a landslide buried several houses in the Tondong Belang district and cut off the access road connecting the town to the rest of the West Manggarai regency. Search and rescue teams alongside public works agencies were deployed and recovered the four victims. Recovery operations are still ongoing in the area.
Australia
Thousands Evacuated as Bushfires Rage Across Victoria State
Hundreds of firefighters are involved in multiple raging bushfires across the state of Victoria, causing thousands to evacuate their homes. Lightning strikes are likely responsible for the blazes which currently number more than 100. The Victoria Emergency Management Commission has issued a total fire ban as heatwave weather conditions are expected. Emergency warnings have been issued for fires burning in Dargo and Bunyip State Park, east of Melbourne.
Nepal
Casualties Reported following IED Blast in Kathmandu Valley
At least one person was killed and two others were injured due to an Improvised Explosive Device (IED) blast in Nakkhu in the Latipur area of Kathmandu Valley. The blast took place outside the Ncell headquarters, which is a private mobile operator. No group has so far claimed responsibility for the attack. Further information is awaited.
---
Global Risk Roundup – April 2019
Drum Cussac is a global security consultancy responsible for ensuring the safety of more than 15 million lives across hundreds of organisations on a daily basis. Our Intelligence and Analysis Services team specialises in providing in-depth analysis of global risks via in-house experts, cutting edge technology and a comprehensive global source network.
Discover more about the services Drum Cussac offer here: drum-cussac.com