Each issue our global geopolitical partner, Stratfor, provides an in-depth analysis of global incidents via in-house experts, cutting edge technology, and through a comprehensive globally sourced network. Here is your summary for the last 30 days.

Peru: Congress Threatens to Impeach President as Political Crisis Erupts
Sep 11, 2020
Members of Peru's Congress submitted a request to begin proceedings to impeach President Martin Vizcarra over his alleged recorded conversation with officials at Peru's Ministry of Culture, in which they seemingly agree on a cover-up scheme regarding government contracts awarded to a singer for services within the ministry.
Why It Matters:  The authenticity of the recordings has not yet been proven. And while the issue doesn't seem to be of any national relevance, it has nonetheless erupted into a sudden political crisis in Peru that could either escalate quickly or fade away.


China, India: Countries Agree to Disengage Troops Along Their Border
Sep 11, 2020
Chinese and Indian officials agreed to rapidly disengage troops along their countries' shared border during a meeting on the sidelines of the Shanghai Cooperation Organization (SCO) in Moscow.
Why It Matters:  This was a highly anticipated meeting and appears to have yielded a top-level consensus between the two sides that could allow them to decrease tensions before the winter compels them to move back to their cold-weather positions.

Mali: Clashes Erupt Between Police and Protesters in Bamako as Transition Talks Continueh
Sep 10, 2020
Clashes between protesters and police delayed the start of a conference in Bamako on the post-coup political transition in Mali.
Why It Matters:  The three-day consultations come ahead of the Sept. 15 deadline set by the Economic Community of West African States (ECOWAS) before the group begins lifting the sanctions it imposed following the coup.

U.K.: London Unveils Post-Brexit Internal Market Bill 
Sep 9, 2020
The U.K. government has published the text of its Internal Market Bill, which would give London the power to overrule certain issues outlined in the Withdrawal Agreement it negotiated with the European Union last year, including those related to customs and trade rules in Northern Ireland.
Why It Matters:  If approved by parliament in its current form, the proposed bill would violate some aspects of Brussels and London's Withdrawal Agreement. This raises the risk for the collapse of ongoing EU-U.K. trade talks and a no-deal British exit from the EU single market on Jan 1, 2021.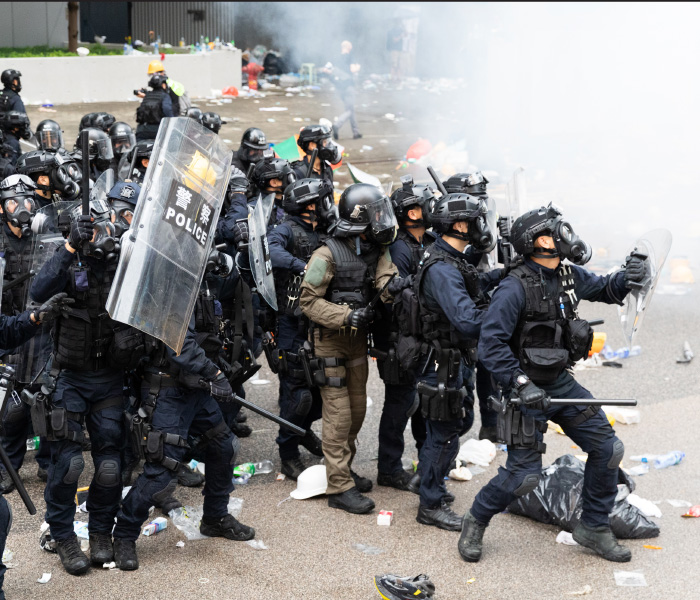 Hong Kong, China: Protests Against Election Delay Result in 289 Arrests
Sep 8, 2020
Pro-democracy activists in Hong Kong held demonstrations on Sept. 6 protesting against the government for delaying the legislative council elections that were meant to be held on that day, the South China Morning Post has reported. While anonymous activists put a call out to 50,000 people to attend, turnout appeared to be below that benchmark. Police arrested at least 289 people, one of which is being detained on suspicion of violating the new national security law after chanting pro-independence slogans.
Why It Matters:  This is the largest protest since July 1 despite overall turnout was lower than planned. The new restricted environment due to the national security law and COVID-19 may have deterred many from joining the demonstrations. Authorities appear to be maintaining a strategy of making limited use of the national security law, preferring instead to use less controversial powers.

U.S., China: Washington Imposes New Movement Restrictions on Chinese Diplomats
Sep 3, 2020
Senior Chinese diplomats in the United States will now be required to obtain prior approval from the U.S. State Department before visiting university campuses, staging cultural events of more than 50 people outside the embassy or consulates, or holding local government meetings.
Why It Matters:  These new restrictions are part of an ongoing diplomatic tit-for-tat between the United States and China over a variety of issues, including Hong Kong's political crisis, human rights abuses in Xinjiang and China's activities in the South China Sea.

Afghanistan: Kabul Resumes Prisoner Releases, Moves Toward Talks With Taliban
Sep 2, 2020
A Taliban spokesman said the group had released at least four captured Afghan commandos in exchange for the Afghan government releasing an additional 200 Taliban prisoners, BBC reported Sept. 2. An Afghan official said that additional prisoner releases are expected in the coming days.
Why It Matters:  The mutual prisoner exchanges have put the government and the Taliban back on track toward holding direct talks in Doha, which are expected to begin shortly after the full prisoner release is complete.

Belarus: Lukashenko Promises Constitutional Referendum 
Aug 31, 2020
Belarusian President Alexander Lukashenko announced that a planned constitutional reform and referendum vote will be put up for public debate.
Why It Matters:  Adjustments to the current Belarusian constitution have been in discussion for several years. But amid the country's current postelection crisis, Lukashenko has recently become more vocal on the topic in the hopes of quelling growing demands for political change without having to resign or hold another election.

Afghanistan: U.S. Military Officials Accuse Taliban of Violating Peace Deal by Conducting Rocket Attacks
Aug 31, 2020
Three U.S. military officials claimed the Taliban was behind a series of recent rocket attacks against U.S. positions in Afghanistan, violating the U.S.-Taliban peace deal, The New York Times reported Aug. 30.
Why It Matters:  Taliban leaders have denied the group's involvement in the incidents, which could indicate a lack of cohesion within the group and possible splintering. Continued rocket attacks could also force the U.S. government to release a public response officiating the military officials' claim. The White House, however, may be reluctant to do so for fear of jeopardizing its peace deal with the Taliban, which paves the way for U.S. President Donald Trump's desired military withdrawal from the conflict in Afghanistan.

Russia: Hospitalized Opposition Leader Likely Poisoned, Says Doctors
Aug 24, 2020
The hospital in Berlin where Russian opposition leader Alexei Navalny is being treated said that he appears to have been poisoned, with initial clinical tests pointing to intoxication with cholinesterase inhibitors.
Why It Matters:  Navalny's alleged poisoning of points to a potential attempt by either the Kremlin itself, or local political actors in Russia who support the Kremlin's position, to suppress opposition activities in the country.

U.S., Iraq: Al-Kadhimi Visits White House in Second Round of Strategic Dialogue 
Aug 20, 2020
Iraqi Prime Minister Mustafa al-Kadhimi met with U.S. President Donald Trump at the White House after five U.S. companies (Chevron, Honeywell, Baker Hughes, General Electric and Stellar Energy) signed agreements with Iraq's ministries of oil and electricity, Reuters reported Aug. 20.
Why It Matters:  Al-Kadhimi's visit to Washington is largely dedicated to strengthening commercial ties between U.S. companies and Iraq's oil and gas and electricity sectors under his nascent leadership. Strategically, the visit is also about the future of U.S. troops in Iraq, as Iraq's government seeks to preserve a close working relationship with the United States, while at the same time maintaining functional ties with Iran.

---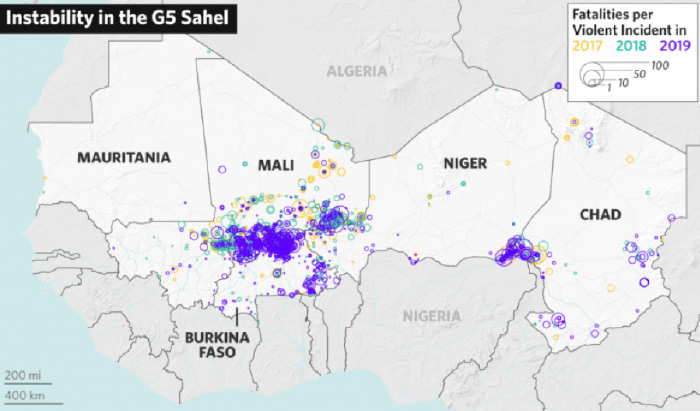 Security in the Sahel Is Poised to Worsen
Recent political upheaval in Mali and the Ivory Coast threatens to compound intensifying instability in the Sahel and could spill over into other West African countries.
In Mali, large-scale protests in Bamako began in opposition to corruption, controversial election results and the government's inability to quell the resurgence of militant activity.
In Burkina Faso, militant activity began spilling over from Mali in 2017 to northern parts of the country but soon spread throughout Burkina Faso, destabilizing the country and creating a new base for militant attacks into neighboring countries like Benin and the Ivory Coast.
In Niger, militant attacks killed more people in the first six months of 2020 than in all of 2019. The country faces spillover violence from two fronts: from insurgents based in Mali and Burkina Faso in its west, and from insurgents based in Nigeria to its southeast.

 
Structural weaknesses in these governments in the Sahel will leave them vulnerable to bouts of political unrest, insurgent and terrorist activity, and other disruptions.
Endemic corruption, abuses committed by various security forces and the COVID-19 pandemic have compounded the adverse impacts of the insurgency.
Abuses by government security forces or allied militias in Mali and Niger against civilians further undermine the trust of local populations in their governments.

The outbreak of the COVID-19 pandemic undermined the effectiveness of security forces by diverting time, manpower and resources from fighting these groups and toward containing the virus.

As instability in the Sahel continues to grow, jihadist groups will further undermine the security of these countries and pose an increasing threat to coastal West African countries. 

The Armed Conflict Location and Event Data Project indicated that the number of violent events in the Sahel linked to these militants ballooned from 147 in mid-2017 to 999 in mid-2020.

Jihadist militants have previously managed to attack economic hubs in coastal West Africa, and have called for additional attacks.

The primary threat will remain along these country's northern borders given the proximity to militant bases in Burkina Faso and Mali.
These groups pose a substantial threat to countries in the region, but do not yet pose a threat of transnational attacks against countries such as the United States, Europe or the Middle East. 
There are multiple reasons the Sahel will not become another hub for transnational attacks similar to Syria or Iraq.
The Sahel does not have the same historic and religious significance to draw the levels of foreign fighters that Syria and Iraq attracted in the mid-2010s.

While

the COVID-19 pandemic has not stopped the groups from conducting operations in the Sahel, restrictions on movement due to COVID-19 have constrained their activities outside the region.
---

Venezuela
Sep 11, 2020
Disputes within Venezuela's opposition over whether to boycott the country's Dec. 6 legislative elections will likely enable President Nicolas Maduro to remain in power.
India
Sep 9, 2020
China's growing presence along the two countries' border prompts India to more assertively defend its claimed territory and raise tensions.
Middle East
Sep 4, 2020
Pan-Islamism and its vision of a singular caliphate are now increasingly seen as a threat to stability in the Middle East. Even the countries that still claim to embody the movement's ideals, such as Qatar and Turkey, are only doing so as a means to a nationalist end.
Russia
Sep 1, 2020
Moscow's push to limit the powers of future presidents could expose current President Vladamir Putin to potential challenges in upcoming election cycles.
Japan
Aug 14, 2020
Japan has long operated beyond the pacifist constraints of its post-war constitution, but a growing and more assertive China is accelerating Tokyo's development of offensive its capabilities.
US
Aug 7, 2020
With the drawdown of U.S. forces in Germany underway, a reduction of U.S. forces in South Korea is now more likely than ever, given evolving U.S. defense priorities and longstanding trends on the Korean Peninsula.
Greece
Aug 27, 2020
Turkey's expansion of energy exploration in the Mediterranean is prompting Greece to cautiously exercise its international maritime rights in order to protect its own claims to offshore economic resources in the region.
UAE
Aug 26, 2020
The United Arab Emirates' desire to simultaneously upgrade its defense ties with Israel and the US will probably create political controversy in both countries, though the benefits of deeper security cooperation with Abu Dhabi is more likely to earn greater support in Israel than Washington.
---
Having informed insight in today's increasingly complex international environment is more important than ever. That's why we've partnered with Stratfor, the worlds leading geopolitical intelligence platform, to bring readers regular analysis and accurate forecasting of global trends from someone you can trust.