Significant Events
On December 9, university lecturers defied a government ultimatum to return to work after their six-month strike.
On December 8 and 9, Boko Haram established roadblocks and attacked travelers in Borno, killing five people and kidnapping four others.
On December 8, the Nigerian Navy arrested four suspected pirates operating near Bonny Island, Rivers state.
On December 7, an Italian oil engineer was kidnapped by armed men in southern Nigeria.
On December 7, oil thieves sabotaged an Agip pipeline in Bayelsa, cutting off oil flow for several days and causing an oil spill in the delta.
On December 6, a doctor in Edo state was killed during a botched kidnapping.
On December 2, Boko Haram militants attacked a Nigerian Air Force (NAF) base near Maiduguri, Borno, killing around 20 security personnel and destroying two helicopters and three planes.
On December 1, the People's Democratic Party (PDP) Adamawa chairman and former gubernatorial candidate was kidnapped and held captive for three days by unknown kidnappers while returning to Akwa.
On November 29, Boko Haram launched a raid near Sabon Gari village, Borno, killing 17 residents and burning over 100 homes.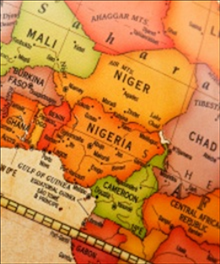 Risk Assessment
Terrorism
On November 29, Boko Haram suspects launched a raid on Sabon Gari village, near Damboa in southern Borno. Over 100 houses, shops, and vehicles, including the Sabon Gari Market and all its property, were destroyed by the militants, who also killed 17 residents. According to locals, vigilante groups killed two attackers and three others were arrested in Damboa. Sabon Gari is located near the Sambisa Forest, where security operations have been taking place in recent weeks. The attackers stated that they would return the following week to conduct another attack.
Boko Haram militants launched a quick campaign against military and police facilities outside Maiduguri on December 2, killing around 20 security personnel. According to security officials, the militants also struck at civilians on the road between the Nigerian Air Force base in central Borno and the 33rd Battalion's barracks. According to local witnesses, the militants launched a complex attack at night, detonating a Vehicle-Borne Improvised Explosive Device (VBIED) and storming the barracks, though the army was able to repel the attack.
Security officials have stated that this was the largest spate of attacks since the imposition of the state of emergency. Military authorities have since started an investigation into the possibility of infiltration and corruption and warned that arrests would be made. Two Air Force personnel were reportedly wounded and 24 militants were killed, according to the military. Additionally, three planes and two helicopters were damaged. Since the attack, Maiduguri has been placed under a 24-hour curfew for the first time since 2009.
On December 9, Boko Haram conducted a raid on a highway, destroying three vehicles and kidnapping four occupants. The raid occurred on the Maiduguri-Damboa-Biu highway, which has been a focal point of recent insurgent attacks and counter-insurgency operations. According to a victim that escaped, the terrorists established a roadblock with the seized vehicles, setting them on fire. This follows another highway incident the previous day on the Gwoza-Firgi-Ngurosoya highway, which resulted in the deaths of five people.
In the south, oil thieves set fire to an Agip Oil Company facility in Bayelsa, killing one person. The incident occurred on December 7 at a delivery trunk line along a creek in the Southern Ijaw Local Government Area, which is known for its high concentration of illegal refineries. The deceased man, who died of burns he received, was suspected to have been one of the attackers. Meanwhile, elders in the Brass communities, near the spill, commended the swift response by Agip to control and clean up the resulting oil spill caused by the sabotage.
Kidnapping
Prince Kenneth Emeakayi, the PDP chairman of Anambra, was kidnapped by unknown gunmen while returning to Awka from his village in Okija. The December 1 incident was con-ducted by four men who opened fire upon his vehicle before blindfolding Emeakayi and carrying him away. After being held for two days, he was released by "divine intervention," according to Emeakayi.
Emeakayi was a candidate in the recent guber-natorial elections on November 16, though he lost to Willie Obiano, the All Progressive Grand Alliance candidate. The discrepancies between various accounts of the kidnapping, controversy has arisen as to the legitimacy of the incident. Political kidnappings are common in Nigeria, though the timing of it, after Emeakayi had already lost the election, is peculiar.
The following day, an 84-year-old Biafran warlord was kidnapped along with his wife in their hometown of Okpanam, Delta state. The kidnappers contacted Major Azum Asoya's family, demanding a ransom of around 200,000 USD.
Dr. Sunday Ezouzegba, a medical doctor with the Irrau Specialist Teaching Hospital, Edo state, was killed by his kidnappers on December 5 after being abducted three days before. According to witnesses, the vehicle being used to transport the doctor developed a mechanical problem. The abductors fired their weapons into the air to frighten motorists away from their stopped vehicle, but the doctor was accidentally struck by one of the bullets.
The Nigerian foreign ministry announced on December 7 that an Italian engineer was kidnapped in southern Nigeria. Marcello Rizzo, a 55-year-old native of Sicily, had been working for an Italian construction company and living in Nigeria for the past eight years. Further details surrounding the abduction have not yet emerged, though it appears he was taken for ransom purposes.
Law Enforcement
Four suspected pirates were arrested by the Nigerian Navy on December 8. The security operation was conducted in the waterways of Rivers state, where the pirates were anchored in two wooden boats off Bonny Island. With the suspects were various knives and pumping equipment.
On December 9, police in Jos, Plateau state arrested three suspects for ritualistic killing and selling of human body parts. Two young girls have been killed recently in the Fillin Sukuwa area of Jos, to which the suspects have confessed their connection. The sale of body parts for ritualistic purposes can be worth a substantial amount of money, in these cases around 2,500 USD. The market in
Nigeria is due to spiritual and superstitious beliefs, though it has certainly declined. As such, people have been known to exhume bodies, steal them from mortuaries, or kidnap and kill people themselves.
The National Drug Law Enforcement Agency (NDLEA) announced it arrested 442 suspects and seized 1,000 pounds of various drugs in Anambra state so far this year. Additionally, the NDLEA stated that farmers in Nigeria were increasingly abandoning crop cultivation in favor of growing marijuana. According to the agency, over 1,400 hectares were used last year to grow marijuana. The NDLEA further boasted of its efforts to combat drug cultivation and trafficking. According to officials, the NDLEA seized 200 million USD worth of drugs in 2012.
Nigeria remains a key spot for drug trafficking, with vast international networks connecting it to South America, trans-Saharan, South Asia, and also to the rest of Africa. Domestic drug consumption is also worrying authorities. Kano city, Kano remains the country's drug capital, regularly recording the highest figures for drug use and arrests. Combined with high unemployment, poverty, and terrorism threat, the social situation is quite difficult.
Conflict
Gunmen killed five people and displaced hundreds of others in Mboi, Song Local Government Area of Adamawa. Clashes between herdsmen and farmers began after farmers accused the herdsmen of destroying their crops before harvest. The herdsmen retaliated the following night, destroying homes and killing or driving off animals and foodstuffs. Despite the imposition of a state of emergency in the state, many residents are still wellarmed and the military presence is not strong enough to deter such incidents of violence.
Political
Borno Governor al-Haji Kashim Shettima announced that victims of the Bama attack would receive 630,000 USD. At a ceremony at the palace of the area's monarch, Shettima presented the fund to the Shehu al-Kanemi. This gesture comes after a previous announcement by President Goodluck Jonathan that he would not allocate federal funds for financial compensation of Boko Haram victims.
A report emerged that the Nigerian state oil company failed to account for 50 billion USD since 2012. This accounts for 76 percent of crude oil sold by the Nigerian National Petroleum Corporation and is the rough equivalent of the federal government's expenditures.
Economic
The Federal Executive Council (FEC) approved a plan for Nigeria's first deep seaport. The proposed site is at Lekki, around 50 miles east of Lagos' current primary port, Apapa. Over 90 hectares have been designated for development and, given its distance from downtown Lagos, it will have room for expansion. Lekki port will be able to handle four million tons of cargo and be dredged to over 57 feet, or 17.5 meters, allowing it to fit New Panamex ships such as the Maersk E class container ships.
The federal government accepted an offer by the American Capital Energy and Infrastructure (ACEI) to invest 130 million USD in Azura Power Holdings, Ltd. Azura is responsible for the development of the Azura-Edo power station near Benin City, Edo, a gas turbine power station expected to provide 450 megawatts (MW). The move follows in line with Jonathan's work to privatize the power industry and improve service provision to Nigerians.
Civil Unrest
The continued conflict between the government and the Academic Staff Union of Universities (ASUU) reached a new high this reporting period as the ASUU rejected the government's directive to return to work on December 9. The strike has kept students from attending courses for an entire term and, despite earlier overtures, there are no present signs of a resolution.
Geo-political
Currently there are 189 Nigerians imprisoned in Saudi Arabia following the Arab nation's crackdown on immigration. Despite the crackdown and the presence of an estimated 1.7 million Nigerians living in Saudi Arabia, relations between the two nations have not deteriorated.
FlashPoints to Monitor
ASUU Strike
The fight between the government and the ASUU has continued despite previous signs of a resolution. The strike has reached its sixth month, forcing students away from university classes for an entire term. The government threatened to fire any professor or teacher that did not return to work on December 9, though the bluff was called and schools across Nigeria remained closed. Since then, the government has withdrawn the ultimatum. It has also offered payments, but the ASUU has denied having received evidence and are continuing their strike as previous such promises have proved insincere.
Despite attempts by officials in the Ministry of Education and talks with Jonathan, himself, no resolution has been found. At this stage, the ASUU is risking falling public opinion and a fracturing of their union, though it has stayed together for this long. Currently, most of the union branches have supported the continued walkout and are not teaching, though there are a few universities that have split from the group. If a large fracture appears, it could prolong the walkout as the government, looking weak from his backpedaling from the ultimatum, could view a split as bolstering its position and decide to hold out.
Oil Corruption
The state-owned oil company has been fraudulently recording its revenues, with nearly 50 billion USD missing from their financial records, according to the central bank. Oil sales and taxes account for 80 percent of the government's revenue, giving the unreported revenues an extraordinarily large impact. The missing money is over three-quarters of what the NNPC apparently sold. While the money could be accounted in crude oil swaps with refining companies, that process is incredibly opaque and known for its own system of graft and corruption. The NNPC has routinely been investigated and known for its lack of transparency, the worst of 44 energy companies monitored by Transparency International. The central bank's report is the highest-level organization to raise the issue and the timing, with an election coming soon, could make this an issue that remains in the public's eye, and could elicit some change.
The Nigerian government, thus, is receiving almost twice as much in taxes and royalties for international oil companies than its own sales, which account for around half of its production. The news will be met with anger and frustration by international companies, who have been attempting to operate in an environment of corruption, inadequate protection against piracy, and militancy. The difficulties faced by many of these companies has already resulted in a partial withdrawal from on-shore operations, which are more susceptible to theft and pipeline attacks. These allegations could deepen the perception that the difficulties of operating in Nigeria may not be worth the costs and uneven competition.
The news will also not be popular with regional actors and citizens, who have continuously accused the government and oil industry of corruption and siphoning money away from their communities. With election season arriving and Jonathan facing serious opposition, an NNPC overhaul could be part of campaign promises in an attempt to keep influence on the southeastern states.
Outlook
Short-Medium Term
Boko Haram in Borno
The Nigerian military has been the target of a lot of criticism for their counter-insurgency (COIN) tactics and strategy during this Boko Haram campaign, and justifiably so. Still, the military is still making some gains and the Islamist terrorist group is weaker than when the campaign began. Recent operations in the past three weeks have primarily been concentrated around the Sambisa Forest. The full effects will have to be seen, but an offensive there could help to drive Boko Haram from a critical stronghold and help to safeguard the Maiduguri-Damboa-Biu highway. That passageway has become particularly dangerous for traveling motorists lately, with militants quickly creating makeshift roadblocks and assailing travelers before disappearing. This style of attack, which is also common on roads around Gwoza and near the mountainous region near Cameroon, is terrifying for the populace and perhaps the most difficult type of attack to avoid, but it is not a projection of force capabilities.
The gains made by the military should not absolve some of the more egregious offensives. The attack on the military installations this reporting period show that. The NAF base that was attacked was dismissed by top leadership as unavoidable as the security in place was not designed for an attack, but rather to prevent theft and vandals. This excuse is demonstrably unacceptable given the location and environment in which the base was located: a high-profile and high-priority target in the heart of Boko Haram territory at a time which military and police sites have routinely been attacked by large forces. The losses reported by the military are lower than they could have been, though two helicopters removed from a COIN campaign is a setback for the military.
Medium-Long Term
Lekki Deep Water Port
Nigeria is posed to invest 520 million USD to build its first and only deepwater port, with private investors footing over 60 percent of the remaining costs. The port, located about 50 miles east of Lagos and the country's current main facility at Apapa, will be able to handle Panamex and New Panamex ships. Lekki is expected to not only be the main hub for Nigeria, but for the entire Gulf of Guinea region. Nearby countries of Benin, Togo, Ghana, Cameroon, and Gabon have a combined total of six deep water ports, forcing Panamex and post-Panamex ships to seek accommodating ports in those countries. All while Nigeria is, by far, the largest economy in the region. Having a deep, and modern, port will make Nigeria competitive and be able to target a market not accessible by the several other ports in the country and could draw business away from neighboring countries.
The expected timeline for construction is four years, though delays are quite possible. Additionally, reports of the development came out around the same time as one on corruption in Nigerian ports. According to the government, terminal operators at Warri and Onne have taken advantage of weak governance in the delta states to seek high rents. Despite these expected downsides, the Lekki port will still likely have a definite positive impact on the country and trade. It is a definite necessity for a rapidly growing country in a world increasingly relying on larger ships.