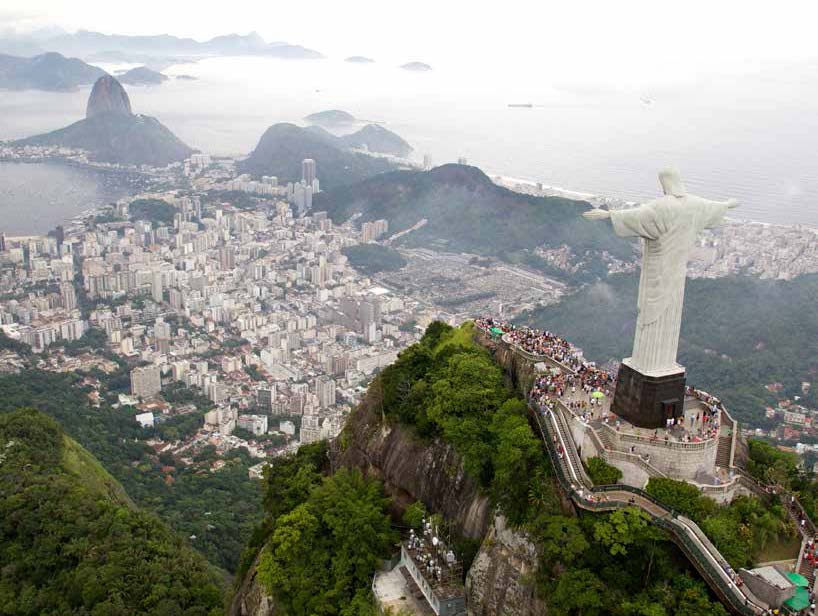 The eyes of the world will soon be on Rio as Brazil hosts the Olympic Games. Almost half a million people will visit this famous city when the Olympics are held for the first time in South America. Rio enjoys a reputation of a city of celebration and parties and welcomes tourists from across the globe and, whilst this renown is well deserved, the city remains one of the most dangerous places to visit on the continent.
The vast differences in the extremes of wealth and poverty that manifest itself within Rio in conjunction with overcrowding, corruption and extensive criminal networks present a significant safety and security challenge for any individual or groups visiting the city. Any city hosting the Games is presented with a complex problem in the provision of effective security – this problem is even more acute for Rio in 2016. In this article we explore the key concerns and considerations for security teams that will be operating during the games.
The Olympics spans 19 days of events, held in 4 different sections across the greater Rio city limits, any trip will also undoubtedly include visits to multiple attractions such as the Christ Redeemer statue overlooking the city, or the famous beaches Copacabana and Ipanema – each venue in Rio poses its own unique security challenges.
OLYMPIC FACTS· Estimated 400,000 visitors to Rio during the Olympics

· 10 903 athletes

· 70 000 volunteers

· 25 100 media

· 7 000 NOCs

· 8 000 staff
City Overview
During the Olympics Rio can be divided primarily into four zones: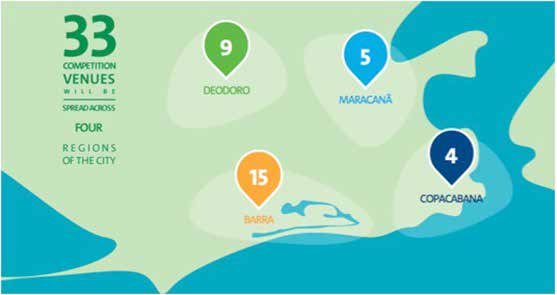 Copacabana Zone – Situated in the south of the city it includes not only the world-renowned beach but also the Marina de Gloria. This area will host volleyball and sailing to name a few. It is also home to the majority of hotels and restaurants.
Maracana Zone – to the North of the city and a football stadium that will be utilized for multiple events but also the Opening and Closing Ceremonies.
Deodoro Zone – to the Northwest of the city this is the most remote area and includes some aquatics, whitewater and equestrian venues.
The Barra zone (pronounced Ba-Ha) is home to the Olympic Stadium, village, tennis and basketball among many others. This is the hub of all the action. The sprawling Tijuca National Forest separates Barra from the other zones – this forest is the home of the Christ the Redeemer statue atop Corcovado Mountain and overlooking the city.
Crime Overview:
Brazil is ranked by the U.S State Department as having a critical threat level of crime, with Rio's main threat being opportunistic crime. Although opportunistic, all crime in Rio has the risk of turning hyper violent and can escalate quickly to the use of lethal force – literally in seconds if orders are not complied with immediately, any disrespect is shown, or inferred. Each year a number of foreigners are killed or injured during attempted robberies, carjacking's and opportunistic crime – often the caused by the victim attempting to resist and in turn escalating and making more complex (and violent) the crime.
Visitors are particularly susceptible to opportunistic crime, such as bag snatching, armed street robbery, car theft and carjacking, especially in tourist areas, on public transport, outside major hotels, in business districts, along beaches and in other densely populated areas.
Recent Example British sailors Hannah Mills and Saskia Clark, 2012 world champions were training this year on Guanabara Bay — the planned site for the 2016 Olympic sailing events — and had returned to dry land near the end of the day.

"Our delightful walk back from the sailing club to the hotel turned fairly nasty when 2 guys wielding 7-inch knives ran at us, pushed us around, and grabbed everything we had," the pair later wrote on Facebook, noting that even their Lycra sailing outfits were stolen.

There are no buffer zones and distancing oneself from threat, high-risk and dangerous areas is not possible due to the close proximity at all times to Favelas (local communities). Favelas whether pacified or not pose very real threat to tourist areas due to the perceived wealth of tourists compared to local residents. Transit routes close to favelas means that even high scale, upper class, expensive communities are not considered safe from the threat of crime.
Since the start of 2015 Rio has seen homicide rates falling. February last year saw 482 homicides in Rio de Janeiro state, this year the month's total was 324 – a 33% decrease, but Brazil still has a high level of homicides per capita, however the majority of homicides seen were in Zona Norte, not the South where the majority of tourists are.
Since the start of 2015 (compared to the same time last year) there has been a spike in opportunistic crime and this directly affects tourists and business travelers.
Cellphone robberies almost doubled from 473 cases to 920 (an increase of 94.5 percent).
Theft increased by 49.9 percent from 489 to 733 incidents.
Robbery of passersby remained high, rising from 6,625 to 6,978 cases, an increase of 5.3 percent
Robberies in buses that rose by 8.6 percent and reached 719 incidents.
Point to Note: A rising number of robberies in main Olympic hub Barra da Tijuca has been recorded.
Rio de Janeiro's Ministry of Justice has announced that the city will spend R$350 million on security for the 2016 Olympic Games. Around R$100 million of that budget have already been spent on new equipment. The goal is to have 62,000 police officers ready by 2016.
Violent Crime:
Brazil's murder rate is more than four times higher than that of the United States, and rates for other crimes are similarly high. The Brazilian prosecution rate is extremely low and not enforced on under 18's. Therefore the majority of snatch and grab criminals are under 18, often carrying knives or firearms. There are very few ramifications or deterrents for other criminals with police facing an uphill struggle.
Recent Example Two military personnel from a foreign consulate were walking from the Gym with only gym bags and I-pods/cell phones when they were approached by 3 well-dressed youths. They were told to hand over there belongings at knife point.

Under strict orders to comply with all muggings while in the area they complied and handed over their belongings. The hostiles left immediately and no one was injured or felt threatened apart from the initial approach.

Interesting points to note from this incident:

· The hostiles only had a knife and were not afraid of approaching what were apparently rather large and intimidating looking individuals.

· The victims of the crime were leaving a gym and did not have any shiny or expensive looking items apart from cell phones and some MP3 players.
Sexual Assault:
There is a threat of sexual violence aimed predominantly at females.
Recent Example In April 2013 a young US couple were attacked after boarding a bus in Copacabana at midnight. Rio's Civil Police said they were held by two men, who forced the rest of the passengers off the bus at the University of Rio de Janeiro before continuing to Sao Gonçalo, 25 miles away, where a third man joined in the attack.
The assault lasted until 6am, during which the woman's debit card was used at a petrol station to buy drinks and withdraw money. The male victim was handcuffed and threatened with an iron bar. Once they reached the limit on their bank card, the gang took them back to their flat in Copacabana to pick up more credit cards. The couple was then released in Itaborai, a neighboring district.
Civil Disturbance:
Public demonstrations over poor government services, high levels of corruption, and the government's expenditure on international sporting events at the expense of the general Brazilian public has caused serious discontent. This has manifested itself during large events and has seemingly caught the government and security forces napping.
During the Confederation Cup in 2013 widespread extreme civil disturbance was experienced with approximately a million protesters on the streets. The 2014 FIFA World Cup, held in June and July 2014, went far smoother than many had imagined though still had to contend with multiple demonstrations and the ensuing civil disturbance, some caused by anarchists infiltrating peaceful protests. Police and "shock troops" were criticized for utilizing heavy-handed tactics, such as pepper spray, tear gas, and rubber bullets. A number of protesters were injured and a few killed as a result of the mobilizations.
The Black Bloc anarchist group integrates themselves into crowds and utilizes Guerilla tactics to attack the police and military to incite violence and attempt to turn peaceful protests into violent ones. The anarchists are described as fluid, intelligent and capable of exploiting situations to their advantage. Initially the Police Militar (similar to U.S State Police) were very rigid and reactive, inexperienced with dealing with demonstrations. However, they are reported to be learning quickly and adapting to the risk. They have been training in crowd management and learnt a great deal from earlier mistakes. There is rumored however to be very little penetration or intelligence networks within the anarchist and protest groups, and a culture of reactive instead of proactive action.
Point to Note: The Olympics and the over expenditure is assessed to be a potential catalyst for future malcontent and further demonstrations, specifically on the run-up to the actual event.
Financial Crime
Financial fraud is endemic within Brazil. Credit card skimming is prevalent and it is vital that in-depth briefings and preventative measures are undertaken to protect your clients from this issue.
Example: A security manager from a large corporate was paying for his meal at the table when he noticed the waiter with a hidden secondary device that he tried to utilize to 'double-swipe' and store the card details on.
Transportation Considerations
Rio's topography lends itself to multiple issues, predominantly transportation. The road infrastructure in Rio is heavily overstretched, with all major and minor routes heavily congested on a regular basis with very few options for alternative routes. These factors compounded together will provide security teams a serious logistical and risk management issue.
Significant travel disruption can be expected in all of Rio during normal days, both workdays and weekends. Most importantly – it is very difficult to plan and anticipate travel times due to the lack of viable alternatives on the majority of major routes between common destinations. If an incident occurs anywhere then it is highly likely that significant delays will occur with little or no warning. To further increase the issues faced, once a vehicle or convoy is on a certain road it is often not feasible or possible to remove oneself from that route, either due to lack of safe options, or no viable exits from that route.
It is anticipated that with the extra influx of traffic for the Olympics that traffic congestion will continue to pose a serious problem. The government has announced national holidays during major events and there are rumors that companies will force holiday on employees – thus helping to reduce traffic congestion at peak times. The government also has multiple road works and projects in place to assist in providing extra lanes and improve current ones. This is expected to help the problem – however the general consensus is that this will all be too little too late and that even grand plans would not negate the issues of topography and infrastructure.
Point to Note: There are multiple tunnels that lend themselves to being attacked by gangs from the nearby Favelas, and multiple natural choke points.
Olympic Venue Considerations – Lessons from FIFA 2014:
During FIFA 2014 accreditation had caused significant issues with many security teams being prevented access, or cars being turned around at venues. This was either due to lack of training to ticketing staff and local police, or poor communication to sponsors by FIFA on ticket protocol and regulations.
FIFA and police had closed entrances and exits to the Maracana stadium with no warning or alert, leading to last minute transportation and security issues.
Police and Authorities:
The State Police are split into two sections which are most easily described as:
Policia Militar – anti-crime unit
Policia Civil – detective unit
The Policia Turista (tourist Police) are part of the Police Militar and are generally accepted as the more approachable and useful group to liaise with and utilize. They speak better English and are used to dealing with foreign tourists.
The Police Militar have a 'special forces' called BOPE, these are a small group of highly respected specialist police that are utilized primarily within favelas, but also worth noting during high risk situations during special events.
The author at BOPE headquarters.
Armed or Unarmed / Armored or Non-armored?
There is no definitive answer to this. It entirely depends on your risk assessment. Armored vehicles are readily available throughout the region, though demand not only for vehicles but trained bi-lingual security drivers will outweigh supply, so it is strongly advised to book early.
Likewise armed and unarmed local close protection personnel are available, the standards of which vary greatly, and bi-lingual personnel are hard to find. Again it is strongly recommended that you source trusted locals, from trusted suppliers.
Final Top Tip: Accreditation to gain access to Olympic venues does not guarantee access to seating areas. If security teams require access to the seating area with their client – get a ticket. Stadium staff and police will likely prevent you access, or remove you from the seating area – an embarrassing and potentially dangerous situation.
by Mark Deane –
Mark is Managing Director of ETS. Explorer Travel Security (ETS) is a Risk Management Company with extensive experience of working within Brazil for a range of corporate and HNWI clients and will be operating in Rio throughout the Olympics. With an affiliate office situated in Rio de Janeiro, ETS ensures clients the highest standard of local ground transportation and security services. www.explorertravelsecurity.com contact: info@explorertravelsecurity.com