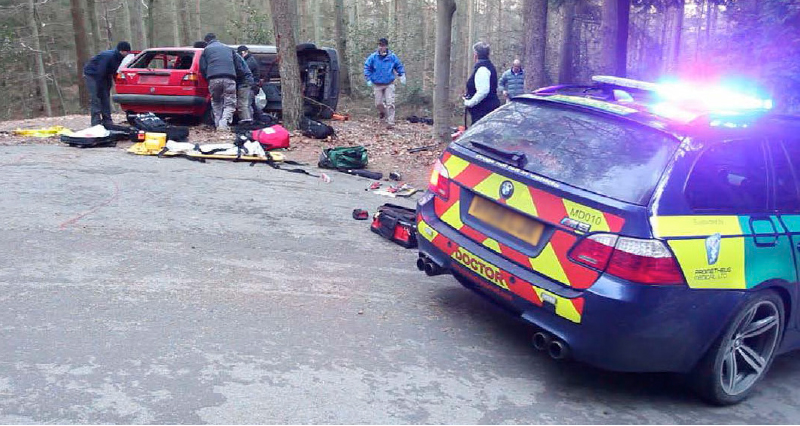 The Security Industry Authority currently requires all those who apply for a licence to be in possession of a recognised first award, currently the First Person on Scene (FPOS) Intermediate Award or the Level 3 Award in First Aid Response or equivalent. 
Both are excellent and well established, providing first responders with sound basic knowledge to deal with a wide variety of accidents and illnesses in the working environment; from dealing with patients involved in road traffic collisions to the collapsed patient with a heart attack or epileptic seizure. But, how does the operator maintain currency between recertification courses?
Consider the following scenario: You're in Europe, travelling in a two-vehicle convoy. You and a second Close Protection Officer (CPO) are in one vehicle and the client, his family and a third CPO are travelling in the other. The client vehicle swerves to avoid a large amount of debris on a fast-moving road. The vehicle rolls over and slides to a stop blocking one of the carriageways.
So what now? What are the safety concerns? Who do you treat first? The client's eight-year-old child who is screaming and holding her leg; the client and his wife who are motionless in the rear of the vehicle; the driver and the CPO, who both appear to be badly injured and trapped in the vehicle? Is this a major incident due to 5 casualties being involved? The road is still 'live' and with traffic present. This is a complex scene requiring the deployment of a quick, robust plan. Are you hoping that your training and experience will kick in?
Medical training and experience gives the provider confidence when treating a casualty but what if it's been a long period of time since, as a medic, you were faced with dealing with this type of scenario?
Competency training, such as the use of online platforms of learning, ensures that theoretical knowledge is kept up to date and, for health professionals, provides regulatory bodies such as the Health Care Professional Council with evidence of Continuing Professional Development (CPD). Of course being theoretically competent is essential for the delivery of high quality medical care, but is this enough to give the medical provider the tools to deal with a road traffic collision or a medical emergency?
Scenarios or 'moulages' can test both knowledge and the 'hands on' practical application of skills.  Realistic practical simulation training has been proven to improve the capability of the medic and practice scenarios can test a variety of techniques such as clinical methods, team management and interaction.
Phases of care that can be practised, include:
• Dynamic scene management – the global overview of the scene, utilising personnel present and ensuring the maximum safety of the scene.
• Immediate intervention – the correct assessment and appropriate treatment of the casualties. Rapid assessment of casualties injuries following the cABCDE format including requesting other resources if they're available.
• Packaging of the casualties – including the preparation for transportation.
• Handing over casualties – to other health care providers that may include local services or other CPO team members. When handing over these casualties, giving clear and concise details of their initial condition and treatment delivered.
• Structured debrief – of the event and replenishment of medical equipment.
To sum up, whether it's online or hands on, the importance of on-going medical training should not be forgotten or underestimated. It can be difficult to maintain medical training with the pressures of schedules, but the importance of updating and the honing of clinical applications, scene management and coordination skills between required recertification should not be overlooked. Medical training should not be a 'tick in the box' because, if approached correctly, there is huge benefit for clinicians and non-clinicians alike.
By Jez Loseby
Jeremy Loseby is one of Prometheus' Senior Instructors and has been a Critical Care Paramedic since 2008. For the past 4 years he has also worked as a crew member with Kent Surrey Sussex Air Ambulance.