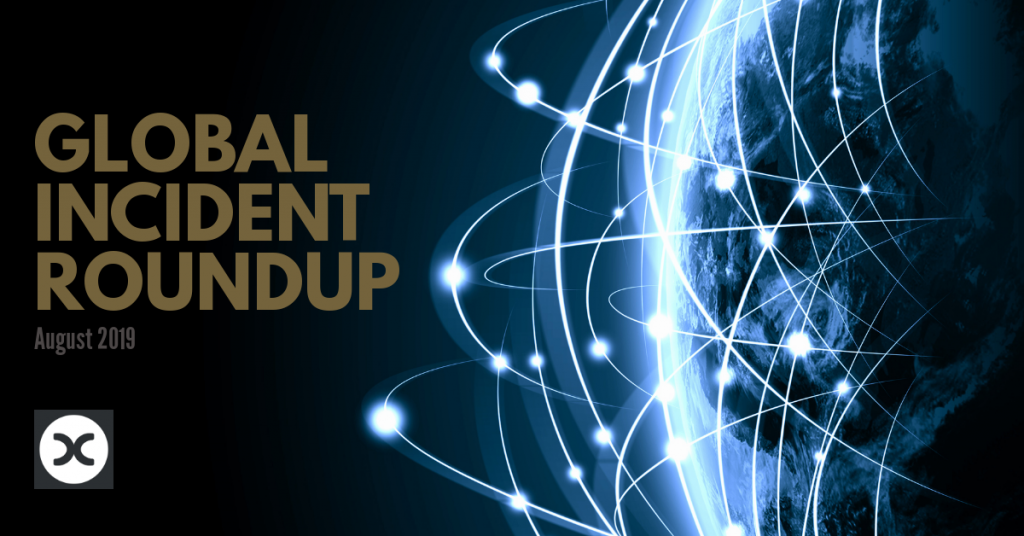 Our Global Risk partners, Drum Cussac, provide in-depth analysis of global risks via in-house experts, cutting edge technology and through a comprehensive global source network. Here is your summary of the incidents you need to know about from the last 30 days.
Africa
Democratic Republic of Congo
Armed Attacks in Djugu Territory, Ituri Province Leave Scores Dead
As many as 200 people have been killed in armed fighting that took place in Djugu Territory, Ituri Province. Reports indicate that 160 of those killed come from Che-Logo village alone. News of this death toll comes as the UN High Commissioner for Refugees (UNHCR) estimates that more than 100,000 people have fled the territories of Djugu and Mahagi because of ethnic conflict since June.
Somalia
Security Forces End Militant Attack on Hotel in Kismayo
Security forces have ended the overnight assault on a hotel in Kismayo. The attack is reported to have started when a suicide bomber rammed a car containing explosives into the Maamuus (formerly Asasey) Hotel, and gunmen then stormed the building. Security forces were deployed to the scene and an overnight siege ensued. Local elders and lawmakers were meeting at the hotel to discuss approaching elections. A senior police official confirmed that the operation had ended. He has reported that at least 13 people are known to have died and the four attackers have been shot dead. There are unconfirmed reports that many others were injured and it is feared the death toll could rise. The militant group al-Shabaab has already claimed responsibility for the attack.
Mali
Dozens Killed, Hundreds Missing Following Weekend Communal Attacks in Bankass Cercle
At least 23 people were killed and more than 300 are missing following weekend attacks on Fulani herders in villages in Bankass Cercle. Fulani herders were the primary victims of the weekend attacks, purportedly done by ethnic Dogon farmers who have long fought over land and resources. The villagers of Saran and Bidi were able to flee before the Dogon group attacked. The group set their houses alight as they passed through the villages.
Madagascar
Dozens of Casualties following Stampede during Independence Day Concert in Antananarivo
15 people were killed and a further 80 people were wounded after a crowd stampede occurred at a concert in the Mahamasina Municipal Stadium, Antananarivo. Reportedly, as it was announced that people could enter the concert, police had left the doors closed and in an attempt to enter the concert people tried to force the doors, subsequently causing a stampede. Some sources have reported that the casualty figure is likely to increase as some of those wounded are believed to be in a critical condition.
---
Americas
Canada
Hundreds Evacuated due to Wildfire in Pikangikum, Ontario
Hundreds of residents of Pikangikum, Ontario, have been evacuated due to a rapidly spreading wildfire. The Ontario Ministry of Natural Resources and Forestry has described the fire weather in the region as 'extreme' in an overnight bulletin. The Government of Canada has received and accepted a request for assistance from the Canadian Armed Forces who are mobilising to assist quickly. Thus far, over 500 residents have been evacuated.
Bolivia
UK FCO Warns of Violence at Roadblocks in South and North Yungas, La Paz Department
The United Kingdom's Foreign and Commonwealth Office (FCO) updated its Bolivian travel advice, to include a warning over sporadic roadblocks in La Paz departments' South and North Yungas provinces. The blockades are being carried out by coca leaf growers who are protesting to demand the government stop the division of its organisation, stop the persecution of its leaders and stop other policies impacting on their trade. The FCO advises travellers to check with local authorities on the latest situation before travelling as some of the protests have turned violent. The warning comes after clashes between coca growers of the Departmental Association of Coca Producers (ADEPCOCA) and members of the Tactical Unit of Police Operations (UTOP) led to one protester being killed and many others suffering injuries, as well as six others being arrested. The blockades have been ongoing, and the police have accused the demonstrators of using dynamite, Molotov cocktails and other items to try and injure them. It was the use of dynamite that reportedly led to Saturday's fatality. The national police commander stated that the blockades in South Yungas remain active, however, the route to the north of La Paz to North Yungas was clear.
USA
Victims Reported in Shooting near Downtown Grand Rapids, Michigan
At least four people have been shot in two separate shootings in downtown Grand Rapids, Michigan. The location of the shooting was reported at Front Avenue NW and 6th Street NW, while the other was near a fast food restaurant in the area. Grand Rapids Police Department has confirmed the separate shootings, although have not said if they were connected.
Brazil
Multiple Killed and Injured Following Shooting in Belford Roxo, Rio de Janeiro State
Four people were killed and 11 injured following a shootout which occurred at a restaurant in the Dagmar neighbourhood of the city of Belford Roxo, Rio de Janeiro state. The incident occurred when armed narco-traffickers attacked the bar which was being visited by a member of the Nova Aurora militia. Many of the victims were innocent bystanders. Ten of those injured are currently in the Nova Iguacu General Hospital. Local police are conducting operations in the area.
---
Middle East and North Africa
Libya
Reports of Fatalities and Abductions after Suspected IS Attack on Zuetina Company Facilities near Zillah Oilfield
At least two members of the Libyan National Army (LNA) have been killed and four others abducted after suspected Islamic State (IS) militants carried out an attack on the entrance to Zuetina Oil Company facilities near the Zillah oilfield. Reports also state that three IS militants were killed during an exchange of fire with security forces. This is the second reported IS attack in this approximate location in three months. The incident showcases IS' capability to target facilities in the region.
Iraq
Multiple Fatalities and Injuries Reported After Mosque Blast in Baghdad
International media sources are reporting that a bomb blast has killed seven and injured at least 20 at a Shi'ite mosque in Baghdad's Baladiyat neighbourhood. Emerging reports suggest that the blast was carried out using a suicide belt or improvised explosive device (IED). There has not yet been any claim of responsibility. Further information is awaited.
Iran
Magnitude 5.7 Earthquake Near Masjed Soleyman, Khuzhestan Province
According to the US Geological Survey (USGS) a Magnitude 5.7 earthquake occurred approximately 28 km (17 miles) south-east of the city of Masjed Soleyman, Khuzhestan Province. The quake had a depth of 10 km (6 miles). Reports from local media sources state that infrastructure in Masjed Soleyman including roads and a hospital has been severely damaged. Unconfirmed reports state that at least one person was killed and 37 others were injured. Imagery indicates that several properties roofs collapsed and reined debris onto the streets, trapping and injuring bystanders. Local emergency services are currently conducting operations in the area.
---
Europe
Greece
Multiple Fatalities Feared following Intense Storms in Halkidiki Region
At least four people are feared dead following intense rain, wind and hail storms in Halkidiki region, northern Greece. Dozens more are feared injured as a result of intense weather conditions. Authorities stated that one person was killed in Nea Plagia after a roof collapsed on a local restaurant and two others were killed as a result of a tree collapsing near a hotel in the area of Potidea. Furthermore, one person was killed after strong winds swept his trailer away elsewhere in the region. Allegedly, the country's General Secretariat for Civil Protection (GSCP) and the Central Macedonia region are working to alert all necessary services in the region in-light of the storm. Further information is awaited.
Turkey
Reports of Explosion at Nitrogen Plant in Kutahya
An explosion, and ensuing fire, has occurred at a nitrogen plant in Kutahya. The explosion happened at the 7th kilometre on the Kutahya-Eskisehir highway and police and health teams have been dispatched in rescue and recovery efforts. Preliminary reports state that there have been no casualties in connection with the incident. It is not currently known what triggered the explosion.
Poland
Reports of Fatalities Following Gas Explosion in Bytom
At least three people were killed in a gas explosion which occurred at a residential building on Katowicka Street in the city of Bytom. Further, four people were injured and the building severely damaged. Local emergency services are conducting operations in the area.
---
Asia and the Pacific
Tuvalu
Authorities Issue Warning due to Dengue Fever Outbreak
Authorities with the Ministry of Health have issued a warning due to a recent outbreak of Dengue Fever on the island. Thus far, two children have been killed by the virus in the past three months. Teams were spraying schools and other hotspots and water tanks were being treated for larvae. Authorities believe the increase is due to the island nation seeing the highest rainfall between the wet and dry seasons in ten years.
Hong Kong
Protesters Storm Legislative Council Building in Hong Kong
Dozens of protesters broke into the Legislative Council building located next to Tamar Park on Tim Mei Avenue in Hong Kong. The protesters are currently vandalising the Council chambers. Demonstrations through the centre of the city were mostly peaceful. Reports indicate that as many as 13 police officers were injured in clashes this morning. Police authorities have stated that they will be taking action to disperse the protesters who took part in the storming of Legislative Council.
Cambodia
Several People Trapped in Building Collapse in Krong Preah Sihanouk, Sihanoukville Province
A seven storey building located on Street Number 104 in the city of Krong Preah Sihanouk in Sihanoukville Province collapsed trapping dozens of people under the rubble. At least four people are thought to have been killed and 12 injured, with several more trapped. The building which collapsed was reportedly still under construction. It is not yet clear what has caused the incident to occur. Local emergency services are conducting operations in the area.
---
Global Risk RoundUp – August 2019
Drum Cussac is a global security consultancy responsible for ensuring the safety of more than 15 million lives across hundreds of organisations on a daily basis. Our Intelligence and Analysis Services team specialises in providing in-depth analysis of global risks via in-house experts, cutting edge technology and a comprehensive global source network.
Discover more about the services Drum Cussac offer here: drum-cussac.com