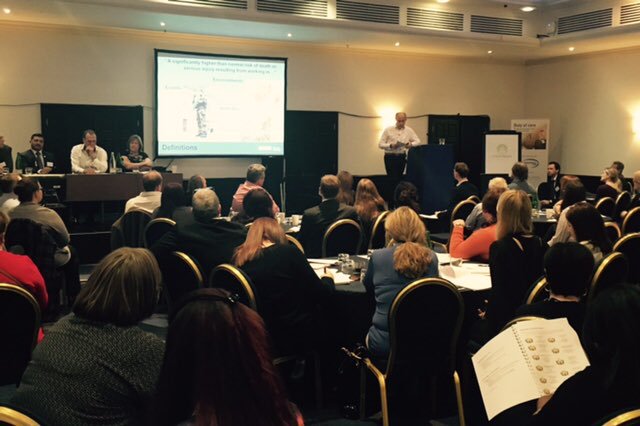 Duty of Care Conference – Protecting Workers and Expats Overseas, On Tuesday 27 and Wednesday 28 February 2018 at the Millennium Gloucester Hotel in London is now in its 6th year and through case studies and scenarios presented by leading organisations, delegates will be able to assess how their own corporate culture and policies compare with those of their peers – and where they could be exposed.
Chaired for the 3rd year running by Sue Williams QPM, former international senior Scotland Yard detective, crisis negotiator and kidnap investigator, the conference will have a record 33 speakers participating this year across 21 sessions so there should be something for everyone. You can access all the latest information about the event at www.dutyofcareconference.com
The topic of risk ownership is an interesting one as we are now seeing a proliferation within organisations in the number of job titles, departments and stakeholders with an interest in risk and travel safety – be it risk management, corporate security, HR, crisis management, legal, executive protection and so on – yet a decision which is everyone's is the responsibility of no-one. Organisations should be asking who is ultimately the owner of risk within their organisation and how are decisions regarding developing and implementing a travel security policy made? Are meetings governed by a group think mentality or are dissenting opinions encouraged?
This very topic will be addressed in a panel session which has partly been based on the academic research of Gian – Rico Luzzi, regional corporate security manager EMEA at Zebra Technologies whose award-winning research entitled 'Flying by the Seat of their Pants', proved to be highly significant, highlighting the immaturity of contemporary travel risk management practices, and the immediate market need for a standard on the topic. Joining Rico on the panel will be Dr. Russell Price, Chairman, Continuity Forum & Risk Management Committee, Matthew Drew, Group Security Director from Rolls – Royce Plc. and Kate Morton, Global HR Director from Greenpeace.
Beyond simply recapping the basic laws implicated by duty of care, the conference will explore the true definition of duty of care in terms of travel risk management and allow delegates to consider whether they are simply putting in measures to protect their company legally or proactively protecting their travelling workforce. What is the difference? Speaking will be Steve Dennis who, following his kidnapping in 2012, pursued greater independent review of the incident and support for his injuries. This inquiry led to a trial in Norway where Norwegian Refugee Council was found grossly negligent in its duty of care to employees.
Joining Steve on a subsequent panel session will be Chris Kemp who is Head of High Risk at the BBC and Christine Williamson who is the founder of Duty of Care International. Together they will explore the topic of Informed Consent, how organisations can demonstrate duty of care when high-risk travel is part of the employee's remit and how to handle cultures in some organisations whereby employees are concerned about loss of credibility and reputation if they voice concerns about a trip.
Following the Las Vegas shootings last year, hotel security is another hot topic on the agenda and raises the question as to whether advice is now changing in terms of using landmark venues and what should organisations be cautious of. Speaker Alexandre Masraff is co-founder of InSCeHo, a security certification programme for the hotel industry and will be exploring issues such as accessibility and privacy for guests versus a growing concern over lack of screening venue occupants.
One often much overlooked issue is that of how to handle the media and family members during a crisis. With social media changing the immediacy and way in which news travels and the now diverse range of media outlets competing for coverage and in some cases over dramatising an incident to achieve this, organisations have to be mindful of how they handle media speculation. Particularly important is the choice of individual they put in front of the cameras or assign to liaise with the family – does this person have the required skillset and training?
A close family member of a high profile murdered hostage will give insight into what family members go through while Miriam Rich, a former Scotland Yard press officer who handled media relations for the Paddington Rail Crash, the 2005 London bombings, the murders of Soham schoolgirls Holly Wells and Jessica Chapman, and the disappearance of Madeleine McCann will share her insights on what organisations should be doing to prevent a crisis turning into a PR nightmare. Other panellists contributing on this topic will be Lloyd Figgins, Founder of LFL – Global Risk Mitigation and Pauline Adam, Crisis Management Project Manager at Petrofac Training.
Situational awareness will be at the very core of this year's conference. The terrorism threat in Western Europe and geopolitical activities around the globe are impacting business travel by amplifying personal safety concerns among those travelling overseas. Situational awareness is not only essential for recognising criminal behaviour or terrorist threats but it is also a key mindset which could drastically alter the outcome in the event of a fire, earthquake or other life-threatening situation. It is the bedrock of personal safety and when adopted in a sustainable manner, can significantly improve the decisions your travellers might have to make in a complex and fast-moving environment.
When you only have seconds to read a situation correctly and plan your course of action, the cost of getting it wrong could make all the difference to your survival. Are your travellers able to read a situation correctly and what can organisations do to train your travellers to make better decisions in a complex situation? Sessions from Dr Mark Parrish, Regional Medical Director and James Wood Security Director, International SOS and Control Risks, Phillip Van Saun, Director of Risk from University of California, Mike Bullen, Assistant Director General at The Commonwealth War Graves Commission and David Curran, Director at Edson Tiger will discuss some of the approaches companies can take.
We are also delighted to welcome back for the second year Admiral The Right Honourable Lord West of Spithead who will be delivering the keynote address at the start of the conference. This year Lord West will be undertaking a little crystal ball gazing to determine what risks may be impacting the corporate traveller in the next 7 to 10 year's time and why businesses should think further ahead to position their resources accordingly.
Finally, new for 2018 will be our Real-Time Interactive Voting and Audience Engagement Tool – what does everyone else in the room think? See what percentage of the audience react a certain way during our critical incident simulation session and during some of our other speaker presentations. Responses are immediate and anonymous but a great way to maximise feedback on some of the more sensitive issues which managers experience in their workforces.
The conference is organised by Contego Events. Places are currently available and can be booked at www.regonline.com/dutyofcare2018