India: Modi Chairs U.N. Security Council Meeting on Maritime Security

 
Aug 10, 2021   
Indian Prime Minister Narendra Modi chaired an Aug. 9 U.N. Security Council (UNSC) meeting on maritime security that resulted in the adoption of a statement reaffirming that the United Nations Convention on the Law of the Sea (UNCLOS) as the legal framework for maritime activities. 
Why It Matters:  This was the first high-level U.N. meeting chaired by an Indian prime minister and comes less than a week after India assumed the UNSC's month-long presidency. The focus on maritime security signals India's desire to secure influence in the Indian Ocean amid China's expanding naval presence in the region.
---

China: Troops Disengage From Gorga Region of Disputed Border
Aug 6, 2021 
India and China have completed troop disengagement from the Gogra area of eastern Ladakh as part of an agreement reached during the two countries' latest round of military talks aimed at de-escalating tensions along their disputed border, Livemint reported Aug. 6, citing an announcement made by the Indian military. 
Why It Matters:  This marks the second such disengagement in the contested border region of Ladakh, with Chinese and Indian troops withdrawing from the Pangong Lake area in February following the 9th round of high-level talks between the two countries' military officials. The next round of talks will likely focus on negotiating a drawdown of troops from the Hot Springs area. 
---

Afghanistan: Taliban Kills Government's Top Media Officer in Kabul
Aug 6, 2021
Taliban fighters assassinated the Afghan government's top media and information officer, Dawa Khan Menapal, in Kabul on Aug. 6, Al Jazeera has reported. The killing comes days after the Taliban warned that it would begin retaliating against government officials if air raids against the group continued. Menapal was a member of Afghan President Ashraf Ghani's inner circle and a vocal critic of the Taliban. 
Why It Matters:  Afghan security forces will be unable to fend off the Taliban from critical cities in the south without air support. However, if air support continues, the Taliban will also continue targeting government officials within Kabul. President Ghani will, in turn, have to determine whether his security forces will be able to protect all critical cities in the south where fighting between the two sides remains intense, while also protecting Kabul and the government officials that reside within the capital city's borders. If a major city in the south were to fall, Kabul would be cut off from both the north and south of the country, making it more difficult for the current government to use critical transportation routes necessary to maintain a stronghold in Kabul.
---

North Korea: U.N. Report Details Nuclear Complex Activity, Extensive Smuggling
Aug 6, 2021
The North Korean government conducted a series of tests at the Yongbyon nuclear complex between December 2020 and February 2021, Nikkei Asia reported Aug. 6, citing a leaked U.N. report that will be officially released in September. The draft report also detailed extensive North Korean smuggling, including the export of upwards of 364,000 tons of coal from North Korea to China's Port of Ningbo-Zhoushan from February-May 2021, in addition to illicit oil imports and $1 million worth of luxury goods smuggled by Chinese companies into North Korea. 
Why It Matters:  Amid massive economic hardship, North Korea is continuing to quietly build up its nuclear capabilities while focusing on measures to maintain the flow of foreign currency through coal exports, feed its military machine through energy imports and service the elite through luxury goods.
---

Mexico: Mexico Sues American Gun Makers for Facilitating Arms Trafficking

 
Aug 5, 2021   
The Mexican government filed a lawsuit against 11 U.S.-based arms producers and distributors in a U.S. federal court, accusing the companies of having knowingly participated in "commercial, negligent and illicit practices that facilitate the illegal traffic of arms to Mexico," El Pais reported Aug. 4.
Why It Matters:  The lawsuit is unlikely to yield a quick and clean ruling, as Mexican litigants will first have to demonstrate to the court that they have the right to sue the companies in the first place, and then after that, overcome several legal barriers that shield the arms industry in the United States. While the administration of U.S. President Joe Biden is working to dismantle immunity laws that protect American gun-makers, Mexico will not be able to successfully make a case without a new U.S. law that assigns liability to manufacturers when their products are used illegally.
---

Iran: UAE-Owned Tanker Hijacked in Gulf of Oman
Aug 3, 2021  
"Heavily armed" hijackers seized the Panama-flagged Asphalt Princess tanker while it was transiting the Gulf of Oman on Aug. 3 and demanded that the vessel set sail for Iran, Lloyd's List has reported. A source speaking to Sky News said that 8 or 9 individuals were believed to have boarded the tanker, which is owned by a Dubai-based firm, while it was around 60 nautical miles east of the UAE port of Fujairah.
Why It Matters:  The seizure is reminiscent of several Iranian-linked naval incidents that occurred in quick succession in 2019. If Iran's involvement is confirmed, this latest incident would mark a significant escalation in Tehran's other recent acts of maritime aggression, with Iranians actually boarding the ship. Unlike the tanker attacked by a suspected Iranian drone off the coast of Oman last week, the Asphalt Princess also has less of a direct connection to Israel.
---

Myanmar: Coup Leader Appoints Himself as Prime Minister
Aug 2, 2021 
Myanmar military leader Senior General Min Aung Hlaing appointed himself as prime minister in announcing the formation of the country's caretaker government from the current State Administration Council (SAC), Irrawaddy reported Aug. 1. Min Aung Hlaing pledged to hold elections in August 2023 when the state of emergency concludes, and also said he would work with any future Association of Southeast Asian Nations (ASEAN) envoy on Myanmar. 
Why It Matters:  Myanmar's military government will continue to entrench itself in power as it uses its current position to weaken opposition to its rule and extend control over insurgent-controlled border areas in the country. The coup leaders initially promised to hold elections within two years upon seizing power in February.
---

Guatemala: Mass Protests Call for President's Resignations
Jul 30, 2021 
Tens of thousands of Guatemalans took to the streets on July 29 to demand the resignation of President Alejandro Giammattei and Attorney General Maria Consuelo Porras, marking what were the largest and most widespread protests in the Central American country since 2015, Reuters has reported. 
Why It Matters:  Demonstrations in Guatemala have gained momentum in recent weeks as citizens protest rural poverty and hunger, the president's poor handling of the COVID-19 pandemic, and pervasive corruption throughout the country's institutions. Sustained pressure from the protests may push the Guatemalan government to reinstate anti-corruption prosecutor Juan Francisco Sandoval, who was fired last week. 
---

Gauging Pakistan's Position Amid the Turmoil in Afghanistan
As the battle for control of Afghanistan unfolds following the withdrawal of foreign troops, Pakistan will aim to consolidate its influence in the country. 
Pakistan has historically relied on its good relationship with the Afghan Taliban to keep TTP fighters in check. As it awaits the rise of the ultimate power bearer amid the turmoil in Afghanistan, Islamabad will focus on preventing violence in its western provinces that poses a serious threat to CPEC-related Chinese investments. 
Current U.S. estimates suggest that the Afghan government will fall within the next six months.
Pakistan's future actions in Afghanistan will be guided by its ties to the Taliban, as well as its strained relationship with the current Afghan government. 
Pakistan supported the Taliban government following the Soviet withdrawal and civil war after 1992.

Many Afghan officials have publicly denounced Pakistan's role in strengthening the Taliban's capabilities by providing funds, arms and a safe haven to Taliban fighters and leaders. 
As Taliban fighters continue to gain ground amid the withdrawal of international forces in Afghanistan, there are three main ways the conflict could unfold: 
An all-out civil war. The Taliban's gains could push Afghanistan into a larger civil conflict, with various ethnic groups and local militias fighting for local territories as the Afghan government scrambles to defend provincial capitals and cities.
A successful Taliban offensive. The Taliban currently claims to control 85% of territories in Afghanistan). Should the group surround the provincial capitals and wait for the fall of the Afghan government, Pakistan would also likely let the fighting play out.
A political solution. This outcome, while unlikely, would entail the Taliban and the current Afghan government reaching a power-sharing agreement. Pakistan would likely seek to work together with the newly formed government to control the growth of terrorist groups in border regions, thus limiting the near-term security threat.
With the prolonged conflict in Afghanistan the most likely scenario, Islamabad will focus on mitigating or containing the resurgence of the Pakistani Taliban, which poses a security risk to Chinese projects under the strategic China Pakistan Economic Corridor (CPEC).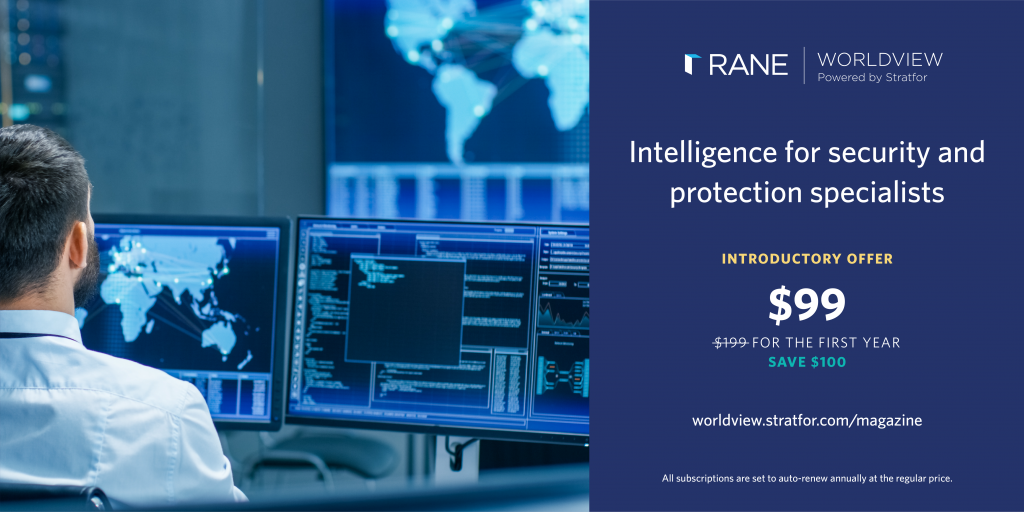 ---

Israel
Attempts to deter rocket fire from Lebanon risks triggering a greater conflict with Beruit and Hezbollah on its northern border, while also inspiring Gaza militants to resume attacks on its southern border.
Syria
If government and rebel forces in Syria fail to ink a new cease-fire agreement, an escalation of fighting in the south could inspire unrest in other regime territories and send a new flood of refugees into Jordan.
Georgia
The dissolution of Georgia's power-sharing agreement threatens the legitimacy of upcoming October elections and could result in the loss of Western economic support.
Turkey
A potential new wave of Afghan refugees is creating a fresh surge of nativism that could attract more international criticism and increase the risk of violent protests in the country.
Cuba
New U.S. sanctions indicate President Joe Biden will take a harsher-than-anticipated approach to Cuba, which will hamper Havana's efforts to attract new private investment.
Iran
Iran's rejection of a draft agreement with the US to rejoin the Joint Comprehensive Plan of Action (JCPOA) increases the probability of stalled nuclear talks failing.
Israel
The new Israeli government is pushing ahead with expansionist projects in the West Bank at the risk of provoking unrest among Palestinians and criticism from allies abroad.
South Africa
Military troops will help contain the immediate turmoil following former President Jacob Zuma's controversial arrest. But a larger security presence on the ground will also risk triggering additional clashes with Zuma's supporters.