I'm currently working with the media near Mosul and I am reminded heavily of my time in Northern Iraq during the years that immediately followed the 2003 invasion.
Then as now it was dusty and dangerous. Good team banter and sweet black tea were a staple diet during long days spent on the road and we were often well received by the local population, we still are despite all they have endured. I've always been impressed by the warm culture found in Iraq, a far cry from the faceless glassy towers that litter many of the gulf states.
Iraq has a rich and fascinating mix of tribal and religious groups but the divides are large and often deadly. Through necessity the old divides have been placed to one side as Shia, Sunni and Kurdish forces supported by the West and Turkey work militarily alongside each other to clear Iraq of a common enemy, the Islamic State (IS).
The offensive to retake Mosul, Iraq's second biggest city, from IS fighters started off well for Iraqi forces. But after a triumphant push across the rolling dusty Nineveh plains they are now making slow progress in the suburbs of Mosul; There is some inward movement but mostly they are resupplying and reassessing whilst they ponder their next move. Nobody expects great gains any time soon.
A substantial future push is likely to involve more than just the initially conceived incursion of Baghdad aligned Iraqi troops into Mosul. They need more back up.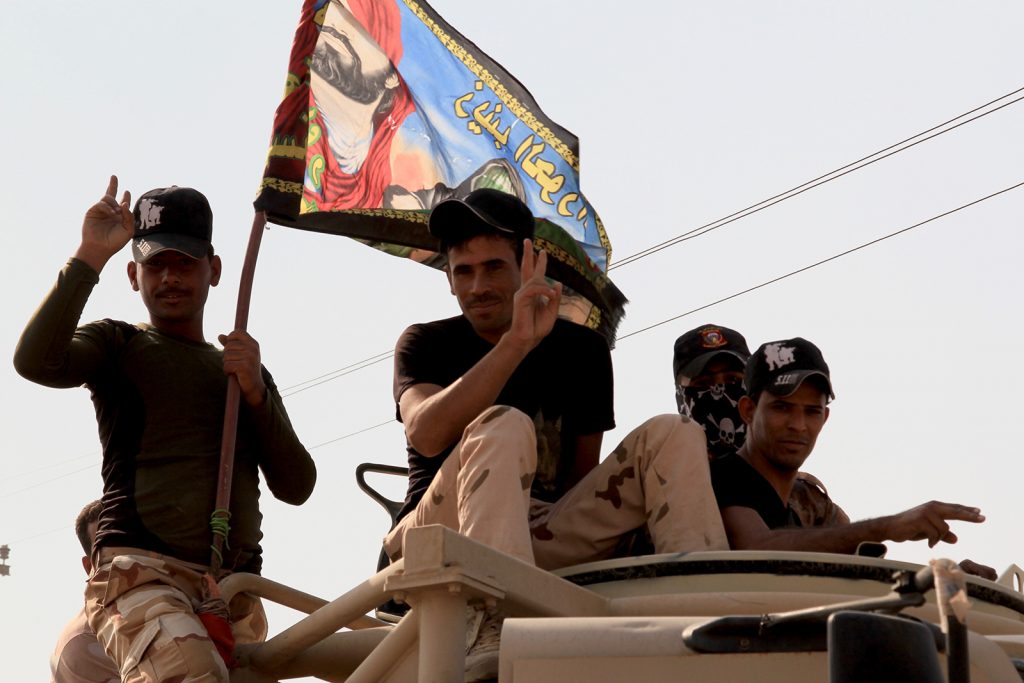 Kurdish Peshmerga troops who have fought well up to the outskirts are unlikely to enter but Shia Militia, who have assisted the advance but were to be kept from actually entering the city proper, may now find themselves involved in its liberation too. There is concern that Shia led Militia entering a Sunni enclave may commit atrocities, something that leaders will want to discus before making any commitments of force.
Everyone is aware the retaking of Mosul will be a tough fight. Islamic State did not invest too heavily in the defence of outlying villages and industrial zones, instead they choose to fight in tight immobile city streets.
Their strategy is drawing in and smashing security forces with rockets or using bombers either wearing suicide vests or driving motorbikes and cars packed with explosives. They then surround and destroy the remaining troops. During one particularly noisy night during recent fighting my team was filming part of a new frontline, there had been a fresh push and now armoured vehicles sped along a dirt track road heading towards the fighting. Near to my position I heard words of command hurriedly barked in Arabic.
A commander had just returned from a fighting patrol. It was dark but his vehicle lights illuminated what looked like strips of cloth hanging off his Humvee (armoured vehicle).
He told me how they were ambushed, his armoured column divided as rockets pounded them. A man with a suicide vest ran after his vehicle as they tried to escape detonating close enough to spray flesh and bone over his doors and windows. Those strips of cloth were the human strips of flesh I now found myself looking at.
The Commander didn't hang around too long, with fresh ammunition loaded they had to get back to the fight as some of his unit had been cut off and surrounded. I was glad I wasn't going with them.
Islamic State (IS), proving to be tenacious in defending Mosul, are inventive too.
Drone aircraft, expertly piloted and guided with onboard cameras are targeting well behind Iraqi defensive lines live streaming troop dispositions and movements to IS commanders who can then direct attacks.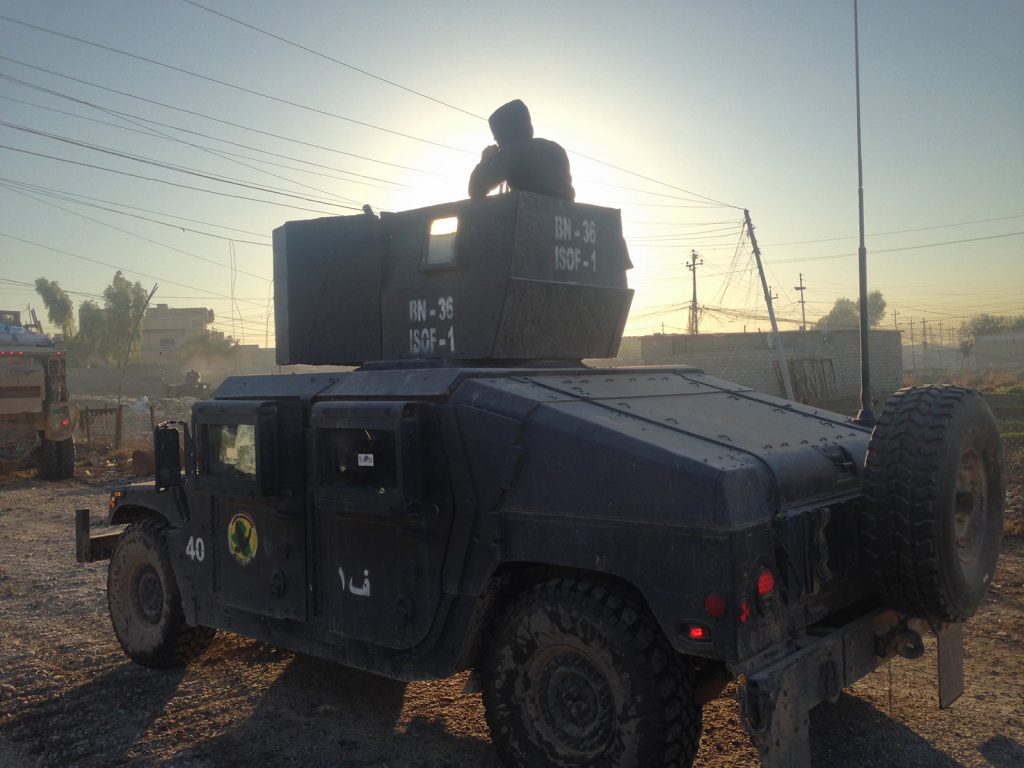 IS are also using drones as a lethal weapon packing them with explosives or chemicals and flying them at Iraqi troops, small wonder that the air erupts in gunfire whenever one is spotted.
Tunnels are common. For the last two years anyone deemed worthy of punishment by the terror group has been digging them. Burrowed under debrislined streets, they provide great cover and discreet firing positions. Some tunnels are filled
with explosives to welcome incoming troops.
Other potential threats could be hiding in plain sight too. Islamic state fighters are likely to attack liberated areas by posing as refugees or homeowners with cached weapons, waiting for the right opportunity to target high value targets, humanitarian efforts or media teams.
Civilians are a large consideration of any military operation and Iraqi Forces concerned for the safety of those trapped within the city are factoring this into their strategy.
Millions of leaflets, airdropped over Mosul, have warned residents to remain in their homes whilst there is fighting in their neighbourhood and to raise white flags once the Iraq forces are in control. They have also been informed that anyone driving a car when the military are approaching may be shot, cars are a favoured method of delivering suicide bombs into the ranks of Iraqi Forces.
IS have recently captured Iraqi armoured vehicles which gives them the capability to get close to or even through Iraq army positions.
Civilians indirectly pose a threat to the military as they flood into freshly secured areas to escape intense fighting. IS are sending suicide bombers amongst them as they are welcomed by Iraqi forces, this has resulted in innocent civilians being shot by nervous troops who mistakenly thought they had a suicide vest on or were about to remotely detonate an explosive device.
After recently speaking to refugees it is clear there is a lot of mistrust amongst the civilian population towards the Iraqi Forces who,
they say, are taking longer than planned to liberate them.
This mistrust was clear in the beards still being sported amongst those men who we saw in the liberated eastern suburb of Kukjali.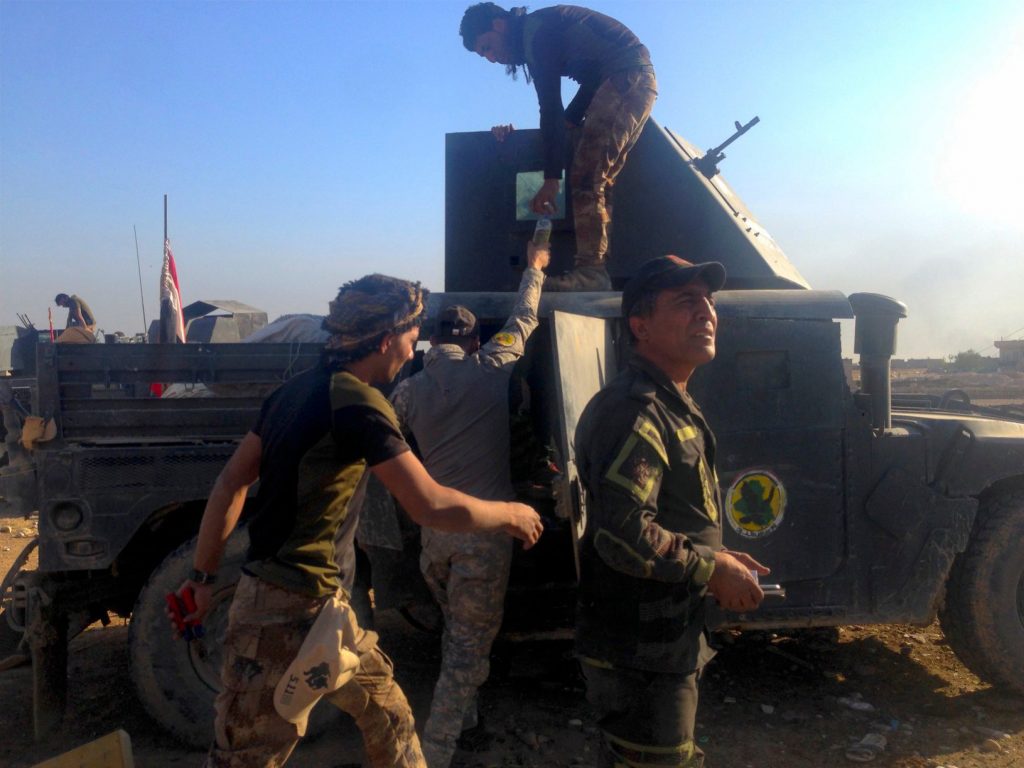 'I want to shave my beard off' one man told us 'but we don't trust that Daesh (local description of IS) won't return'.
After two years of IS rule and a faltering start to the offensive to retake Mosul his paranoid is understandable. Looking ahead there is little doubt that Mosul will be retaken but it will be a hard won fight. The timeline may be longer than planned, current predictions have it around three to four months, some are saying longer.
Fighting in the old part of the West Mosul will further draw out this offensive, the streets are winding and narrow making armoured vehicle access impossible in many parts, this is likely to slow down the Iraqi advance.
But it's the time that follows the city's liberation that will be a real test of leadership for the region. The governor of Nineveh province, of which Mosul is the heart, recently commented that there is no post Mosul plan that he is aware of. A terrifying statement given the demands of governance that are sure to follow not only in his province but also the greater region.      
With a heady mix of Baghdad backed Iraqi Military, Iranian linked Shia Militia and Kurdish Peshmerga troops in control of large areas of Northern Iraq, there are bound to be disputes as each pursues their own interests. Disputes that without good leadership may lead to vicious civil war.
When I chat to local people they are hopeful that Islamic State will be cleared from Iraq and absolutely certain trouble will follow soon
after.
---
Trouble Ahead
By: Joel Whittaker
Joel Whittaker is an international security consultant who specialises in providing training and consultancy for companies and individuals who operate in high-risk environments, media and NGOs. Joel, a former Paratrooper is also the founder of Intrepid Events, an organisation which conducts team-building activities and employs a strong contingent of ex-military personnel in its training and events. www.intrepid-events.com