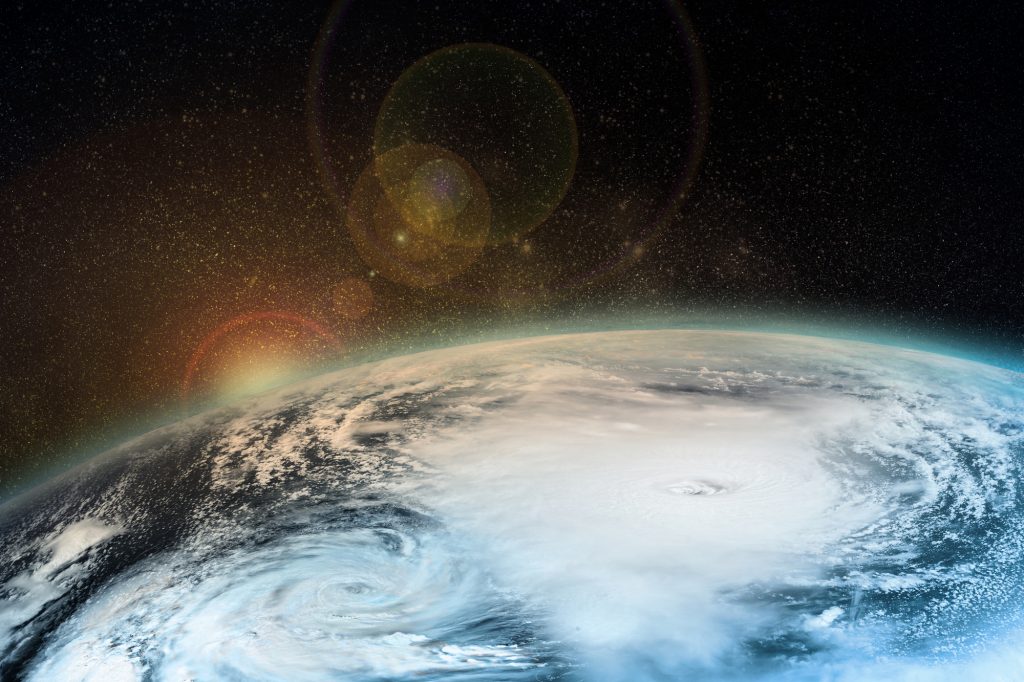 As the 2018 Atlantic hurricane season approaches, concerns are rising over a possible repeat of the widespread destruction experienced last year. Indeed, 2017 was a record-breaking year for hurricanes in the Atlantic, with the formation of 17 named storms and six major hurricanes classed as Category 3 or higher.
Of these, Harvey, Irma and Maria caused the most damage. Harvey brought unprecedented levels of rains to Texas, while Irma battered the Caribbean before coming ashore in Florida. Maria, meanwhile, was the most powerful hurricane to ever make landfall, causing devastation in Puerto Rico and resulting in scores of fatalities.
The 2017 hurricane season caused more than $200bn in damages, grounded 25,000 flights across the United States, and wreaked havoc on business operations and travel.
Bearing this in mind, it may surprise to learn that more than 96% of organizations have operations exposed to natural catastrophes. Yet, despite this, two-thirds of organizations still don't think they're properly prepared to deal with the effects of hurricanes.
So how should you go about mitigating these risks?
The responsibility of security, risk and business continuity teams is a complex one. You are your organization's first line of defense against any and all threats to operational continuity and people safety.
However, hurricanes pose a somewhat unique challenge. While the associated hazards are not unique in and of themselves, they are uniquely compounded to pose threats from multiple angles. High-speed winds can damage infrastructure. Landslides can devastate factories and facilities. Heavy rain and storm surges can result in flooding.
Depending on the location of your operations, this could mean that your facilities, assets and employees face significant threats.
Prior to hurricane season, your key challenges include identifying potential hazards, proactively preparing for the threats you face, helping senior management to understand the business impacts of these threats and establishing employee buy-in for the risk mitigation measures you put in place.
Making the right preparations ahead of time can play a huge role in the speed of your business's recovery if the worst does occur. Try to see risk as an enabler, rather than as a limiting factor, and your risk mitigation strategies as an investment. After all, studies from the World Resources Institute highlight that for every dollar you invest up front in protective measures, you stand to save four dollars in damages from future floods and storms.
Thankfully, putting an effective hurricane risk management plan in place doesn't have to be complicated.
To help you get started, our Global Operations team have broken down effective pre-hurricane risk mitigation planning into five easy stages for you to follow below.
Step 1: Researching and understanding the potential hazards
Your first step should be to identify the hazards to your organization and people. The key hazards from hurricanes are:
Coastal flooding from storm surges
Flooding related to heavy rainfall
Erosion or landslides if in a valley or near hillsides
Hurricane-related damage and destruction
Damage from strong winds and debris
Consider where your facilities and people are located – what hazards do they face in their environment and what measures can be put in place to mitigate these risks?
Step 2: Planning for the worst
Once you've identified the hazards to your operational continuity, consider:
Inspecting buildings for potential vulnerabilities to environmental hazards
Carrying out essential building maintenance
Establishing procedures for securing buildings, doors and windows, etc
Reviewing evacuation plans for personnel in affected areas
Staying aware of hurricane evacuation plans issued by local government.
We recommend planning for the 'worst-case' scenario and then working backwards to plan for less extreme scenarios. Make sure you're clear on the following:
Who is in charge of the chain of command
How to contact key employees (via phone, email, SMS, etc)
How you plan to track or monitor employee safety
How to shut down and secure your buildings
How to protect and secure important data and documents
Where the location of first-aid kits and emergency supplies are
What to do if power is lost
Step 3: Establishing employee best practice
With an increasing focus on fulfilling your duty of care obligations, we recommend establishing the following procedures to ensure employee safety:
Collect and maintain multiple contact details for all employees
Establish a check-in procedure to track employee safety
Distribute wallet-sized info cards that include emergency contact details and actions
Include clear emergency response plans in the employee handbook
Communicate the organization's employee expectations during an emergency
Hold staff meetings to introduce emergency response plans to employees
Introduce employee training sessions with periodic tests
Encourage employees to develop an emergency response plan at home
Establishing these best practices will help you to fulfil your duty of care obligations to personnel across the business, wherever they work.
Not only will these steps help you to improve your visibility across the business and establish contact during an incident if required – but you're equipping the entire organization with information that could save their lives – an excellent way to build buy-in!
Step 4: Emergency supplies
Onsite emergency supplies should have an inventory taken every 3-6 months to ensure they are fully stocked and need to be replenished if not. If you have expats or travelers in regions at risk of a hurricane, encourage them to maintain a waterproof grab bag of essentials. Both emergency supplies and grab bags should include the following:
Clean water (bottled or via a water purifier)
Non-perishable food + can opener
Torch with spare batteries and bulbs
Candle, matches + magnesium flint
Wind-up, battery or solar-powered radio
Alcohol gel for hand cleansing
Sanitary products, plastic bags and toilet paper
First aid kit, medications, and medical supplies
Cash in small denominations
Copies of important documents (waterproofed)
Mobile phone with charger / solar charger (waterproofed)
Map of the local area + contact information
Whistle
Plastic sheeting
While prepping these emergency supplies, you should also test backup systems, such as petrol/diesel generators, to ensure they're working.
Step 5: Wider business considerations and final plans
With plans in place, your preparations should now turn to the wider business impacts. Things to consider include:
Reviewing travel and business insurance policies to ensure you have adequate coverage for the risks you face
Understanding the threats faced by your supply chain partners and making contingency plans to ensure operational continuity
Communicating the impacts a hurricane may have on the business's ability to deliver to customers
Contacting expats, travelers and overseas workers who may be in higher-risk locations and need more advice and support
While the above will help you get started, your key takeaway should be the importance of acting early when preparing for the risks you face. Proactive risk management is the most effective way of minimizing the impact on both employees and operational continuity in the face of such intense weather events.
Our new whitepaper can help your business navigate the risks of Hurricane season by explaining:
How hurricanes pose a risk at every level of your business
How to mitigate and manage risks before, during and after the storm
The risk management preparations you need to be making right now
What to expect from the 2018 Atlantic hurricane season
How Drum Cussac can ensure operational resilience and the safety of your people
Download your free copy today.
---
By Drum Cussac
Drum Cussac is a global business travel risk and security consultancy responsible for ensuring the safety of more than 15 million lives across hundreds of organizations on a daily basis. We combine 24/7 intelligence with cutting-edge technology and a global network of professionals to help organisations understand the risks they face and support them in ensuring the safety of their people and operations.