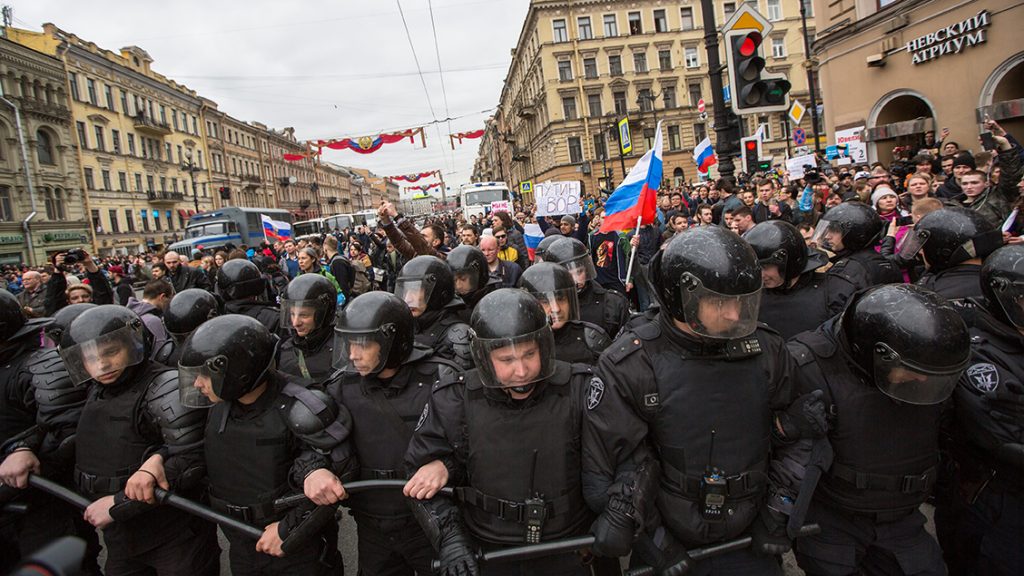 The Russian Federation will host the 21st FIFA World Cup this summer between 14 June and 15 July. This highly anticipated event will attract tens of thousands of foreign supporters and tourists, who will travel to the country to take part in events.
Despite diplomatic tensions between Russia and the West, it's almost certain that Moscow will not impede travel and operations ahead of and during the 2018 World Cup.
The World Cup is Russia's opportunity to showcase itself to the world and encourage foreign travel to the country. This means that it is in Russia's interest to provide foreigners with a positive experience. As such, it is almost certain that the Russian government will not push for the implementation of restrictive measures such as heightened controls at international borders, longer visa processes or police harassment of westerners within the country.
However, this does not mean that attending the World Cup is not without risk.
Below, we'll run through the risks travellers face this summer and the general threat landscape in Russia. We'll also provide some safety tips that travellers can follow to minimise and mitigate the risks they face.
Key risks to travellers
Effective pre-travel education plays an essential role in maintaining the safety of travellers. With employee safety a core part of any organisation's duty of care responsibilities, it's important that both security teams and travellers are aware of the key security risks in Russia this summer:
Low-Level Criminality
In the cities hosting the World Cup, foreigners are likely to find that petty crime increases in busy areas. This includes pick-pocketing and purse-snatching, which can occur in underground walkways and at airports, markets and tourist hotspots. Travellers may also face a heightened risk of robbery and assault in bars and clubs in major cities such as Moscow.
Violent Hooliganism
There is a realistic possibility that during the World Cup large groups of rival supporters may antagonise each other with organised hooligan groups posing a threat to both people and property through incidental violence.  Recent tensions with the West also increase the risk of sporadic and isolated incidents associated with local nationalist, racist and xenophobic groups.
Terrorism
Sunni extremist groups linked to the North Caucasus or to transnational organisations, as well as self-radicalised individuals continue to generate a moderate security risk in Russia. It is highly likely that radical Islamist militants will attempt to conduct attacks in the coming months. It is almost certain that Russian authorities will continue to prioritise pro-active anti-terrorist operations to mitigate the threat.
Cyber-Threats
There is a realistic possibility that cyber-attacks may occur during the period of the World Cup. These may be conducted by entities opposed to Russia with the objective of disrupting the international event. It is also probable that Russian criminals will try to take advantage of poor security measures taken by tourists to conduct acts of cyber-criminality.
Public unrest
While the risk of opposition-led protests is low, it's likely that groups opposed to President Putin, especially activists linked to Alexei Navalny, will try to use the months ahead of the World Cup and the period of the event to stage rallies in a bid to garner international attention. However, these events are highly unlikely to generate any substantial instability and will only lead to localised disruptions.
Corruption and Intimidation
Public officials and local police may demand bribes from travellers, especially when traveling in more remote areas of the country.
Russia risk overview
Risk arises in many forms and can impact different travellers in different ways . With so many people heading to the World Cup, it's important to have a situational awareness of the state of play in Russia. This can help you to plan ahead and mitigate potential threats.
Our intelligence and analysis team work 24/7 to build their knowledge across 25 different categories of risk. These granular insights then help organisations make more informed decisions and ensure the safety of their people and operations. Below is the current state of play in Russia:
Political
Russia is a relatively politically stable state and the situation will almost certainly not change in the short-term, especially in the wake of President Vladimir Putin's recent re-election as head-of-state.
However, corruption scandals linked to state institutions as well as state-owned and private companies can periodically lead to social discontent. Issues linked to poor governance and economic hardships can also contribute to unrest.
Nevertheless, the current political structure does not face any serious threat. Despite the current social and economic issues, international and Russian polls continue to show a vast majority of Russian voters have confidence in President Putin.
Security
Russia faces a moderate security risk, and both violent and non-violent crime is an issue.
Foreign travellers are periodically targeted due to their perceived wealth. Ethnic, xenophobic and, more rarely homophobic, violence occurs.
The conflict risk is low, but ongoing separatist insurgencies in the North Caucasus generate a localised risk, with most acts of militancy occurring in the Dagestan, Ingushetia and Kabardino-Balkaria regions.
Radical Islamist militants linked to the Islamic State (IS) group and al-Qaeda (AQ) generate an elevated terrorism risk. Due to IS territorial losses in Syria and Iraq, it is highly likely that a substantial volume of Russian and Central Asian militants who originally joined the group will try to make their way back to Russia. Sunni extremists have also demonstrated their capacity to hit major cities nationwide.
Cybercrime is a significant concern and foreigners may be specifically targeted by hackers, cyber-criminals and cyber-activists.
Infrastructural
Local infrastructure is generally well maintained in major cities and domestic air travel does not pose significant concerns, although internal flights may use antiquated craft.
Road conditions are adequate in cities, though driving can be hazardous in rural areas due to poorly-maintained roads, inclement weather and erratic local driving standards.
Electricity and water supplies are available nationwide, but periodic temporary outages may occur, especially during summer months.
Health + Medical
There are no specific major health hazards in Russia, although food and water should be treated with caution and standard vaccinations are recommended for travel.
Medical facilities in major cities are up to international standards. Outside of major cities, medical facilities are considered significantly poorer and evacuation may be necessary for serious medical cases.
Environmental
Environmental conditions vary greatly throughout Russia.
Inclement weather conditions may lead to travel and service disruptions. Severe rain and wind storms can occur during the summer period, which may periodically result in major power outages as well as localised threats to life in rural areas and major cities alike. Furthermore, extreme heat periodically leads to wildfires during the summer time.
——————————————————————-
Our free white paper provides a security analysis of the upcoming Russia World Cup and offers more in-depth advice for security professionals and travellers heading to Moscow this summer.
Drum Cussac is a global security consultancy responsible for ensuring the safety of more than 11 million people. Our intelligence and analysis services (IAS) offer 24/7 expertise via in-house professional intelligence operators and analysts, cutting edge technology and a comprehensive global network.