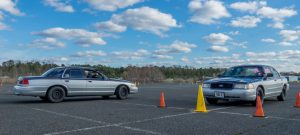 A few months ago, I had the honor of being awarded a scholarship to Tony Scotti's Vehicle Dynamics Institute (TSVDI) through their "VDI Gives Back Program".
The program was designed to give 12 security practitioners a chance to attend the Institute and experience first hand the training offered in a variety of subjects: Protective/Evasive Driving, Surveillance Detection Tactics & Techniques, and Best Practices for the Solo Practitioner. I chose to attend their Protective/Evasive Driving course.
I will readily admit to being a bit nervous, as my "formal" driving training was limited to Basic Driver's Education…30 years ago! My fears were quickly dispelled when I was greeted warmly in VDI's main classroom by Joe Autera (President/CEO) and Larry Side (VP of Operations/Chief Instructor). "Don't worry," said Larry "Everybody thinks they know how to drive until we get them on the track. And then we teach them some new skills"
The class was made up of 19 professional protection practitioners of diverse backgrounds, ages, and skill levels; some attendees had prior driving experience and others were just as new to the track as myself.  To kick things off, the class was introduced to instructors: Dean Simko and Matthew Parker, as well as the Assistant Instructors. We were told to reach out to them at any point during our training with questions or concerns. As it turned out, our myriad questions were sometimes the jumping point to entirely different conversations.
Larry gave us us the lay of the land, track rules, and directions for how to interact with each other and the instructors while driving.  From that point on the material was nothing but automobile related. The format for each of the three days was similar: classroom lecture, practical exercise, practical debrief, and case studies of successful attacks on vehicle-bound individuals, all of this culminating in Day Three's Final Exam/Obstacle Course. The instructors constantly talked about three crucial factors: the driver, the vehicle, and the environment; each being an equally important part of any driving experience.
Our classroom sessions consisted of short lectures on a variety of automotive subjects: everything from proper tire pressure to run-flat tires to proper hand positioning on the steering wheel. These lectures where then followed by a brief explanation of our practical exercises with whiteboard demonstrations of how they would be run. And we were always given examples of real world situations in which the classroom material applied.
We were paired with a partner for the duration of the course and assigned pared-down police cruisers. This was our first introduction to "proper" driver positioning, with our instructor showing us how to place our seats and mirrors for optimum efficiency.  The practical driving segments were presented in easily digestible chunks. Over the duration of the course we covered everything from slaloms to lane incursions to manipulating a vehicle while using ABS to driving slaloms backwards. Our class was also fortunate enough to experience "driver down" drills: taking over the wheel should your driver become incapacitated. During each practical exercise we were given plenty of time to run the track over and over until we felt comfortable and the instructors were satisfied with our performance.
Driving sessions were closed out with debriefs which covered our performances, more tips and tricks, and more opportunities for questions. We were also presented with Case Studies covering successful attacks on vehicle-bound Principals. These were great "real life" examples of how the material we had just covered could have been applied in the real world to avoid trouble. In addition, we were occasionally pulled out of our vehicles to work with VDI's Dynavision machine, a unique device designed to test our reaction times with an emphasis on using your peripheral vision.
By the time Day Three arrived, our group had coalesced into a confident set of drivers. We were ready for the Obstacle Course: a timed, stress-added exercise that tested our skills by forcing us to apply everything we had learned over the course of the training. It was a great opportunity to see how well each of us had absorbed the lessons and could use them to our advantage.
The location and track where VDI runs its courses are top notch. The classrooms are comfortable and give each participant a clear view of the material being presented. Excellent continental breakfast and lunch are provided each day with plenty of snacks and water available throughout the course. The entire staff is personable and easygoing, often giving their instructions and critiques with a healthy dose of humor. And as previously mentioned, the instructors are always on hand for questions and guidance. Our group was fortunate enough to have a special guest stop by: Mr. Tony Scotti – a man who literally wrote the book on Security Driving. The chance to ask questions of the creator of the program was a great bonus.
The broad scope of Vehicle Dynamic Institute's educational material, their exceptional instructors, and the outstanding behind-the-wheel time given to each student make this course a MUST for any security professional looking to expand their skillset.
---
Vehicle Dynamics Institute COURSE REVIEW
By: Miguel DeCoste
Miguel DeCoste, CPP, is a 20 year security professional who's experience includes domestic and international Executive Protection and Event Security/Management in the private sector. He is the current host of The Tao of The Velvet Rope, a podcast covering the Myths, Truths, and Guiding Principles of Nightclub Security.  Podcast URL: https://soundcloud.com/taoofthevelvetrope