Developing a morning practice is crucial for starting your day with a good intention and some semblance of control in an ever-demanding world; but what should it consist of and how do you implement it?
I see it as involving three distinct elements: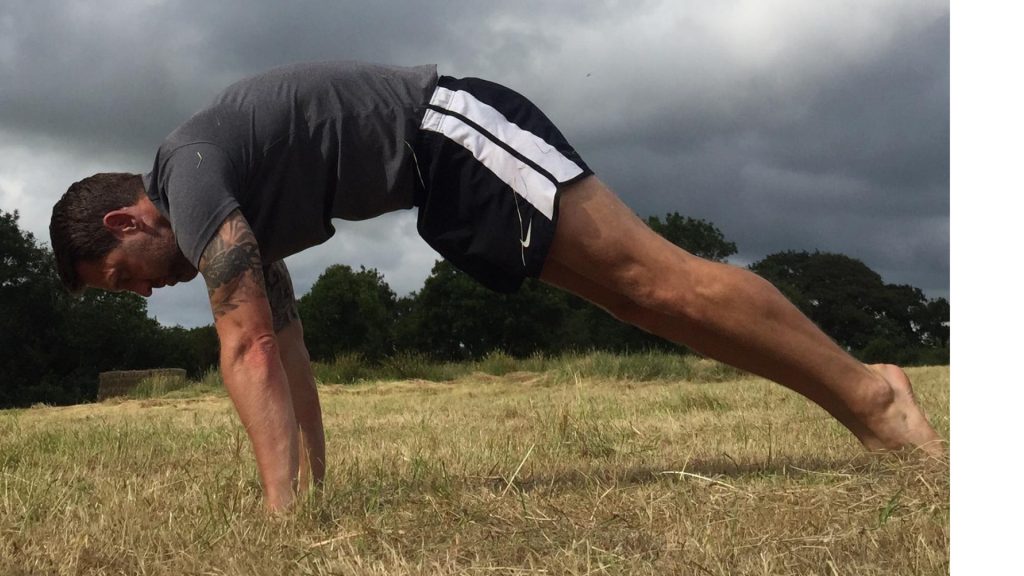 Movement – Breathing – Mental Clarity
In simple terms, we are stationary for long periods (sleeping); therefore, it's common sense that on waking we should move our bodies to promote blood flow, increase oxygenation through focussed breathing, and prepare our mind for the day ahead. It's important to be clear that this is not a "workout," the aim is not to place any sort of emphasis on conditioning, at this stage. Move onto a specific exercise period afterward by all means, but the morning practice takes priority over conditioning if time is limited.
The 'How To'
Step One: Duration
Decide on a period of time that you can set aside purely for yourself with minimal distractions. This may alter from day to day, be task/work orientated and can be adjusted each evening accordingly if required; just be careful not to use excuses for not having enough time to implement it.
Step Two: Movement
Experiment with a movement practice, the key factors including:
Prioritise Mobility – See my last article "Fit for Purpose" (issue 40) which explains the differences between flexibility and mobility and why mobility should take priority.
Include some load-bearing, isometric contractions (strength in a static position).
Integrate balance and coordination, maximising the mind/body connection.
Compose a logical sequence moving through the whole body. One way to approach this is from the roots (feet) up, working through each joint complex e.g. ankles, knees, hips, etc.
Work on patterns of movement that can be practiced and learned (use a written list with notes to prompt the order or exercise until it becomes second nature).
Create a flow from one movement/exercise to the next; this will require practice for it to become more familiar.
Step Three: Breathing
As breath is life, it is essential to work on deep, efficient breathing as much as possible. As an effective counter to stressful situations, focus the mind on slow, deliberate breathing; this can lower cortisol (stress hormone) levels, and reduce your heart rate.
Avoid upper chest breathing, which will elevate the shoulders and create the fight/flight/freeze response.
Aim for a 2:1 duration ratio of inhale to exhale
Imagine a rubber ring around the area below the ribs and aim to force the breath to this area, expanding your body within the ring on each inhale.
Fully release on the exhale.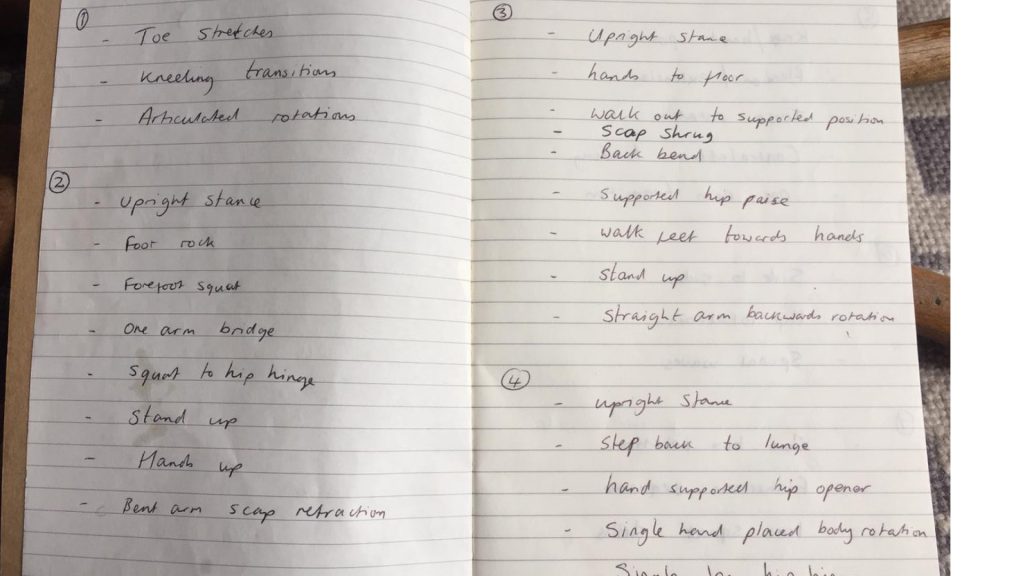 Step Four: Mental clarity
In the Western world, having a busy mind is all too common with the proliferation of technology and a plenitude of distractions, so it's helpful to practice ways of reducing the chatter and learn to focus.
Integrate periods of stillness within the practice or routine.
One way to focus the mind and stay present is to recognise each individual sense one by one: touch, taste, smell, hear and see.
Another way is to have no focus, attempt to empty the mind of any thought.
Find what works on a personal level but if the mind wanders don't get frustrated; merely acknowledge the distraction, accept the situation, and then bring it back.
Step Five: Create
Now we have some ideas for each individual element, we can combine them to create a routine or pattern:
The three components will be unconsciously incorporated, to certain degrees anyway, but begin by focussing on each element individually at different points within the practice.
Concentrate on really smooth movement, then shift the focus to measured breathing before shifting the emphasis to stillness and mental clarity.
Once you're able to identify each component individually, then try merging them. An example could be moving into a forefoot squat position, holding with good posture, breathing in a 2:1 ratio while allowing your mind to focus on what you can hear.
The aim is to achieve unconscious competence while moving through the pattern, resulting in efficiency and effectiveness.

Points To Note
Avoid overcomplicating
This can create a barrier to beginning it in the first place. Start simple and add complexity when you feel ready.
Upon waking
Go through a period of self-analysis, assess energy levels, muscle tightness, and mood. This should have a bearing on the practice you implement.
Don't engage with technology immediately
Commit to waking at an earlier hour than work dictates; where is no reason for you to be contacted via WhatsApp, Telegram or text message (you'd technically be asleep anyway and wouldn't be able to respond). Make it clear to any managers/principals that in an emergency, a phone call is the only way to reach you and have the phone set to this, placing the other functions on standby.
Hydration
Drink water initially before anything else, stave off the urge to have the first cup of coffee or tea and replenish fluids lost during the night.
Be kind
Don't dwell on what can't be changed. If you miss a few mornings for whatever reason, write it off and then go again.
Consistency over variation
Don't search for variation if it's not needed. Work on the fundamentals; improving range of motion comes with consistency.
Multi-purpose
Use the mobility routine (or elements of it) as a "warm-up" before engaging in strenuous physical activity.
Extend the knowledge throughout your day
Don't limit it to just the morning; as there is no conditioning emphasis, incorporate elements of the routine throughout the day. This will only improve the quality and flow of your movement.
Get grounded
Get outside when possible and connect with nature. There is nothing mystical or spiritual to buy into here; it is scientifically proven that having your feet directly in contact with the ground will evoke a feeling of calm and reduce inflammation in the body (inflammation having a direct correlation with disease).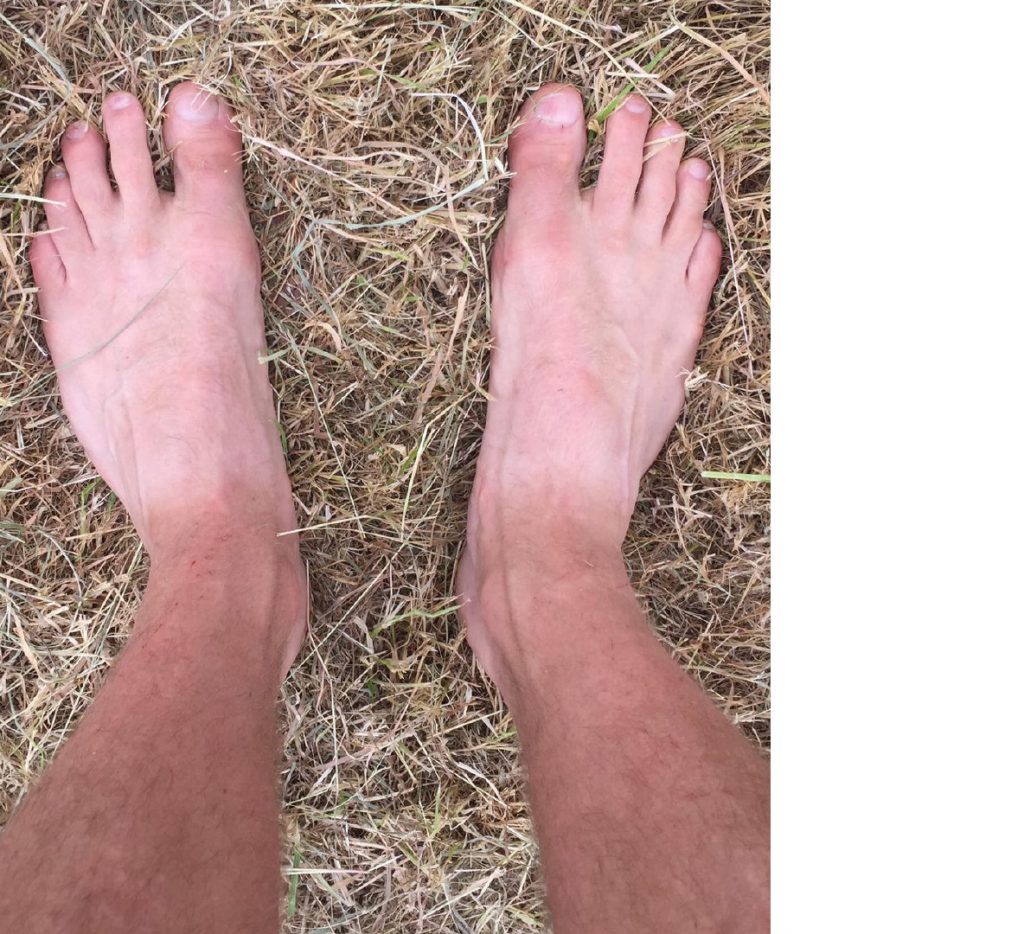 Bringing it all together
Find your style and develop your practice, there is no one size fits all approach. Use systems and influences but don't get caught up with dogmatic and restrictive practices that may not suit you. You don't need Kundalini Yoga, Transformational breathing, and Zen meditation to mobilise, oxygenate, and gain mental clarity.
As Bruce Lee famously quoted: "Research your own experience; absorb what is useful, reject what is useless, and add what is essentially your own."
---
Fit for Purpose, But where to start?
By: Ryan Naish
Ryan is a former physical training instructor in the Parachute Regiment and now specialises as a movement and outdoor skills coach. He is active in the security industry and also runs seminars and workshops, where he shares his passion for cultivating an active lifestyle that's fit for purpose.
Follow him on Instagram, @fitforpurpose.live, for practical tips and advice.